Demonstration March from Hyde Park to Trafalgar Square Public Meeting , 28 July 1984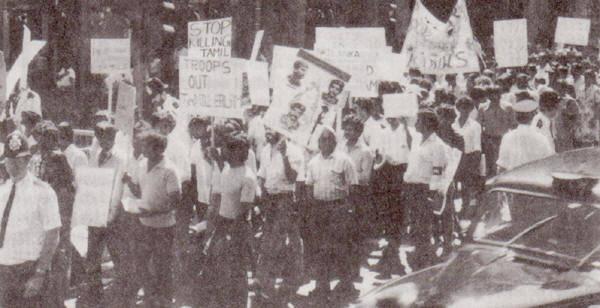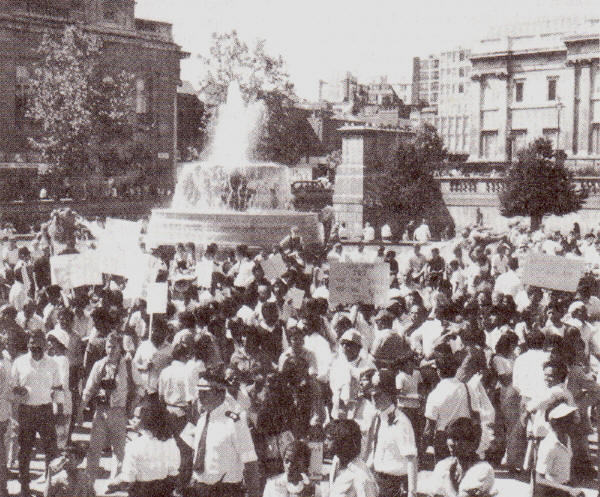 Over one thousand five hundred people, predominantly Sri Lankan Tamils living in the United Kingdom, gathered on 28 July 1984 at Hyde Park and marched through the streets of London in remembrance of the July 1983 massacre of Tamils. Prominent among the slogans chanted during the demonstration were those directed at the murderous actions of President J.R. Jayawardene and his government. The demonstrators carried banners and placards displaying the atrocities committed against the Tamil people.
After marching for nearly two hours, the demonstrators assembled at Trafalgar Square. Among the many speakers were Jeremy Corbyn, Dave Nellist and Simon Hughes — all British MPs, Mr Nedumaran, the leader of the Tamil Nadu Kamraj Congress, Prof. Periyar Thasan and Dr K. Arumugam.
The British MPs, in their speeches, concentrated mainly on the question of grave violations of human rights in Sri Lanka and the massive foreign military aid going to Sri Lanka from western countries, including Britain. More specifically. the Sri Lankan government's action in hiring Mossad and other foreign mercenaries came in for severe condemnation both by the demonstrators and the speakers at the rally.


l to r: Simon Hughes M.P. and Jeremy Corbyn M.P. addressing the gathering
The demonstration and the meeting were organised by the Eelam Solidarity Campaign. a body comprising several Tamil organisations. the NSSP and JVP (London branches) set up to highlight and campaign against human rights violations and atrocities committed against the Tamil people.