Tamilnet Report
More than 600 South African Tamils assembled at the Kharwastan Temple Hall in Chatsworth South Africa to observe the 25th anniversary of Black July, Friday, 25 July 2008. The African National Congress (ANC) Member of Parliament, Sisa Njikelana from Gauteng Province, delivered the key note speech, comparing developing situation in Sri Lanka to those in Rwanda and Brundi. The function, organised by the Tamil Co-ordinating Committee of South Africa and presided by Mr Vinoth Rajagopaul, was broadcast live on national radio station, Lotus FM (SABC).

The event commenced with the traditional lighting of the lamp and a minute silence for all those who lost their lives in July of 1983 and those who died in the Eezham struggle.
An audio visual presentation of events that unfolded in July 1983, and clippings illustrating the human rights violations against the Tamil people were shown to the audience.
South African Tamil youths gave dance and music programs that included Tamil Eazham songs.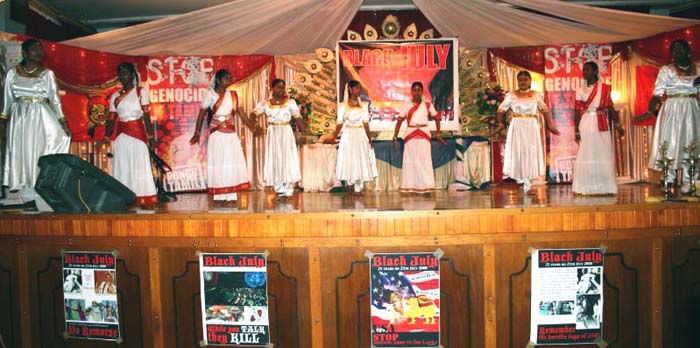 Asserting that South Africans are prepared to express their opinions publicly, Mr Sisa said: "[t]he looming tragedy of global inertia in situations such as Sri Lankan conflict is a matter of grave concern. The same occurred in Rwanda and Burundi – the world was just watching and dilly-dallying whilst humans were butchering each other. There are times whereby my observation leads to one conclusion i.e. the conflict in Sri Lanka is not a priority to some of the key global players and therefore may just have to be "shelved" for the time being."

Mr Sisa added: "A clarion call to South Africans to fulfill their internationalist duty by expressing their solidarity with the millions of Tamils suffering in Sri Lanka. I say this because internationalism is a crucial feature in the unique character of the ANC – the leading organization that has openly expressed its concern about the conflict in Sri Lanka and its eagerness to see a speedy solution. Such is inspired by the spirit and ideals of human solidarity. This is an appeal to our consciences."

"What is fundamental is an honest and public acknowledgement by all warring parties of the need to enter into an irreversible paradigm of resolving the conflict through peaceful means which essentially going back to negotiations no matter how long such may take. At the same time the dismally untenably grim humanitarian situation has to be reversed as of yesterday. Any one, any leader, any organization contradicting such paradigm, whether through words or deed is not worthy to stand and claim to be a patriot in Sri Lanka," Mr Sisa said.