One Hundred Tamils
of the 20th Century
Isaimani Padmashri Dr.Sirkali Govindarajan
எமது வெற்றியை நாளை சரித்திரம் சொல்லும், இப்படை தொர்ப்பின் எப்படை வெல்லும், நீதிக்கு இது ஒரு போராட்டம், இதை நிச்சயம் உலகம் பாராட்டும்..
---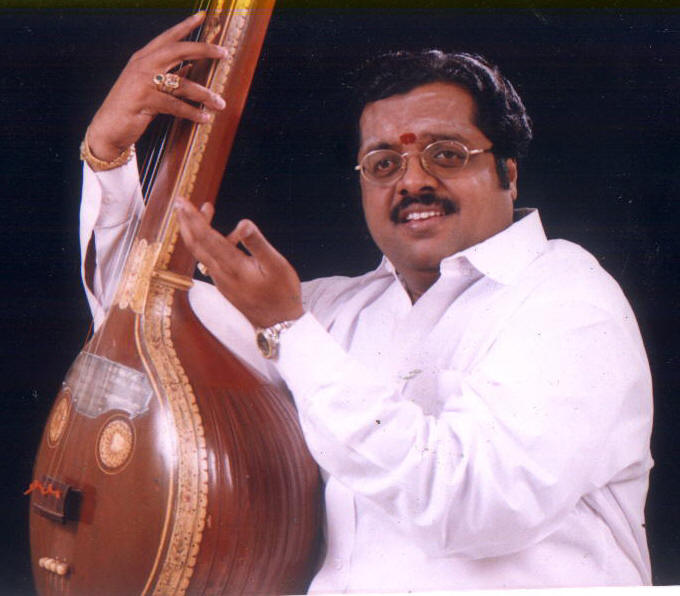 "Dr. Sirkali Govindarajan, the great singer with the golden voice, is respected by millions all around the globe as a maestro of Indian Classical, Devotional and Film music, with an excellent voice range and tonal purity. His ringing voice, rendering the songs with expression and expertise, with clear pronunciation of the language, and with classicism intact, was his speciality. He is regarded as an embodiment of humility and an excellent humanitarian among his contemporaries. His film songs carried a speciality of its own, which are cherished by his fans popularly as "Sirkali's songs", even today! This 'principled singer' has thousands of songs which add honour to Indian music." - from Sirkali Govindarajan Home Page
"...Seerkhazi Govindarajan was a familiar figure for over three decades - with his bright face, smiling countenance, well-marked, orthodox sacred ash on the forehead, well combed hair and the appearance of a dignified modern gentleman with spiritualism radiating from his honest face. He had a clear, resonant and sweet voice; his rendering was chaste, traditional, sincere and well-phrased; his delivery was thoughtful, thought-provoking, dedicated and emotional bringing out the thoughts of the composer with conviction and effect and his rapport with the audience was complete and total. The place that gave the canonised Saint Tirugnanasambandar gave him too.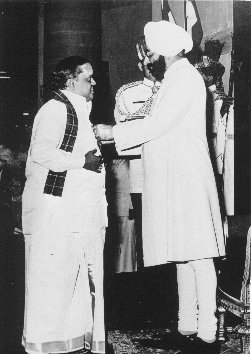 Receiving the Padma Shri Award from the President of India
His concerts were very well attended. He was heard with rapt attention. His music percolated to the corners of South India and outside through gramaphone discs, cassettes, AIR, Television, films, etc. He was the first artiste to win the 'Golden Record' for the record sales of his discs. He was perhaps the first to give concerts with Tamil songs alone. He was the first Indian artiste to be recorded by the BBC. His special song to commemorate the royal wedding of Prince Charles was recorded by the BBC. He won the 'Rajaji Tambura' for rendering the songs of Gopala Krishna Bharati at the Tamil Isai Sangam, three gold medals from the Music Academy, Chennai and gold medals from the Rasika Ranjani Sabha, etc.
He was the favourite disciple of Tiruppambaram Swaminatha Pillai, the renowned flutist. He mastered the nuances, intricacies and subtleties and acquired a vast repertoire and with his expressive voice and sruti fidelity, his music presented a fine blend of the virtuous and the melodic. He was selected as the 'Best Play-back Singer' in 1971 by the TamilNadu Govt.; and he had acted in 12 films. He was the Dean of the Faculty of Fine Arts and Head of the department of Music, Annamalai University. Was Hony.Principal, Tamil Isai College of Music, Chennai.
Titles :
Kalaimamani by Tamilnadu Eyal Isai Nataka Mandram in 1975
Gambeera Gana Mani by Sri Kanchi Kamakoti Sankarachariar in 1977
Isai Selvam by Muthamizh Peravai, Chennai in 1980
Miyan Tansen Award by Dhrupad Society, New Delhi in 1980
Central Sangeet Natak Academy Award in 1980
State Artiste of Tamil Nadu Govt. in 1980
Isai Perarignar by Tamil Isai Sangam, Chennai in 1982
Padma Shri by the President of India in 1983
Doctor of Literature (Honoris Causa) by University of Madras in 1983 (courtesy: saigan)

---