CONTENTS
OF THIS SECTION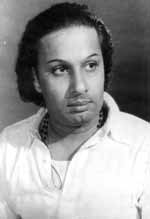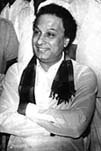 நேரம் வரும்
காத்திருந்து பாரு ராஜா...

MGR Interview with BBC
On MGR's 20 Death Anniversary: The Indo-LTTE War (1987-90) � MGR�s Death and Aftermath - Sachi Sri Kantha, 24 December 2007
The �Birth Soil Bond� of MGR; an 89th Birth Anniversary Note - Sachi Sri Kantha, 2005
MGR
Movies - Complete List (1936-1978)
MGR - Songs

neenga nalla irukkanum
நீங்க நல்லா இருக்கோணும் நாடு முன்னேற
ஏன் என்ற கேள்வி இங்கு கேக்காமல் வாழ்க்கை இல்லை
Ulagam pirandhadhu Enakaha

நெஞ்சம் உண்டு, நேர்மை உண்டு, ஓடு ராஜா
என்னதான் நடக்கும் நடக்கட்டுமே

அங்கே சிரிப்பவர் சிரிக்க்கெட்டும் அது ஆணவச்சிரிப்பு...


நான் ஏன் பிறந்தேன்,
நாட்டுக்கு நலம் என புரிந்தேன் என்று நாளும் பொழுதும் வாழும் வரையில் நினைத்திடு என் தோழா! நினைத்து செயல்படு என் தோழா! உடனே செயல்படு என் தோழா!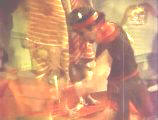 காலத்தை வென்றவன்
அடிமைப்பெண்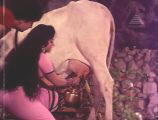 அம்மா என்றால்
அடிமைப்பெண்


காற்று வாங்கப் போனேன், நான் ஒரு கவிதை வாங்கி வந்தேன்..
ஒரு பெண்ணைப் பார்த்தேன்...
Naan Ungal Veettu Pillai
(Pudhiya Bhoomi)
Thamizhan endroru inam undu
Yaanaiyai pidithu oru paanaikul adaithu vaikka...
Atho Antha paravai pola vazhayendum
அழகிய தமிழ் மகள் இவள்
Thirudathe Paapa Thirudathe
Puthiya Vaanam
Parakkum Panthu Parakkum
Atthai magal ratthinathai
Vaadi amma Vaadi
Summa kidantha nilatha kothi
Sammathamaa
Kadavul yen kallaanaan
Buddhan yesu gandhi piranthathu
Naan Paarthathile aval orithiyaithaan
Ulagam Engum Ore Moli
Methuva Methuva Thodalaamaa
Pattu Oru Paatu
Yaarathu, Yaarathu Thangamma?
Kaveri Karai Irukku
Pesuvathu Kiliya
Kadaloram
Poyyile Piranthu Poyyile from Ananda Jothi
Velli Nila Mutrathile from Vettaikaran
Paadum Pothu Naan from Netru Indru Naalai
Thambi Naan Padicchen Kanchiyile from Netru Indru Naalai
Complete List of MGR Songs with Lyrics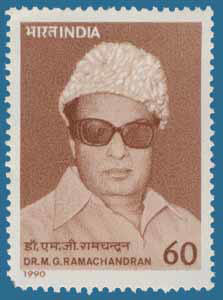 Stamp issued in 1990
Books on MGR
* indicates link to Amazon.com online bookshop
MGR: The Man and the Myth by K.Mohandas
*

The Image Trap : M G Ramachandran in Film and Politics - M.S.S. Pandian "The social universe of the MGR is a universe of asymmetrical power.......The conflict between the upper caste/ class oppressors and MGR as a subaltern, and its resolution forms the core of the film. MGR, in the course of the conflict, appropriates several signs or symbols of authority or power from those who dominate..."
*

M.G. Ramachandran, my blood brother by Attar Chand
Off Site Links
related to MGR
20 years on, MGR still lives, 25 December 2007 "Twenty years after his death MG Ramachandran continues to wield an unseen and uncanny sway over Tamil Nadu�s masses, politicians and even filmgoers."
MGR Remembered in Vavuniya, Tamil Eelam 25 December 2003 �Though MGR was a movie star, he did several good deeds for the people of Tamil Nadu when he was the Chief Minister. When our movement needed money, he gave us money out of his private funds. He fully recognized the need for our armed struggle. He never sought political gain through his support to our cause,� said Mr. Ezhilan, LTTE�s political head in Vavuniya.
K.J.Yesudas on MGR, February 2004 - "One day, our late chief minister M G Ramachandran called me over and asked me to sing the song 'Vizhiye Kadhai Ezhudhu'. I was elated and thrilled. My happiness doubled when the song became a hit.

MGR is a mahaan. I came to know about him at a later stage. He not only gave importance to music but more to the art itself. His character was such that he turned even his foes into friends.

For example, at a time when he had difference of opinion with Kannadasan politically, he was not satisfied with the lyrics for a particular song. Finally, he himself suggested that Kannadasan be called to write the lyrics. Others around him were hesitant but MGR was firm. He told them that Kannadasan had no equal and asked them to approach him for the lyrics. Kannadasan also obliged and the song was 'Odum Megangale' for the film 'Aayirathil Oruvan'. Enmity vanished... and art gained importance..."
Biography of M.G.Ramachandran
"Maruthm Gopala Ramachandra Menon was born in Kandy? Sri Lanka (formerly Ceylon) on 17January 1917. But this is a controversial date; some people say that MGR was born at least seven years earlier. His elder brother, M.G. Chakrapani, himself a retired actor and producer, is certain that MGR�s actual date of birth cannot be more than six months removed, either way, from the official date..."
MGR Memorial Charitable Trust
MGR - Last Will & Testament
MGR School for the Speech and Hearing Impaired
MGR- Janaki College of Arts and Science for Women
Dr MGR Engineering College - Chennai
The Tamil Nadu Dr.M.G.R.Medical University - "Dr. M.G. Ramachandran, endearingly known as MGR, was born on 17th January, 1917, at Kandy, Sri Lanka, to Marudhar Gopalan and Satyabhama. After his father's death, MGR settled with his family at Kumbakonam in Tamil Nadu. He could not pursue his studies beyond the primary stage and joined a drama troupe. Gaining considerable experience on stage, he entered the world of cinema, and gradually rose to enviable positions by persistent efforts and endurance. He became a great actor, director and producer. The Government of India honoured him with the national Award for the Best Actor for his acting in the film "Rickshakaran" in 1972.

In 1953, MGR joined the Dravida Munnetra Kazhagam. He became a member of the state Legislative Council in 1962. He was first elected to the Tamil Nadu Legislative Assembly in 1967, and subsequently in the elections of 1971, 1977, 1980 and 1984. In 1972, he founded the All India Anna Dravida Munnetra Kazhagam (AIADMK), which contested and won the subsequent elections. In 1977, he became the first film actor in India to be the Chief Minister of a state. He continued as Chief Minister of the rest of his life. He was a popular Chief Minister and one of the most charismatic politicians of the country. Always the first to personally offer relief in disasters and calamities like fire, flood, drought, cyclone, etc., he was the first donor during the Chinese aggression of 1962, donating Rs. 75,000/= to the war fund.

He founded the Tamil University, The Tamil Nadu Dr. MGR Medical University and the Women's University in Tamil Nadu. In 1983, the Madras University conferred on him, Honoris Causa, the degree of Doctor of Laws. MGR had traveled extensively and visited Sri Lanka, Burma,Singapore, Japan, Hong-Kong, France, Mexico, USA and USSR. MGR passed away on 24 December, 1987. He was posthumously awarded the "Bharat Ratna" by the President of India." Text: Courtesy Government of Tamil Nadu.
MGR - Tamilthirai
M.G.Ramachandran - "MGR made his screen debut in Ellis R. Duncan's Sati Leelavathi (1936) but his first major breakthrough came much, much later with Rajakumari (1947).

MGR's 1950s screen persona in adventure films constructed an image of political as well as physical invincibility. Often the themes of his films were derived from heroic ballads which are part of the oral tradition of rural Tamil Nadu. For example - Madurai Veeran (1956), one of his most popular films, is based on the legend of Madurai Veeran, a popular deity of Southern Tamil Nadu. His legend has been the subject of various ballads and plays and this was the second filmed version of the story.

In the 1960s MGR turned to more 'realistic' fantasies mostly in a contemporary setting often playing someone from the oppressed class - a peasant, taxi driver or fisherman. For millions of fans, his image as the knight in shining armour, saving damsels in distress and being totally dutiful towards his mother was in fact a reality. Mother tongue, motherland and motherhood were what he based his popularity on...

MGR used food, colour patterns (black and red, symbols of the DMK) and masquerades (often through double roles of oppressor and oppressed) to construct this universe. In Engal Thangam for example, MGR playing a truck driver Thangam, fights, sings, cares for the poor and preaches against smoking and drinking.
The height of emotional response that 'MGR' could evoke was evident when in 1987 during a critical illness, 22 people committed suicide in the hope their deaths would save him! Stories of poor people selling their blood in order to get money to see his films on first release are legendary! ..When he died in 1987, his funeral procession was attended by over 2 million people! A temple has been built in Madras with MGR as deity."
---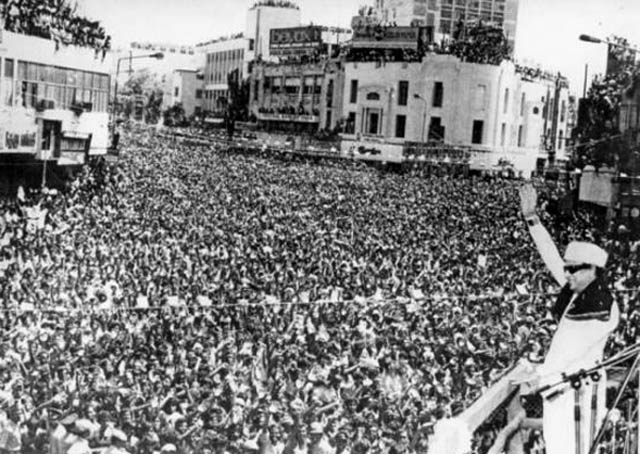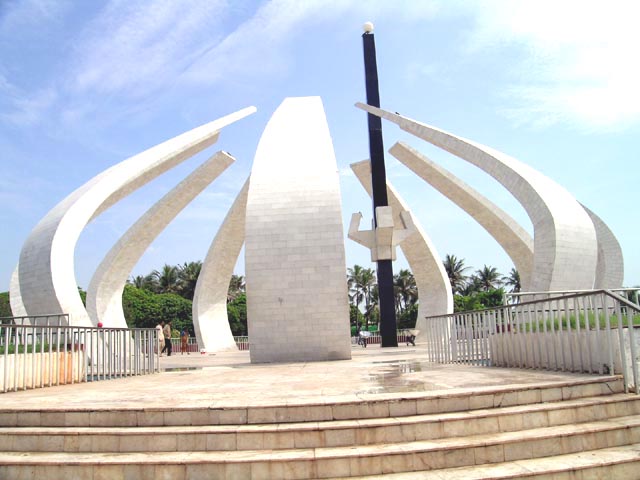 MGR Tomb at the Marina, Chennai, Tamil Nadu
The Man from Marathur and Malai Nadu
- Sachi Sri Kantha, 1999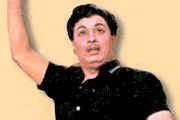 Eighty two years ago, a baby boy was born to a migrant couple, Gopala Menon and Sathyabama, in a �line-room� of a tea estate in Kandy. Later, this baby boy would grow into a leader with the name Maruthur Gopalan Ramachandran (popularly adored by Tamils all over the world with the acronym MGR).
Maruthur was the ancestral village in the Kerala state from where his parents hailed from. Many have ridiculed the uncertainty of his birth date, though MGR had used 17 January 1917 in his personal documents. One should sympathise with MGR on this matter because he was born to an Indian immigrant family in a tea plantation in Ceylon, which was then under British colonial rule. Way back in 1917, the health care facilities available for the plantation workers were atrocious, leave alone the requirements related to birth registration. That he survived into adulthood itself was an achievement.
Though as a two-year old he was taken to Kumbakonam by his mother (who had been widowed after the birth of MGR), the destiny would make it that in his last five years of life, MGR would again have close links with the Tamils in the land of his birth.
After landing in Tamil Nadu, MGR would rise in his professional ranks with perseverance, hard work and the smile of Lady Luck. He reached the �top�, step by step; 10 years as a vaudeville child actor, 10 years as an apprentice actor with secondary roles in movies, 30 years as an �uncrowned king� in the Tamil movie land and finally 10 years as the Chief Minister of Tamil Nadu.
Having experienced poverty personally during his young days and forfeiting the opportunity to have a formal education, MGR would see to it that at least one song in his movie had some educational value to the average man.
He would take a keen interest in the theme of the song, its musical composition and its exact appearance in the movie. Not surprisingly, it would turn out to be a hit song. I can recollect a dozen of these songs here:
1. Acheham enpathu madamaiyadah - Anjaamai Dravidar udamaiyadah (on Dravidian glory and heroism) அச்சம் என்பது .. மடமையடா.. அஞ்சாமை திராவிடர் .. உடமையடா

2. Thoongathe Thambi Thoongathe - Nee somberi enra peyar vaankaathe (on the consequences of idling and procrastination) தூங்காதே தம்பி தூங்காதே - நீயும் சோம்பேறி என்ற பெயர் வாங்காதே!
3. Chinna payale Chinna payale Chethi keladah (on character-building and self confidence) சின்னப் பயலே, சின்னப் பயலே சேதி கேளடா

4. Thirudathe - Paapaa Thirudathe (on prevention of bad habits, especially stealing, while young) திருடாதே, பாப்பா திருடாதே, வறுமை நிலைக்கு பயந்து விடாதே

5. Moonrezhuthil En Moochchirukkum - Athu mudinthapin thaane Pechehirukkum (on the dignity of duty) மூன்றெழுத்தில் என் மூச்சிருக்கும்.... அது முடிஞ்ச பின்னாலும் என் பேச்சிருக்கும்...

6. Onru Engal Jathiye - Ouru Engal Neethiye (on the unity of human race)
11. Chirithu vazhavendum - Nee chirikka vazhnthidathe (on dignity of the labour)

12. Poomazhai thoovi vasanthangal vaaztha oorvalam nadakkirathu.(on sibling love)
MGR would also make sure that he will teach good manners and discipline to the masses through the movies. Therefore, in the characters he played in 120-odd movies, he would never smoke or take alcoholic drinks. On top of that, he would never physically or mentally abuse women. This self-imposed rigidity restricted the character roles he would play and movie critics ridiculed him for this 'un-natural style' of his characters. But MGR would have the last word. Ultimately, he claimed the respected honorific �vaathiyar� (teacher) in its proper sense of the word.
Call it a mere coincidence or the destiny of Eelam Tamils, that when the liberation struggle began earnestly in 1977, MGR would become the chief minister of the Tamil Nadu. Though his interest in the problems of Eelam Tamils remained passive till 1982, the ethnic holocaust of 1983 kindled his support for the Eelam cause. 1983 also saw the change in guard among the political leaders of the Eelam Tamils. MGR had never felt comfortable with the TULF leadership since he had perceived them as emotionally more close to the DMK leadership.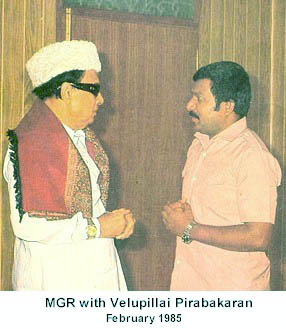 When the leadership mantle in the struggle for Eelam needed a change and a boost, MGR became the god-father of the LTTE and made sure that the �new born baby� would not suffer a premature death in the hands of wily J.R.Jayewardene.
To his allies in politics, Indira Gandhi and Rajiv Gandhi, the link that MGR had with the LTTE proved embarrassing. But they simply had to ignore it for their own political survival in the South India. For the support that he extended to the Tamil Eelam cause, MGR became the arch-enemy of the Sinhalese power brokers from 1983 till his death in December 1987.
Many Eelam Tamils also did not expect much from MGR after his skirmish with the TULF leadership at the 1981 Madurai Tamil International Conference. But, now in hindsight, one can see how vital was the support of MGR for the Eelam cause from 1983 till his death.
That the admiration Tamil masses had for MGR was not purely a �cinema craze� was proved in India, when movie stars of equal stature such as Sivaji Ganesan, N.T. Rama Rao and Amitabh Bachchan could not transfer their popularity in movies to the political world. The political careers of Sivaji Ganesan and Amitabh Bachehan never took off from the ground.
Only N.T.Rama Rao was able to become the chief minister of Andhra Pradesh and he too lost that position subsequently. To my friends in the USA, when I tried to explain the unusual career of MGR, I called him a "three-in-one". He had the movie magic of John Wayne, the political success of Ronald Reagan and the messianic appeal of Martin Luther King Jr.
How could one explain the extraordinary career of MGR, which began in Kandy and ended in Madras? Though not considered a native in the place of his birth or in Tamil Nadu where he grew up and called it home, he became the adored leader, who would be envied by every local politician.
At least Kavi Arasu Kannadasan (who had been a close friend and sometimes harshest critic of MGR) had an answer. In 1980, Kannadasan noted that MGR was blessed with an "Asura Jathakam" (devil�s horoscope). Not everyone will agree with that assessment. But, considering the unfavourable odds he faced in his life and the �fights� he won, definitely there should have been a blessing from the devil which protected him in so many trials.
Like other great leaders and revolutionaries, MGR also had his weaknesses. But these do not detract the good deeds he did for the down-trodden in Tamil Nadu and for Eelam Tamils who landed in India as refugees after 1983. MGR was neither an intellectual nor a folk philosopher. But his life-time teaching was short and simple; "Fight for your Rights". That�s what he preached in his 100-odd movies. ...We miss you, Vathiyar.

The �Birth Soil Bond� of MGR; an 89th Birth Anniversary Note by Sachi Sri Kantha, 17 January 2005
An Aroordhas Anecdote on MGR
Recently I provided a translation of an anecdote about movie maestro Sivaji Ganesan which had appeared in renowned Tamil movie script writer Aroordhas�s memoir book �Naan Muham Paartha Cinema Kannadigal [The Cinema Mirrors I have Looked At, Kalaignan Publishers, Chennai, 2002, 224 pages]. Here I provide the translation of another anecdote recollected by Aroordhas in this book, but on M.G.Ramachandran (MGR), whose 89th birthday was on January 17th.
It is a well known fact that MGR was born in Kandy for an Indian immigrant couple in 1917. Aroordhas had visited Kandy nearly six decades later, when the shooting for Pilot Premnath movie starring Sivaji Ganesan took place in Kandy. Here follows Aroordhas�s anecdote [pp. 33-34], in my English translation:
�When the shooting for �Pilot Premnath� movie took place in Kandy, I grapped a handful of soil from that city and filled it in a plastic vial. After returning to Chennai, I met MGR.
�Elder, I�m offering you a gift now, which othes might not have given it for you until now.�
�Is that so? May I know what is it?�
�Will you open your palm?�
[MGR] offered his palm.
I placed that particular plastic vial in his sandal wood-colored palm.
�What�s this? Soil?�
�Yes of course. This is your birth soil. I collected this from Kandy, and brought it especially for you�, I explained. When MGR heard this, he became so emotional and touched both his eyes with that vial.
He opened the lid of the vial. Like picking the holy ash (viboothi), he pinched a little of the soil by his thumb and index finger, and placed it in his mouth. Then he applied a little soil onto his head as well.
I saw both his eyes were welled [with tears]. Like a child, he asked me, �Can I keep this vial?�
I replied, �Elder, what are you talking? I brought this especially for you.�
�Thank you. I�ll keep this gift forever with care.� he said and grapped my hands.�

The Significance of the �Birth Soil Bond�
In Tamil language, the �birth soil bond� is known as �Pirantha Mann Patru�. The event described above by script writer Aroordhas happened in late 1970s, after MGR became the Chief Minister of Tamil Nadu. But Aroordhas have brought this to the public domain in 2002.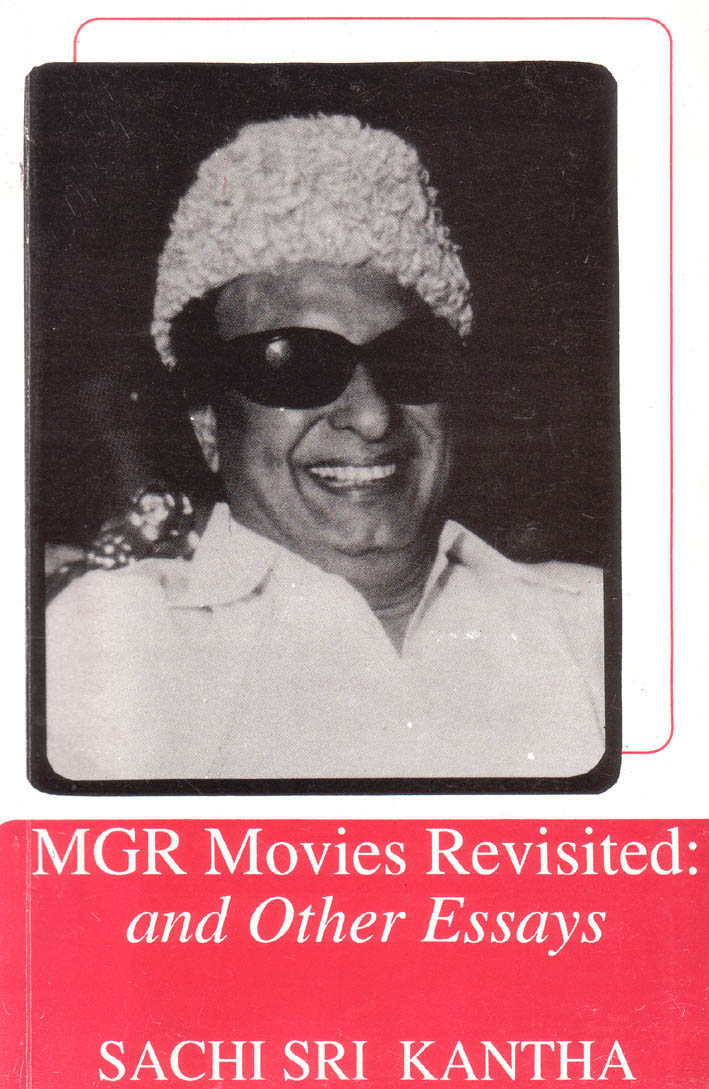 Curiously in 1995, I have alluded to this �birth soil bond� of MGR in an essay I wrote on him and published in my short collection of essays, entitled �MGR Movies Revisited and Other Essays� in a limited edition of 100 copies. It was entitled, �MGR-JR Duel� (pp.9-10).
In this essay, I attempted to highlight the point that of all the Indian politicians who had shown interest on the Eelam Tamil issue, MGR had something special � �birth soil bond�. This is not to cast aspersions on the sincerity of politicians like Vaiko, P.Nedumaran and a few others who stand in the Eelam corner. But the link of MGR to Eelam Tamil issue was unique. Since that book of mine is now long out of print, here is a reproduction of the relevant section of my old essay for reading.
�Most commentators have viewed MGR�s interest in the Sri Lankan Tamil issue as a not-so unusual response of a regional chief in Indian politics, to score brownie points with the prime minister of India, whether it is Indira Gandhi or Rajiv Gandhi. There may be some truth in this perception. But, I feel the story is incomplete if one accepts this reasoning as a complete one. Three other plausible reasons for MGR�s active interest in the Eelam issue are as follows:
First, MGR viewed the young Tamil rebels (especially the LTTE and its leader Prabhakaran) as fighting a worthy cause against oppression. When J.R.[Jayewardene] labeled the LTTE as �the private army of Mr.M.G.Ramachandran, the present chief minister of Madras�, MGR retorted strongly, and as reported in the Time magazine (May 11, 1987), he thrashed J.R. with the words, �Tamil groups are spearheading the war against the dictatorial and fascist actions of the Jayewardene regime, and they should be congratulated and helped.�
This view has to be interpreted from the perspective of MGR�s lifelong philosophy of �fighting the evil forces�. For four decades, MGR preached the down-trodden Tamil masses, via the Tamil movie screen, a simple philosophical theme; �Fight for Your Rights�.
Secondly, MGR also wanted to project an international stature as a politician. And the Eelam issue was the only one in which he could exert his weight. As the Time magazine (May 11, 1987) stated, �Even as the Central government in New Delhi tried to maintain a civil, though somewhat cool, stance toward its neighbor to the south, Tamil Nadu Chief Minister Ramachandran seemed intent on fueling the fires on the island. He announced a grant of $3.3 million to Sri Lankans last week for food, clothes, medicine and ominously, other help.�
While diplomats and academics viewed MGR only as a regional politician of India, he himself (with some justification) did not believe in that line. Demographically speaking, Tamil Nadu�s population is three fold larger than that of entire Sri Lanka. In terms of population, Tamil Nadu ranked equally with Britain, or France or [the then] Federal Republic of Germany.
Due to historical and political incongruities, while the titular heads of these three European nations were given the status as �world leaders�, the Chief Minister of Tamil Nadu was treated as an �extra� in MGR�s cinematic analogy, and he would have felt uncomfortable with that reality. Tus MGR aimed to make a stronger stage presence than he was assigned by the diplomatic protocols.
Thirdly, Eelam issue also provided a psychological tonic to MGR in his last years of the legendary career. It gave him an opportunity to contribute to the history of his Land of Birth. It is well known that displaced individuals keep an affectionate spot to the land of their birth, and this affection reaches a climax, when they near the end of their lives.
MGR was a displaced individual and fate had it that he was moved to Tamil Nadu as a toddler from Kandy, the place of his birth. Though he earned fame in Tamil Nadu, MGR was treated as an outsider in the political arena. Thus an active role in the Eelam issue would have given MGR a psychological uplift to influence the history of his Land of Birth. It can be asserted that other ranking Indian politicians would not bother to engage themselves with the Eelam issue as MGR was, since they do not possess the �birth identity� MGR had with Sri Lanka.�

Tamil Movies of MGR � Complete List (1936-1978)
[ year, movie name, production banner and the director(s) name; Source: �Sadhanigal Padaitha Thamizh Thiraipada Varalaru�, by �Film News� Anandan, Sivagami Publications, Chennai, 2004.] contributed by Sachi Sri Kantha
Thirties...
1
1936
Sathi Leelavathi /Manorama Films, Ellis R.Dungan
2
1936
Iru Sahothararkal / Parameswari Sound Pictures, Ellis R.Dungan
3
1938
Thadcha Yagnam / Metropolitan Pictures, Raja Chandrasekhar
4
1938
Veera Jegatheesh / V.S.Talkies, TP.Kailasam-R.Prakash
5
1939
Maaya Machendrar / Metropolitan Pictures, Raja Chandrasekha
6
1939
Prahalaatha / Salem Sankar Films, B.N.Rao
Forties..
7
1941
Ashokumar / Murugan Talkies Film Company, Raja Chandrasekhar
8
1941
Vethawathi or Seetha Jananam / Shyamala Pictures, T.R.Ragunath
9
1942
Thamil Ariyum Perumal / Uma Pictures, T.R.Ragunath
10
1943
Thaasi Penn or Jothi Malar/ Puvaneswari Pictures, Ellis R.Dungan
11
1943
Arichandra / Sri Rajarajeswari Film Company, Nagapushanam
12
1945
Meera / Chandraprabha Cinetone, Ellis R.Dungan
13
1945
Saalivaahanan / Bhaskar Pictures, B.N.Rao
14
1946
Sri Murugan / Jupiter, M.Somasundaram-V.S.Narayan
15
1947
Paithiyakaaran / N.S.K.Films, Krishnan-Panju
16
1947
Rajakumari / Jupiter, A.S.A.Sami
17
1948
Abhimanyu / Jupiter, A.S.A.Sami
18
1948
Mohini / Jupiter, Lanka Sathyam
19
1948
Raja Mukthi / Narendra Pictures, Raja Chandrasekhar
20
1949
Ratnakumar / Murugan Talkies Film Company, Krishnan-Panju
Fifties...
21
1950
Manthiri Kumari / Modern Theatres, T.R.Sundaram- Ellis R.Dungan
22
1950
Marutha Naatu Ilavarasi / G.Govindan and Co
23
1951
Marma Yogi /Jupiter, K.Ramnath
24
1951
Ektha Raaja in Hindi/dubbed
25
1951
Sarvaadhikaari / Modern Theatres
26
1951
Sarvaadhikaari in Telugu/dubbed
27
1952
Andamaan Kaithi / Radhakrishna Films, V.Krishnan
28
1952
En Thangai / Asoka Pictures, C.L.Narayanamurthy-M.K.R.Nambiar
29
1952
Kumaari / R.Padmanabhan-Rajeswari, R.Padmanabhan
30
1953
Genoa / Chandra Pictures, F.Nagoor
31
1953
Genoa ; in Malayalam/dubbed
32
1953
Naam / Jupiter-Mekala, A.Kasilingam
33
1953
Panakkaari / Uma Pictures, K.S.Gopalakrishnan
34
1954
Koondu Kili (1954)/ R.R.Pictures, T.R.Ramanna
35
1954
Malai Kallan (1954)/ Pakshiraja, S.M.Sriramulu Naidu
36
1955
Guleba Kaavali (1955)/ R.R.Pictures, T.R.Ramanna
37
1956
Alibaabavum Naarpathu Thirudarkalum / Modern Theatres, T.R.Sundaram
38
1956
Madurai Veeran / Krishna Pictures, Yoganand
39
1956
Thaaiku Pin Thaaram / Devar Films, M.A.Thirumugam
40
1957
Sakravarthi Thirumagal / Uma Pictures, P.Neelakandan
41
1957
Maha Devi / Sri Ganesh Movietone, Sundar Rao Nadkarni
42
1957
Puthumai Piththan / Sivakami Pictures, T.R.Ramanna
43
1957
Raja Rajan / Neela Productions, T.V.Sundaram
44
1958
Nadodi Mannan / M.G.R.Pictures, MGR
45
1959
Thaai Magalukku Kattiya Thaali / Kalpana Kala Mandhir, R.R.Chandran
Sixties...
46
1960
Baghdad Thirudan / Southern Movies, T.P.Sundaram
47
1960
Mannaathi Mannan / Nadesh Art Pictures, M.Nadesan
48
1960
Raja Desingu / Krishna Pictures, T.R.Ragunath
49
1961
Arasilankumari / Jupiter, A.S.A.Sami
50
1961
Nallavan Vaalvaan / Arasu Pictures, P.Neelakandan
51
1961
Sabash Maapillai / Ragavan Productions, S.Ragavan
52
1961
Thaai Sollai Thattathey / Devar Films, M.A.Thirumugam
53
1961
Thirudathey / A.L.S., P.Neelakandan
54
1962
Kudumba Thalaivan / Devar Films, M.A.Thirumugam
55
1962
Maada Pura / P.V.N.Productions, S.A.Subburaman
56
1962
Paasam / R.R.Pictures, T.R.Ramanna
57
1962
Rani Samyukthaa / Saraswathy Pictures, Yoganand
58
1962
Thaayai Kaatha Thanayan / Devar Films, M.A.Thirumugam
59
1962
Vikramaadhithan / Bharat Productions, T.R.Ragunath-N.S.Ramdhas
60
1963
Anantha Jothi / Hariharan Films (P.S.V.), V.N.Reddy
62
1963
Tharmam Thalai Kaakum / Devar Films, M.A.Thirumugam
63
1963
Kalai Arasi / Sarodi Brothers, A.Kasilingam
64
1963
Kaanchi Thalaivan / Mekala Pictures, A.Kasilingam
65
1963
Koduthu Vaithaval / E.V.R.Pictures, P.Neelakandan
66
1963
Neethiku Pin Paasam / Devar Films, M.A.Thirumugam
67
1963
Pana Thottam / Saravana Films, K.Sankar
68
1963
Parisu / Gowri Pictures, Yoganand
69
1963
Periya Idathu Penn / R.R.Pictures, T.R.Ramanna
70
1964
Theiva Thaai / Sathya Movies, P.Madhavan
70
1964
En Kadamai / Nadesh Art Pictures, M.Nadesan
71
1964
Padahotti / Saravana Films, T.Prakash Rao
72
1964
Panakkara Kudumbam / R.R.Pictures, T.R.Ramanna
73
1964
Thaayin Madiyil / Annai Films, Adurthi Subba Rao
74
1964
Tholilaali / Devar Films, M.A.Thirumugam
75
1964
Vettaikkaaran / Devar Films, M.A.Thirumugam
76
1964
Aasai Mugam / Mohan Productions, P.Pulliah
77
1965
Aayirathil Oruvan / Padmini Pictures, B.RPanthulu
78
1965
Enga Veetu Pillai / Vijaya Combines Productions, Sanakya
79
1965
Kalankarai Vilakkam / Saravana Films, K.Sankar
80
1965
Kanni Thaai / Devar Films, M.A.Thirumugam
81
1965
Panam Padaithavan / R.R.Pictures, T.R.Ramanna
82
1965
Thaalam Poo / Sri Bala Murugan Films, S.Ramadas
83
1966
Anbe Vaa / AVM, A.C.Tirulokachandar
84
1966
Naan Aanaiyittaal / Sathya Movies, Sanakya
85
1966
Muharaasi / Devar Films, M.A.Thirumugam
86
1966
Naadodi / Padmini Pictures, B.R.Panthulu
87
1966
Chandrothayam / Saravana Films, K.Sankar
88
1966
Parakkum Paavai / R.R.Pictures, T.R.Ramanna
89
1966
Petraal Thaan Pillaiyaa? / Sri Muthukumaran Pictures, Krishnan-Panchu
90
1966
Thaali Paakiyam / Varalakshmy Pictures, K.B.Nagabhushanam
91
1966
Thani Piravi / Devar Films, N.S.Varma
92
1967
Arasa Kattalai / Satyaraja Pictures, M.G.Chakrapani
93
1967
Kaavalkaaran / Sathya Movies, P.Neelakandan
94
1967
Thaaiku Thalaimagan / Devar Films, M.A.Thirumugam
95
1967
Vivasaayi / Devar Films, M.A.Thirumugam
96
1967
Rahasiya Police 115 / Padmini Pictures, B.R.Panthulu
97
1968
Ther Thiruvizah / Devar Films, M.A.Thirumugam
98
1968
Kudiyiruntha Koyil / Saravana Screens, K.Sankar
99
1968
Kannan En Kaathalan / Sathya Movies, P.Neelakandan
100
1968
Oli Vilakku / Gemini, Sanakya
101
1968
Kanavan / Valli Films, P.Neelakandan
102
1968
Puthiya Bhoomi / J.R.Movies, Sanakya
103
1968
Kaathal Vaahanam / Devar Films, M.A.Thirumugam
104
1969
Adimai Penn / M.G.R.Pictures, K.Sankar
105
1969
Nam Naadu / Vijaya International, Jambu
Seventies...
106
1970
Maatukaara Velan / Jayanthi Films, P.Neelakandan
107
1970
En Annan / Venus Pictures, P.Neelakandan
108
1970
Thalaivan / Thomas Pictures, P.A.Thomas
109
1970
Thedi Vanda Maapillai / Padmini Pictures, B.R.Panthulu
110
1970
Engal Thangam / Mekala Pictures, Krishnan-Panchu
111
1971
Kumari Kottam / Kay Cey Films, P.Neelakandan
112
1971
Rikshawkaran / Sathya Movies, M.Krishnan Nayar
113
1971
Neerum Neruppum / New Mani J.Cine Productions, P.Neelakandan
114
1971
Oru Thaai Makkal / Nanjil Productions, P.Neelakandan
115
1972
Sange Muzhangu / Valli Films, P.Neelakandan
116
1972
Nalla Neram / Devar Films, M.A.Thirumugam
117
1972
Raman Thediya Seethai / Jeyanthi Films, P.Neelakandan
118
1972
Annamidda Kai / Ramachandra Productions, M.Krishnan
119
1972
Naan Een Piranthaen? / Kamatchi Agencies, M.Krishnan
120
1972
Ithaya Veenai / Uthayam Productions, Krishnan-Panchu
121
1973
Ulagam Suttrum Vaalipan / M.G.R.Pictures, MGR
122
1973
Paddikaatu Ponnaiah / Vasanth Pictures, B.S.Ranga
123
1974
Netru Inru Naalai/ Amalraj Films, P.Neelakandan
124
1974
Urimai Kural/ Chitrayuka, C.V.Sridhar
125
1974
Siriththu Vaazhavendum / Uthayam Productions, S.S.Balan
126
1974
Ninaithathai Mudippavan / Oriental Pictures, P.Neelakandan
127
1975
Naalai Namathe / Gajendra Films, K.S.Sedhumadavan
128
1975
Pallaandu Vaazhha / Uthayam Productions, K.Sankar
129
1975
Ithaya Kani / Sathya Movies, A.Jeganathan
130
1976
Neethikku Thalai Vanangu / Sri Umaiyambikai Productions, P.Neelakandan
131
1976
Uzhaikkum Karangal / Kay Cey Films, K.Sankar
132
1976
Oorukku Uzhaippavan / Venus Pictures, M.Krishnan
133
1977
Inru Pola Enrum Vaazhha / Subbu Productions, K.Sankar
134
1977
Navarathnam / C.N.V.Movies, A.P.Nagarajan
135
1977
Meenava Nanban / Muthu Enterprise, C.V.Sridhar
136
1977
Maduraiyai Meedda Sundara Paandiyan (1978)/ Soleeswar Combines, P.Neelakandan