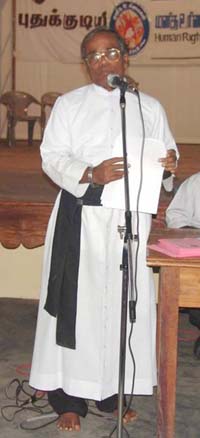 This piece is not an eulogy for Fr. Karunaratnam, the Chairman of North East Secretariat on Human Rights. It is reported that he was assassinated on Sunday 20 April 2008, by the Sri Lankan Armed ForcesĎ, Deep Penetrating Unitís Claymore Mine.
Fr. Karunaratnam is silenced.
This piece is not an eloquent exposition of the war crimes committed by the Sinhala state against the Tamil nation.
Fr Karunaratnamís mortal remains is a living testimony to the brutal truth of oppression.
This piece is not a symbolic gesture of bowing your head in respect to the departed soul.
Fr. Karunaratanamís life and witness is an annoyance to the oppressors of the world.
This piece is not a political statement or a manifesto of the oppressed.
Fr. Karunaratnam has joined the cloud of witnesses. Innocent blood is shed daily. And the whole world watches nonchalantly, as the voices of the martyrs are heard in deadly silence.
This piece is not a terrorist tract. Or not even a condemnation of the act.
Fr Karunaratnam has reminded us yet again that the struggle for human rights calls for the ultimate cost.
And he has paid it in full with his blood.
Father, for they know what they are doing. Amen.