TAMIL NATIONAL FORUM
Selected Writings - Fr. Chandiravarman Sinnathurai
A Lenten Meditation
Friday, 3 March 2006
This poem was inspired by listening to Trevor, "Van the Man", and Purananooru
Drawing of the crucifixion by the mystic St John of the Cross.
---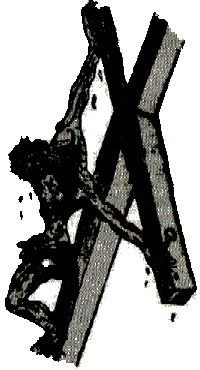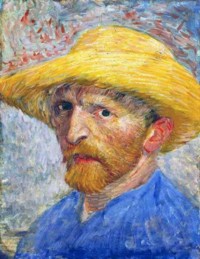 Don McLean singing Vincent (Starry Starry Night) - McLean wrote Vincent in 1971 after reading a book about the life of artist Vincent Van Gogh. In the 1970s, the Van Gogh museum in Amsterdam played the song daily and a copy of the sheet music, together with a set of Van Gogh's paint brushes, is buried in a time capsule beneath the museum.

Starry starry night, paint your palette blue and grey
Look out on a summer's day with eyes that know the darkness in my soul
Shadows on the hills, sketch the trees and the daffodils
Catch the breeze and the winter chills, in colors on the snowy linen land

Now I understand what you tried to say to me
How you suffered for your sanity
How you tried to set them free
They would not listen they did not know how, perhaps they'll listen now

Starry starry night, flaming flowers that brightly blaze
Swirling clouds in violet haze reflect in Vincent's eyes of china blue
Colors changing hue, morning fields of amber grain
Weathered faces lined in pain are soothed beneath the artist's loving hand

Chorus:
For they could not love you, but still your love was true
And when no hope was left in sight, on that starry starry night
You took your life as lovers often do,
But I could have told you, Vincent,
This world was never meant for one as beautiful as you

Starry, starry night, portraits hung in empty halls
Frameless heads on nameless walls with eyes that watch the world and can't forget.
Like the stranger that you've met, the ragged man in ragged clothes
The silver thorn of bloody rose, lie crushed and broken on the virgin snow

Now I think I know what you tried to say to me
How you suffered for your sanity
How you tried to set them free
They would not listen they're not listening still
Perhaps they never will.
Shanthanam is standing on the lip of death pits
Saachi is standing in the queues to gas chambers.
Little Tamil lads are chased towards the charged wires of the fence.
Ibrahim is on a "rendition flight"
There in that corner, with wafer and crucifix
Stands a Poet, bleeding on the Cross
Crying ―
"Life is for living
that it isn't a show"♥

Hear the thud of guns
The rumble of the tanks
Marching of the feet
Coming for Liberation
God is at the gate of the camp
With pocket full of food and medication,
The Poet with wafer and crucifix whispered…
It's the Lady from Ground Zero
Crying ―
"Life is for living
that it isn't a show"
Canon Dennis♣
spun us a story:
"God was inside the camp
With lice in his hair
And sore in his legs
And food missing from his belly"
You call it Salvation eh?
Chuckles a "Bath-tub saint" stark naked; black'n' blue
A Drunk in sub-zero Times Square,
Half-frozen to death, yet
Begging for a dime for the next round of blues…
"One for the road chief!" he stammers with sunken cheeks.
Fractured humans not just painted dolls
Looking for broken bread in an empty shed
The Poet with wafer and crucifix smiled…
It's Kierkegaard talkin' with the ghost of Van Gogh
A genius and an Apostle: That Individual in the presence of a tortured expression.
Suffering for sanity, reading purple prose on the flickering screen!

Pickled piety, what good is it, the jester quipped…
What's wrong with you, can't you see? The philosopher asked.
The desert is in her pregnancy
Near to full-term
Near to birthing…
Burdened with a most astonishing pain and anguish
Yet with divine beauty,
Delicate, exquisite
The Poet with wafer and crucifix asked:

Who will lift God's body from the Cross?
The tortured Man on the cross opened his mouth and eyed,
Call for the ascetic Tambourine man
Ask of him to sing a whirling lamentation ―
"Life is for living
that it isn't a show."
---
♥ Words of Van Morrison, Live New York Session 1967 (The Definitive Collection)
♣ Canon Trevor Dennis, Dean at Chester Cathedral.