25 February 2006
விடுதலையின் வாசலில் - At Freedom's Entrance....
Convention Hall, Frieberg, Switzerland - Thousands of Tamils greet LTTE Delegation to Geneva Talks. Speeches in Tamil by -

LTTE Political Wing Leader, S.P Thamilchelvan,

Col.Jeyam,

Nahulan, and

Ilanthiraiyan.
[also 1. Senior Member of LTTE, V.Balakumaran in Tamil National Television on the Geneva Talks, 27 February 2006 and 2. Anton Balasingham interview with Sunday Leader after Geneva Talks, 26 February 2006 "... I told the (Sri Lanka) delegation that I have come with a specific mandate from Mr. Pirapaharan to only talk about the implementation of the Cease Fire Agreement. I said we will walk out if anybody raises anything or starts discussing constitutional or legal problems pertaining to this document. I said the moment you claim the CFA is incorrect, then you are coming out of the CFA. That means you are giving two weeks notice for the resumption of hostilities. You better think very carefully, I said...." more]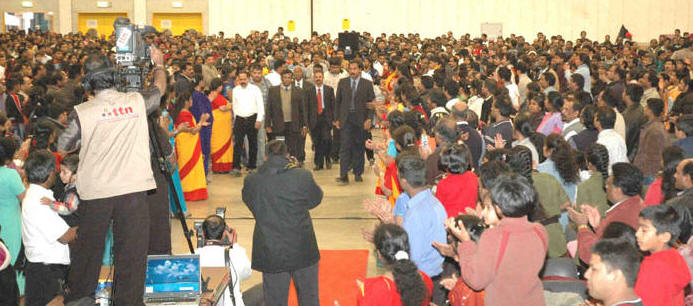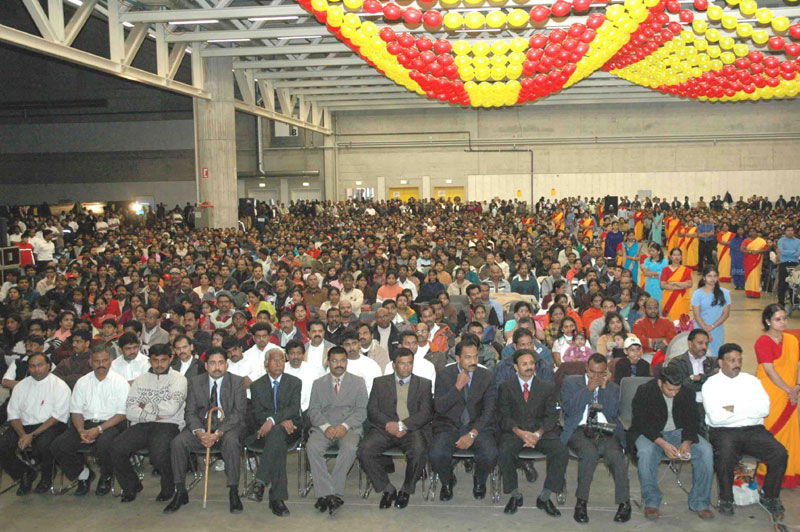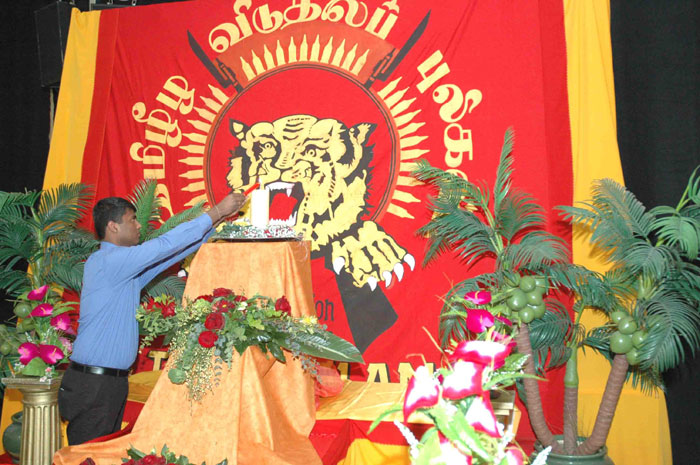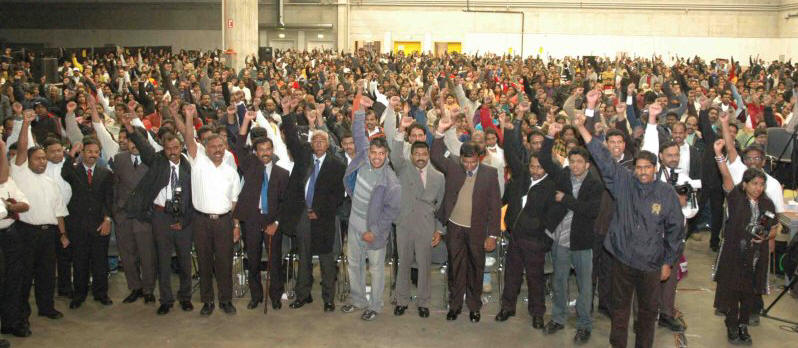 more pictures at tamilnaatham.com
10 January 2006
Large crowds attend Resurgence Convention in Muttur east
[TamilNet, January 10, 2006]

Large number of Tamils thronged the grounds of Kadatkaraichchenai, a village in Muttur east for Tamil National Resurgence Convention, the first in the New Year in the northeast province held Tuesday evening. Thousands walked from several villages in the divisions of Vaakarai, Verugal and Eachilampathu to Kadatkaraichchenai, a village in the Muttur east, sources said.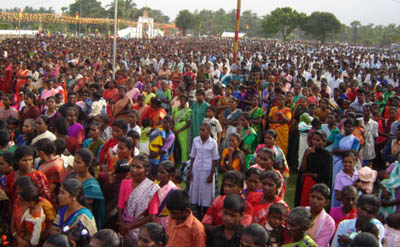 Mr.Elilan, Trincomalee district political head of the LTTE, parliamentarians Mr.Thurairatnasingham and Mr.M.K.Sivajilingam and other activists are seen at the convention. All roads leading to the venue of the convention were gaily decorated with red and yellow flags and banners were displayed at every junction from Vakarai to Kadatkaraichchenai, the sources said.

Mrs. Gunanayagam Nageswary, mother of Black Tiger Major Jeyam lit the flame of sacrifice.

Mr.Thiryagarasapillai Arulananthan, father of Lt.Sivajini and Lt.Sathananthan (sister and brother) lit the common flame of sacrifice. Mr.Pathakutty Arasaretnam, father Major Thamilmaran and Mr.Kuttiyan, a member of auxiliary force (both brothers) hoisted the Thamileelam national flag.

Mr.K.Thurairatnasingham, Trincomalee district parliamentarian and Mr.M.K.Sivajilingam, Jaffna district parliamentarian of the Tamil National Alliance (TNA), Mr.S.Elilan, Trincomalee district political head of the LTTE and several other Tamil activities participated in the rally, the sources said.