LTTE delegation Arrives in Geneva
for Talks with Sri Lanka on Implementation of Ceasefire
18 February 2006
[see also Tamil Insight Report - Switzerland Wakes Early To Welcome LTTE Team]
---
The 12-member Liberation Tigers delegation arrived at the Geneva airport at 4.30 a.m. 18 February 2006, Saturday morning to attend the peace talks with the Government of Sri Lanka on 22-23rd February, and was met at the air port by the Swiss Foreign Ministry officials headed by Ms. Sidonia Gabriel (Programme officer, Peace Policy, Federal Department of Foreign Affairs), sources in Geneva said. Liberation Tigers Chief Negotiator and Political Strategist Mr. Anton Balasingham is expected to join the delegation on Monday afternoon, according to LTTE sources.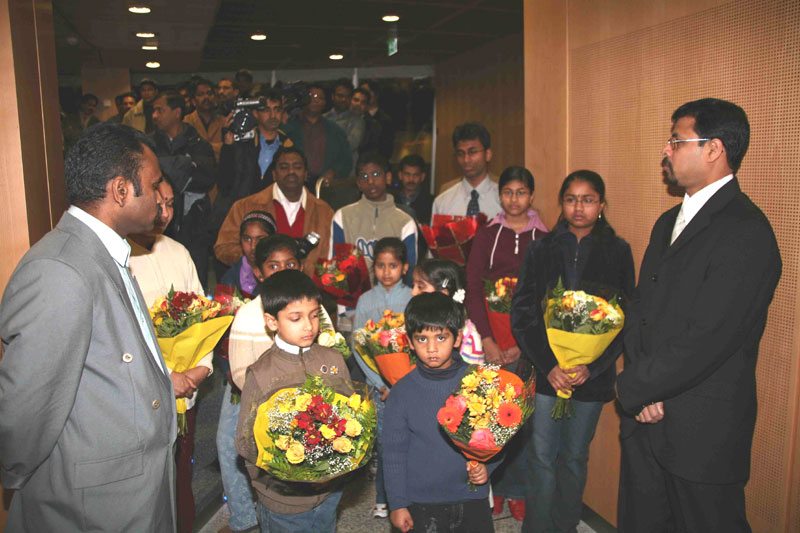 World Tamil Coordinating Committee official Mr. Theyvakanthan (left) Mr. Columbus Valpais (right) and a representative of Swiss Tamil Women Organisation Ms P. Senthamilchelvy (left) seen with Swiss Tamil children welcoming the LTTE officials
The airport entry procedures were expedited for the LTTE delegation as they were led by Swiss officials through diplomatic immigration formalities. Anton Ponrajah, the Head of the Geneva based International Federation of Tamils was at hand to receive the Peace Talks Team flying in from Colombo, led by S.P.Tamilchelvan, Head of the Political Wing of the LTTE. Later Mr. Thamilchelvan addressed the large gathering of expatriate Swiss-Tamils inside the airport Press Conference Hall at 6 a.m.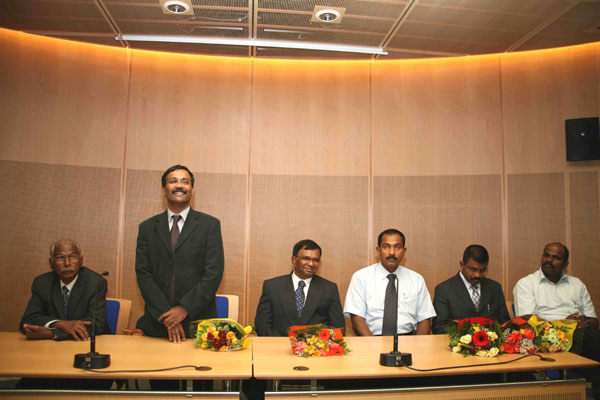 (L-R) George, Thamilchelvan, Nadesan, Col.Jeyam, Ilanthirayan, and Puleedevan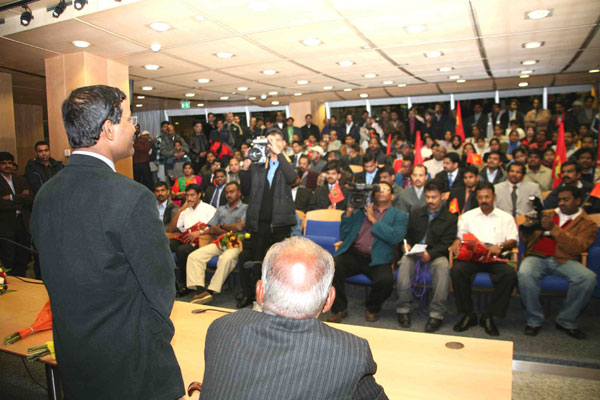 Thamilchelvan told the expatriate Tamils that the talks will reveal the bona fides of the Sri Lanka Government in seeking a peaceful resolution to the Tamil National question.
"If we look at the recent past, even after the meeting between LTTE leader Pirapaharan and Norwegian International Development Minister Mr. Erik Solheim, Sri Lanka Armed forces have not taken any genuine steps to improve the normalcy of our people in Jaffna. We are dismayed at the increasing number of complaints of harassment and additional deployment of troops," Tamilchelvan told the audience.In addition to Thamilchelvan, and Mr Balasingam, the LTTE delegation for the peace talks consists of former Southern Forces Commander Col.Jeyam, Head of the Tamileelam Police, P Nadesan, and former Batticaloa District Political Head of the LTTE, Mr. Ilanthiraiyan (Marshall). Ilanthiraiyan's knowledge on the ground situation in the east and the military dimensions of east's geography will be a useful asset to the negotiating team, an LTTE official said.

In addition, the visiting delegation includes Secretary General of the LTTE Peace Secretariat S Puleedevan, Deputy Director of the Peace Secretariat, Ms Selvi, Interpreter George, and five other junior LTTE officials.

The Sri Lanka Government delegation comprises of Ministers Nimal Siripala De Silva, Jeyraj Fernandopulla, Rohitha Bogollagama, Feriel Ashroff, IGP Chandra Fernando, Expert from UN Palitha Kohonne, and lawyer Gomin Dayasiri.

The resource personnel for the talks were announced as Sripathi Suriyaarachchi., Dr.John Gunaratne- Secretary General Peace Secretariat, Nevad Cabraaal, H.L.De Silva (lawyer) Navy Commander Wasanatha Karannagoda, Shanaka Jayasekera, Brigadier M.C.M.G. Samarasinghe and Sarala Fernando (Ambassador in Switzerland).

Some members of the Sri Lanka delegation left for Geneva Friday night, government sources in Colombo said.