Tamilnation > Struggle for Tamil Eelam > Conflict Resolution - Tamil Eelam - Sri Lanka > Norwegian Peace Initiative > LTTE's Military Victories & the International Response > LTTE leader meets Norwegian Peace Envoy, 1 November 2000
Norwegian Peace Initiative
LTTE leader meets Norwegian Peace Envoy
(Press Release by International Secretariat of LTTE,
211 Katherine Rd, London E6 1BU, United Kingdom.
Tel : 44 20 8503 4294)
1 November 2000
---
The LTTE leader, Mr.Velupillai Pirapaharan called for the de-escalation of the armed conflict and restoration of normalcy in the Tamil homeland as essential pre-requisites to resume political negotiations with Sri Lanka government. Mr. Pirapaharan clarified LTTE's position on peace talks when he met the Norwegian delegation at Malawi, in the Northern Wanni region today.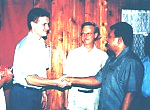 Mr. Erik Solheim, the special Norwegian envoy for Sri Lanka, Mr.Jon Westborg, the Norwegian Ambassador in Colombo, Ms. Kjersti Tromsdal an executive officer in the Norwegian Foreign Ministry, went to the LTTE controlled region of Wanni yesterday on a fact finding mission. The Norwegian delegation paid a courtesy call on Mr. Pirapaharan today evening. Mr. Tamilselvan, the head of the LTTE's Political Wing and Mr.Sankar, a senior LTTE cadre were also present at the meeting. The meeting lasted for two hours.
Explaining the politico-military situation in the Northeast, Mr. Pirapaharan blamed the Kumaratunga government for having unleashed a genocidal war against the Tamil people and as a consequence the Tamils had suffered enormously. He declared that the government was not sincere in seeking a peaceful resolution of the conflict but escalating war of aggression against the Tamils.
Discussing about the prospects for peace talks, the LTTE leader suggested a process of de-escalation of the conflict as a necessary pre-requisite for a dialogue. By de-escalation Mr. Pirapaharan meant the cessation of armed hostilities, the removal of military aggression and occupation, the withdrawal of the economic embargo and the creation of conditions of normalcy in the Tamil homeland. The LTTE leader also insisted that the Sri Lanka government should take the initiative of relaxing the conditions of war if they wanted genuine peace.
Both the parties discussed several pertinent issues and the discussions were cordial and constructive.