Ethnic Violence, Development and Human Rights
Netherlands Institute of Human Rights
Consultation - Utrecht, 1-3 February 1985
Introduction | Report of Working Group - the Reality in Sri Lanka | Appendix A - Participants | Appendix B - Selective Bibiliography | Appendix C - Tamil Information Centre
---
Introduction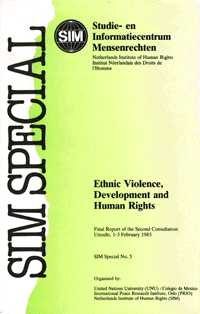 From the Introduction by Hans Thoolen, Director of the Netherlands Institute of Human Rights (SIM), Utrecht, 17 June 1985:
"It is hard to deny that ethnic conflict has been and continues to be one of the major causes underlying war, civil strife, repression, human rights violations and consequent setbacks in economic development.
However, both in research and in diplomatic action concerning these phenomena there has been a tendency to downplay the ethnic element. The inherent complexity of ethnic problems is probably part of an explanation, but there are other elements as well. Having settled most of the post-colonial boundaries, there has been little enthusiasm in the United Nations and other intergovernmental bodies to (re)open the Pandora's box of self-determination by focusing on ethnic diversity within the agreed states.
It seems that problems of ethnic minorities enter the area of international concern only when tensions have led to conflict of such a scale and intensity that its consequences can no longer be hidden from public view. And even then, the explanation that ethnic conflict is at the base of these human rights violations is usually invoked by the repressive governments themselves, as if this explanation exonerates them from their normal duty to protect their citizens.
When, in addition, the government can point to a claim for nationhood, secession, separatism etc. - uttered sometimes only by a radical fraction of the ethnic minority after decades of rejection of more moderate demands - then the government usually can count on understanding and even support for its policies from other governments.
This failure of intergovernmental organizations, based on the reticence of its membership, to look into the question of ethnic conflict early in the process, and to play a protective role, is very much at the heart of the problem
Ethnic tension often is aggravated by ethnic minorities' deep seated mistrust of the government apparatus concerned, which is seen to be, and usually is in the hands of the "other side". The national government therefore, as a party involved in the emerging conflict, can do little to diminish the tension and develop solutions. Insistence on the strict application of the rule of "exhaustion of domestic remedies" seems not to be the answer in the case of collective demands of an ethnic nature. Even more than in the case of violation of individual rights, there is a intercessionist role to be played by regional or international organs.
It has to be investigated how the United Nations could play a more preventive role, e.g. by giving ethnic minorities more recognized formal standing in United Nations organs and proceedings, by creating better opportunities for minorities to call on the United Nations, or by giving the United Nations an arbitration role in emerging conflicts.
This as yet unfulfilled structure throws a larger share of responsibility on non-governmental organizations involved in the field of human rights and development. For this purpose, they have to establish more effective networks in which information can bc exchanged and action coordinated.
The present SIM Special (publication) underlines the necessity for giving far greater attention to research into the relation between human rights, development and ethnic conflict, and the cooperation of different non-governmental actors in these fields.
In October 1984, together with the United Nations University (through the Colegio de Mexico), and the international Peace Research institute of Oslo (through its Human Rights Project), the First Consultation on Ethnic Conflict was organized by the Netherlands institute of Human Rights (SIM). With the financial assistance of NOVIB and under the chairmanship of Theo van Boven, a small group of concerned individuals came together in Woudschoten (near Utrecht) to prepare a larger meeting, the Second Consultation, for l to 3 February, 1985.
Although there are many longstanding ethnic conflicts, and special focus on the relation between ethnic conflict and human rights has been long over due, these two consultations were prompted by the continuously aggravating ethnic conflict in Sri Lanka.
At the February 1985 consultation, many of the participants, although from diverse organizational backgrounds, shared special knowledge regarding the situation in Sri Lanka, and the discussion on action to he taken in the short term focused very much on the case of Sri Lanka.
Nadesan Satyendra, a prominent Tamil constitutional lawyer, submitted a lengthy paper which, written from a Tamil perspective, very clearly and eloquently describes the plight of a people, a nation. One does not need to share specific ideas on self-determination for the Tamils to understand how government policy, inadvertently, can strengthen the claim to nationhood.
An introduction, given at the opening session of the Second Consultation, by David Selbourne, about recent events in Sri Lanka, has been omitted from this report, as the situation is constantly changing, and updating a publication such as this is difficult. It has been replaced by a short list of reports and articles which are easily available from the sources. (Appendix B)
Two particularly interesting projects on the collection of information and documentation on Sri Lanka, in London and in Oslo, are described briefly in Appendices C and D respectively.
The encouraging efforts of the United Nations University in the field of ethnic conflict are prominently illustrated by two reprints from The Lanka Guardian under the title: " U. N. U South Asia Perspectives Project: an Agenda for a Non-Violent Solution"
The general research part of the meeting is represented by three articles by Rodolfo Stavenhagen, Fali S. Nariman and Kumar Rupesinghe. Their contributions are proceeded by introductory notes as presented to the meeting by Asbjorn Eide and Rodolfo Stavenhagen.
After adoption of the summary reports of the two working groups, one on Sri Lanka and the other on research. the closing session on the morning of February 3rd marked the end of the Second Consultation. However, as many participants felt that immediate follow-up was called for, a Standing International Forum reconvened in the afternoon of February 3rd. in which the Sri Lankan participants to the Consultation declined to take part in order to allow frank and unbiased decision making concerning the case of Sri Lanka.
The Forum resulted ultimately in the establishment of a foundation called SIFFC (Standing international Forum on Ethnic Conflict, Development and Human Rights) with legal personality in Utrecht, the Netherlands, and a secretariat in London. An Emergency Committee on Sri Lanka, very much in line with the recommendations of the working group on Sri Lanka of the Second Consultation, was established as a first priority.
---

Report of Working Group Two of the Second Consultation
The Reality in Sri Lanka by Patricia Hyndman
The major point which came out of the discussion was the urgency of the current situation in Sri Lanka and the need for immediate action to be taken in order to avoid a total breakdown and further bloodshed.
There was a general consensus that within Sri Lanka today the Tamils do not have the protection of the rule of law, that the Sri Lankan government presents itself as a democracy under crisis, and that neither the government, nor its friends abroad, appreciate the serious inroads on democracy which have been made by the legislative, administrative, and military measures which are being taken.
The extreme measures which are currently being adopted by the government inevitably provoke extreme reactions from the other side. The political negotiations have now broken down; there has been an alarming increase in the number of violent incidents and a military rather than a political solution has been selected.
The normal life of the population of the North has been seriously affected. People either have great difficulty or find it completely impossible to continue with their employment and there is a severe shortage of food and basic necessities. The imposition of long curfews, severe curtailment of movement, and other restrictions have brought great hardship, deprivation, and suffering to the people in the regions in the north and east, which have been declared to he prohibited and security zones. Many Tamils are daily fleeing across the Palk Straits to Southern India.
The continuing colonization of Tamil areas with Sinhalese settlers and the arming of such Sinhalese is exacerbating the situation. Sri Lanka and the Sri Lankans are in a state of great insecurity and the country would appear to be on the brink of civil war.
In this context the need for international initiative was discussed.
The following points and suggestions were made by the participants:
1. That it is important to reinforce the confidence of the Sinhalese population that they do have a right to survival. The genuine fear of these people that they are a minority within the South-Asian region must be taken into consideration.

2. That there is an immediate need for thc creation of an independent group which would have the function of making clear and making widely known the present serious condition of the Tamil people and their genuine demands. It is important that such a group should maintain its independence from the Tamil groups who are presently shouldering this burden and attempting to fulfil this function alone.

3. That it is essential to establish a programme to convince donor governments and parliaments to use their influence to persuade the Sri Lankan government to seek a political rather than a military solution.

4. That a simple document should be prepared containing a selection of the complicated issues in order to make governments, the public, and donor agencies aware of the real situation.

5. That an up-to-date document should be prepared immediately which could be used by all the non-governmental organizations at the UN Commission on Human Rights.

6. That as persons concerned with the Sri Lankan situation in general we should intensify contacts with the media to create awareness of the urgency of the problem, and the necessity for action to be taken to prevent civil war, and in particular make contacts to inform the French language press of the seriousness of the situation.

7. That the actions of outside parties who are helping to escalate the problem by providing arms should be condemned, in particular the continued sale of arms with knowledge that the arms are being used for suppressing ache minority.

8. That there is an urgent need for the better disciplining, and education in human rights, of the security forces in Sri Lanka.

9. That measures must be proposed to assist Tamil refugees and that the cause of the refugees should be made more known as part of the problem.

10. That possibilities of closer co-operation with non-governmental organizations should be explored in order that a common stand and common action might be taken.
11. That exploration should be made of the possibilities that religious groups might bc able to work together with the aim of, firstly, bridging the gap between the different factions within Sri Lanka, and, secondly, of de-escalating the tensions within the country.

12. That a clear differentiation has to bc made between the Sinhala people and the government, and it was also agreed that the government should not be regarded as a monolithic entity.

13. Further the suggestion was made that the main concern should be the human rights problems in Sri Lanka and the present urgent need for welfare and relief, that these problems could and should be detached from the political arms of the Tamils, and that it is neither necessary nor desirable to take any stand on the issue of separatism.
Finally
There was a general consensus that a forum should be established and that this must be done as a matter of urgency to take immediate, planned, and concerted action to avoid further violence on both sides.
Group Chairman: Goran Backstrand, Rapporteur: Patricia Hyndman, Assistant-Rapporteur: Daniel Ravindran
---
LIST OF PARTICIPANTS Second Consultation, 1-3 February 1985, Utrecht
(names of organisations are mentionedfor identification purpose only)
Backstrand, Goran - Swedish Red Cross , Stokholm
Berman, Howard R - Harvard Law School, U.S.A.
Boven, Theo C. van - Commission of the Churches on International Affairs, Netherlands
Bronwer, Arie - ICCO, Netherlands
Dongen, Toine van - Ministry of Foreign Affairs, Netherlands
Lynn, James - ACFOA, Australia
Dijk, Pieter van - Europa Instituut, The Netherlands
Eide,Asbjorn PRIO - Norwegian Human Rights Project, Oslo
Ennals, Martin - London
Garbutt, John - Christian Conference of Asia, Hongkong
Hannum, Hurst - Procedural Aspects of International Law Institute, United States of America
Hanssen, Halle Jorn - Information Division NORAD, Ministry of Development Cooperation, Norway
Helmich, Henny - Third World Project Centre / University of Amsterdam
Hermle, Reinhard - MISEREOR, Federal Republic of Germany
Hyndman, Patricia - Lawasia, Australia
Janssen, Theo - CEBEMO, The Netherlands
Kanthasamy, K - Tamil Information Centre, London
Lap, Biem - ICCO, The Netherlands
Lovedee, Ilfra M - Quaker Peace & Service, London
Mayne, Susan - CAFOD, London
Nariman, Fali S - Lawasia and Bar Association of India
Nasution, Adnang - Buyung Legal Aid Foundation (LBH) Indonesia
Niland, Norah - Sri Lanka Solidarity Committee,Geneva
Protz-Schwartz, Michael - Bread for the World, Federal Republic of Germany
Ravindran, Daniel - International Commission of Jurists, Geneva
Reiinders, Jan - Hivos Beeklaan, The Netherlands
Rupesinghe, Kumar - PRIO, Norway
Satyendra, Nadesan - Cambridge, United Kingdom
Selbourne, David - Ruskin College, Oxford, United Kingdom
Sieghart, Paul - London
Stavenhagen, Rodolfo - United Nations University Mexico
Sudworth, Eileen - CIDSE, Belgium
Theunis, Sjef - NOVIB, The Netherlands
Thoolen, Hans - SIM, The Netherlands
Vandommele, Marc - NCOS, Belgium
Julien-Waring, Claude - Quakers Peace and Service, London
Whitaker, Ben - Minority Rights Group London
Youssoufi, Abderahman - Arab Lawyers Union, Cairo
Zandvoort, Peter van - NOVIB, The Netherlands
---

Appendix B
Selective Bibilography
- Selection of Documents on Human Rights in Sri Lanka Available at SIM
Amnesty International International Secretariat - Report of an Amnesty International mission to Sri Lanka: 31 January - 9 February 1982, London, Amnesty International International Secretariat, July 1983 72p.

Amnesty International USA - Sri Lanka: current human rights concerns and evidence of extra judicial killings by the security forces: July 1983 - April 1984 New York, Amnesty International USA, 1984 (78 p.)

Amnesty International International Secretariat - Sri Lanka: reports of recent violations of human rights and Amnesty International's opposition to refoulement of the Tamil community to Sri Lanka London, Amnesty International International Secretariat, January 1985 (25 p.)

Amnesty International International Secretariat - Sri Lanka: allegations of extrajudicial killings by army personnel: details of some cases reported during December 1984 and January 1985 London, Amnesty International International Secretariat, April 1985 13 p.

Anti-Slavery Society for the Protection of Human Rights (and eight other non-governmental organisations) - The situation of human rights in Sri Lanka: memorandum to the delegates to the Commission of Human Rights Geneva, February 1985 in English, French and Spanish

Committee for Rational Development - Sri Lanka the ethnic conflict: myths, realities and perspectives New Delhi, Committee for Rational Development, 1984 249 p.

Fernando, Kshama - Human rights: lecture delivered ... at the Ministry of Justice, Sri Lanka on 15 August, 1984 27 p.

Forget, Antoinette - Des freres ou des ennemis?: la question Tamoule au Sri-Lanka Paris, Comite de Coordination Tamoul-France, 1984 29 + 13 p.

Frontline Essay: Sri Lanka: a time of troubles in: Frontline: India's National Magazine v.2(6) March 23-April 5, 1985 pp. 32-76

Hyndman, Patricia - The communal violence in Sri Lanka: July 1983 Sydney, LAWASIA, 1984 295p.

Hyndman, Patricia - Sri Lanka: escalating violence and erosions of democracy Sydney, LAWASIA, March 1985 15 p.

Kilroy-Silk, Robert; Sims, Roger - Sri Lanka: a nation dividing: report of a visit to Sri Lanka on behalf of the Parliamentary Human Rights Group London, House of Commons / Parliamentary Human Rights Group, February 1985 17 p.

Leary, Virginia A. - Ethnic conflict and violence in Sri Lanka: report of a mission to Sri Lanka in July - August 1981 Geneva, International Commission of Jurists, 1981 Ist ed. (1981) 87 p. + 2nd. ed. (August 1983) 110 p.

Moore, Mick - Categorising space: urban-rural or core-pheriphery in Sri Lanka in: Journal of Development Studies v.20(3) 1984 pp. 102-122

Piyadasa, L. - Sri Lanka: the holocaust and after London, Marram Books, 1984 129 p.

Ponnambalam, Satchi - Sri Lanka: the national question and the Tamil Liberation struggle London / Thornton Heath, Zed Books / Tamil Information Centre, 1983 273 p.

Rupesinghe, Kumar; Hoivik, Tord; Hettne, Bjorn - Ethnic conflict, human rights and development in Sri Lanka Oslo, International Peace Research Institute - PRIO, January 1985 325 p. in v.p. PRIO Working Papers v.1-5

Schwarz, Walter - The Tamils of Sri Lanka London, Minority Rights Group, 1983 16p. Minority Rights Group Reports, no.25

Selbourne, David - Discussion document on Sri Lanka: paper presented to the First Consultation on Ethnic Violence, Utrecht, 20-21 October 1984 4p.

Selbourne, David - The situation in Sri Lanka: paper presented to Second Consultation on Ethnic Violence Utrecht, 1-3 February 1985 4p.

Sieghart, Paul - Sri Lanka: a mounting tragedy of errors London, International Commission of Jurists and Justice, March 1984 95 p.

Sivanandan, A.; Jayawardena, Kumari; Sanmugathasan, N. - Sri Lanka: racism and the authoritarian state in: Race & Class v.XXVI(1) London, Institute of Race Relations, July 1984 198 p.

Sri Lanka in: Country Reports on Human Rights Practices for 1984 ... by the Department of State Washington DC, U.S. Government Printing Office, February 198$ pp. 1385-1399

Sri Lanka in change and crisis - Manor, James (ed.); de Silva, C.R.; Moore, M.P. Beckenham, Croom Helm, 1984 229p. ISBN 0 7099 3513 7

Tasker, Rodney; de Silva, Mervyn; de Silva, Manik Brink of civil war... in: Far Eastern Economic Review, 21 February 1985 pp. 36-42

Thornton, E.M.; Niththyananthan, R. - Sri Lanka island of terror: an indictment North Wembley, Tamil Research Organisation, 1984 123p.
---
THE TAMIL INFORMATION CENTRE
1. Formation
Control of the Press
The independence of the press in Sri Lanka was being gradually eroded during the last two decades by direct and indirect coercion by successive governments. In the seventies two large newspaper groups came under the control of the government. The newspaper groups which were not under the control of the government too were afraid to be critical of human rights violations by the government. All newspapers, whether government-controlled or not' were not only slow to give publicity to any human rights violations against the Tamils, but even blacked out the news. At least one group of newspapers was more racist than the government-controlled papers. The opinion of the Tamil people found little or no place in the Colombo-based papers; except one Tamil daily, all dailies are published from Colombo.
Saturday Review
Saturday Review an English weekly, was started in January 1982 mainly for the purpose of publishing the human rights violations in the country and the views of the Tamil people relating to their problems, so that the Sinhalese people, at least the English-reading public, may become aware of the correct situation. Saturday Review was banned to prevent publicity to the planned massacre in the Trincomalee District in June 1983. Though Saturday Review was allowed to re-commence publication in February 1984, it is subject to special censorship, and only government-approved materials are printed.
Awareness outside Sri Lanka
The correct information reaching the outside world was limited to communication by human rights organisations or activists, or by persons who visited Sri Lanka and in particular the North and East. The nature and extent of violations against the Tamils in the North or the East are seldom appreciated by visitors who met people only in Colombo or in the South. The work of the human rights organisations and activists were closely watched by the government. In late 1982 and early 1983 the government had started using the powers under the Prevention of Terrorism Law (introduced in 1979 and under which several activists have been detained and tortured) to intimidate human rights workers, and it has then become dangerous to publish within the country and to communicate with the outside world. The government was quite sensitive to the image created in the world and it wanted to prevent information flowing out rather than conform to international human rights norms.
Tamil Information Centre
Owing to the repression within Sri Lanka there was an urgent need to have an organisation for the collection and dissemination of news relating to the repression and human rights violations against the Tamil people. Tamil Information Centre (TIC) started its work in dune 1983 end from lst July 1983 it functioned officially. The need for its work is increasing because of the desire of the Sri Lankan Government to impose a military solution. The repression is now more extensive and includes periodic killings of civilians, massacre of prisoners, "disappearance", rape, and torture. Tamil Information Centre has branches in Madras and Madurai in India. The Madras Branch carries out publications, while the branch at Madurai does information gathering.
2. The Work of TIC
Information Gathering
TIC gathers information daily from Sri Lanka and India and if necessary from other points. TIC receives all publications in English and Tamil, including dailies and periodicals from Sri Lanka. There are also arrangements to receive special reports, photographs, memoranda, and any document touching on the problem. The information received daily is recorded and stored. The documents received are indexed and filed.
Ansaphone
An ansaphone service to give out reports was started in September 1983. A short report is prepared from the information gathered daily and a recorded message is given from 6 p.m. until the following morning 9.30 a.m. The service has a high demand and we have two lines for English messages and one line for Tamil messages, which was introduced at the request of Tamil refugees in France and Germany who do not have adequate knowledge of English. The system of messages over the ansaphone has become popular and it is adopted by Associations in Canada, USA, France, and the U.K. It is believed that most of them get the news from TIC services.
Daily Reports
From 1st January 1985 a daily report is prepared and it is stored in the computer. The Daily Report is also posted to two parties who require the service. There is an arrangement for the Daily Report to be transferred to a computer in the USA for the use of its customers. A Tamil organisation has made the arrangements to receive the information. There is also an arrangement to send the Daily Report by telex to a Tamil organisation in Australia.
Paper Cuttings
From 1st January 1985 TIC has started a service to supply copies of paper cuttings of important news items appearing in the British press and items in other papers reaching TIC. It is used by four parties now. TIC collects paper cuttings from all over the world, except from Sri Lanka, in the English language (or where English translations are available) and the collection is hound monthly. A programme of newspaper documentation is carried out by the Theepam Institute, Jaffna for dailies and periodicals published in Sri Lanka.
Documentation
In October 1984 PRIO requested TIC access to documents within TIC and to fill up a preliminary version of the HURIDOCS STANDARD FORMATS for the purpose of storage in a computer. The work was carried out as a special task during November 1984. The "documents" included books, periodicals, reports, affidavits, pictures, cassettes, and video cassettes. The newspaper cuttings at TIC were not included.
A team of three experts concerned with documentation, using the computer from PRIO, has carried out a training programme during the last week of January to assess the work completed and to train the staff at TIC and volunteers to carry out scientific documentation. It is proposed to continue the documentation at TIC using a computer. The work will be done in association with the Theeparn Institute. Part of the work will be done at the branch of the TIC in Madras.
Research
TIC gets requests for information on specific questions relating to Tamil problems in Sri Lanka from human rights organisations, pressure groups, and the media. All efforts are made to provide the required information or document. It is not unusual for institutions to verify any reports they have received about Sri Lanka with TIC.
Urgent Note
TIC published Urgent Notes from 14th June 1983 more or less weekly until the end of 1983 and twice a month in 1984. Urgent Note sets out verifiable facts relating to the human rights violations against the Tamil people without any comment. The Urgent Note is sent to human rights organisations, church organisations, pressure groups, activists, media, and selected embassies. The number of points we reach has now increased to almost one thousand. Urgent Note is received well and it will be continued in 1985 as a bimonthly.
Publications
TIC published a monograph on '`Insecurity of Tamils", which was updated twice, and it is proposed to update it again shortly. TIC has also published two other monographs on specific problems, edited by its branch at Madras. TIC has published "A diary of incidents in 1984", The paper cuttings available are used to publish material relating to specific problems. Selected reports on serious incidents in 1984 are published. TIC promotes publications which are useful to the understanding of the problem. TIC also sells the publications of others relating to the problem.
Tamil Information
A journal under the name of TAMIL INFORMATION is edited by the former editor of Saturday Review, who is now a refugee in Madras, and which is published by the Madras branch. The journal is a useful forum to assess the Tamil opinion. The editor enjoys the usual editorial freedom. It is also expected that the journal will be helpful to generate support for the work of the TIC.
Library
A library is being built up in London. Another library, in particular for the use of the editorial staff of TAMIL INFORMATION, is being built up in Madras. The libraries are available for any reference work. The dailies and periodicals from Sri Lanka are read regularly by visitors.
3. Services
Service
TIC has functioned for 1 1/2 years and a basic organisation is built up to handle information service. It is proposed to offer services to institutions or persons concerned with the problem. Information gathering is becoming increasingly difficult. However, TIC will endeavour to overcome the problems.
Daily Bulletin and Paper Cuttings
The daily bulletin could be sent daily or accumulated and sent bi-weekly or weekly according to need. The daily bulletin could also be sent by telex or by facsimile transmission or to computers. Paper cuttings too could be sent daily, or accumulated and sent bi-weekly or weekly.
Documentation
Documentation of material available to TIC can be carried out in any required format. If the documentation in association with PRIO is carried out, then the information could be shared with any institution or person.