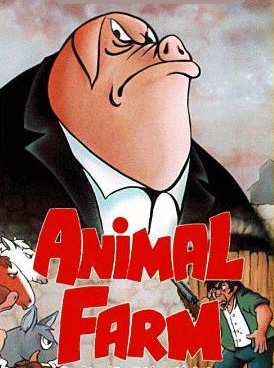 "It is clear that this President is a dictator and a ruthless one at that. As the Defence Minister, he is definitely responsible for the extra judicial killings. The country has never experienced such corrupt deals and wastage of public funds like during these 15 months under the Rajapakse government" - former Port Development Minister Sripathi Sooriyarachchi, in a recent interview to the Sunday Leader.

This comes from a horse's mouth but not one that runs the farm.

The Sri Lankan state is not run by President Mahinda Rajapakse and the Parliament but instead by President Mahinda Rajapakse and his two brothers, Gothabaya and Basil. It is like a farm having been taken over by the animals from human beings with the humans ejected and now standing in the periphery. It reminds one of George Orwell's classic, Animal Farm written in 1945.

Sri Lanka has a massive cabinet the biggest in the world by any standard and correspondingly a big beaureaucracy and yet its democracy is run by only Rajapakse Brothers Limited - a body which has very limited or no liability and definitely no accountability. It is not a complicated beaureaucratic machinery but a simple apparatus controlling the executive, the legislature and the justice system. Having thrown the provisions of the Constitution and the tenets of law to the winds, the animal farm is governed in accordance with the precepts of the Mahinda Chintanaya or Mahinda's Thoughts laced with the obnoxious provisions of the Emergency Regulations.

While these animals run the farm the ministers and their families run about in luxury cars, not the white vans, enjoy the other perks, and visit their offices, if they have one, to have tea. They have very little thinking to do, if indeed some of them can. But look out. In case a minister is sacked they should return the car immediately - for a delay of a few days, they can be landed in jail for corruption. Once in jail they are safer inside it that outside. Sooriyaarachchi, who compares himself to Nelson Mandela and Mahatma Gandhi, said he felt quite comfortable inside. Naturally.

The Rajapakse brothers can say anything and do anything. But others, thinking writing or saying things not palatable to the Rajapakses, can be deemed heretics. Such heresy is punishable by death, not to be burnt at the stake, but do not worry, for if you are lucky, you will get a call before that. Gothabaya and Basil, now both senior public servants can make all kinds of statements even relating to key policy, solely because they are the brothers of Mahinda.

Recently Gothabaya, the defence secretary, said that the Cease Fire Agreement did not exist while another senior public servant the foreign secretary, Kohonne slated a Norwegian peace keeping official for making a similar statement.

Imagine you are one of the impoverished, undernourished and patriotic member of the human race standing in the periphery of the animal farm, how do you get access to it. You have absolutely no hope in the world. You must either be a relative of the brothers or you must have influence and a lot of money. You have only to keep tightening your belt so that massive arms deals can be put through, all to defend your integrity and your sovereignty. After all, these are small sacrifices to make to go without one or two meals per day. Remember that the animals in the farm have to feed themselves well with their well being looked after.

Imagine that you have been abducted. Again your relatives have no hope unless they have the money and the influence to gain access to the animal farm. Bear in mind that the abduction industry has become highly sophisticated and very competitive and you should know all the ramifications therein to be able to manoeuvre.

Imagine you are forced to disappear? The answer is simple. We would not know whether you are dead or alive. This may sound morbid but the truth it is.

Influence, these days is a very powerful thing in Sri Lanka. You have to be born into it or you have to buy it. In Sri Lanka, influence is used in devious ways. Look at it this way: President Rajapakse will soon be going to meet His Holiness the Pope, to try to use him in order for the Holy Father to use his influence with the Catholic people of Sri Lanka to be supportive of Rajapakse. Rajapakse is making a great mistake.

But again if his idea is to make a confession he will hold up the other itineraries of the Holy Father including his meals by at least two days. God forbid.