Democracy Continues, Sri Lanka Style...
Plot to kill Head of Media Organisation
Sonali Samarasinghe, Sunday Leader, 1 January 2006
---
Shocking evidence in the possession of The Sunday Leader reveals an insidious plot allegedly masterminded by a top politician, to murder a well-known media mogul. The plan, hatched behind prison walls with the aid of a network of mobile phones and underworld king pins, comes at a time when the independent media in this country is severely under threat.

Evidence in our possession suggests that an underworld cabal of some four-five unsavoury characters were co-opted by an army deserter and a serving army major to carry out the killing of the head of the Maharaja Organisation for a sum of Rs. 120 million .

The Maharaja boss controls three of the most widely watched television stations in the country - MTV, Sirasa and Shakthi and arguably the country's most influential radio stations - Sirasa FM, Yes FM and Shakthi FM. The news of the murderous contract, bound to rock the media world, is all the more disturbing due to the alleged involvement of a high level politician.
From a MTV News First Advertisement Hoarding in Colombo
in the run up to Presidential Election, November 2005
PLEASE VOTE FOR ME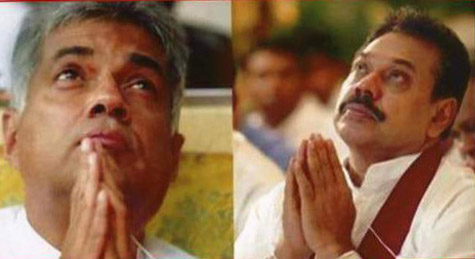 GOD SAVE SRI LANKA
The politician mentioned is none other than Prime Minister Ratnasiri Wickremanayake, who upon hearing he had been identified as the contractor was aghast and charged that it was a politician more powerful than he, with connections to the army major who is reported to have allegedly contracted the underworld gang leader to carry out the murder. Wickremanayake even went so far as to tell his confidants that when the army major was to be arrested in a police crackdown on underworld figures during his tenure as public security minister, political influence was brought to bear not to arrest the major in question.

Wickremanayake believes a dirty game is afoot to target him for someone else's foul deed, especially given his good relations with the Sirasa media organisation.

Horror of the past

As we kick off the new year we cannot immediately forget the horror of the old. Seared in our minds is the brutal murder of Dharmaretnam Sivaram better known as Taraki. Neither can the media forget the burning of The Sunday Leader factory not long before the November 17 Presidential election and the constant threats under which the independent media has to carry out its duty towards the public. All these attacks came not long after verbal attacks were launched by government politicos against media institutions and journalists in question.

It was just the other day jailed UNP National Organiser S.B. Dissanayake charged that President Mahinda Rajapakse had personally pledged to release him no sooner certain journalists critical of him were imprisoned with the help of the courts.

The surest sign of a vibrant democracy is a free media. In that respect this nation has been a limping and cancerous pseudo democracy for a long time. Not two months ago the entire nation witnessed the venom spewed out by the likes of politicians such as Mervyn Silva who singled out the Sirasa television station and its owner for his outbursts, even calling the group para demalu who must go back to India.

Minister of Commerce, Jeyaraj Fernandopulle has excelled himself in his vitriolic statements against the media, again naming this particular media group, accusing it of breaking up the UPFA government. He went so far as to link the owners of this media organisation to LTTE Chief Velupillai Pirapaharan in an attempt to whip up public animosity towards this organisation and its owners.

Even JVP Propaganda Secretary Wimal Weerawansa has been on the offensive against the Sirasa organisation and its owners. These verbal onslaughts reached a peak during the run up to the presidential election compelling the Maharaja Organisation to make written complaints to the Inspector General of Police Chandra Fernando against Fernandopulle and Silva, copies of which are in our possession.

Needless to say no action followed. President Mahinda Rajapakse himself came out all guns firing when he made his policy statement in parliament last month and was not above hitting at the private media in his opening remarks.

This culture of media bashing is what has put the freedom of expression under grave threat and appears ominous given the contract to murder the head of one of the, if not the, largest media organisation in this country.

Here's the full story.

Prisoner number X 3903 T.M.D.A. Ilangaratne was a 38-year-old man serving sentences in 29 cases. He had attempted three jailbreaks for which he was serving another six and a-half years. He was thus to be released only on July 8, 2013. Due to his frequent attempts to escape, Ilangaratne was a man who was being transferred from one prison to another as punishment.

Not only that, prisoner number X3903 was also an informant for the police and was used from time to time to gain information about the underworld. While in the process of being transferred from Mahara to Welikada prison last month, Ilangaratne was to communicate to his police contact, that he was given a contract by one Major Niroshan Fernando, an army deserter to kill the Sirasa-Maharaja boss. (The name of the policeman and his station are withheld for security reasons.)

The police officer immediately informed the prison authorities who in turn decided to record the prisoner's statement. Ilangaratne agreed, provided protection could be guaranteed, for himself and his family.

Accordingly, the superintendent of prisons was to record the statement of Ilangaratne where he revealed he was asked to carry out a contract killing of the Sirasa chief before the presidential election by one major Niroshan Fernando, an army deserter who allegedly acted as a hitman for the People's Alliance government and one Major Lanka who was still serving in the army. Ilangaratne alleged, Fernando told him there was nothing to worry about as the orders came from a political bigwig, none other than Prime Minister Ratnasiri Wickremanayake.

First meeting

Ilangaratne had first met Niroshan in the Anuradhapura prison where he too was serving a two-year jail term during the UNP regime in 2002. Hailing from Malkaduwawa, Kurunegala Niroshan also had a residence in Kotte. His brother Neranjan was the chief jailor at the Polonnaruwa prison. Even once Niroshan was released from prison on appeal, he continued to visit Ilangaratne at the Anuradhapura prison.

Ilangaratne however happened to speak to Niroshan regarding the contract on a phone belonging to another inmate and member of the underworld, one Thambirajah. Thambirajah who overheard parts of the conversation regarding money then inquired about it from Ilangaratne. Later Thambirajah too spoke many times to Niroshan regarding the contract. He then conveyed this plan to another mafia boss, Charles.

Ilangaratne also revealed to the prison authorities that Niroshan had urged the inmates to keep the matter a secret and that he will hand over the money once the deed is done.

Niroshan also asked Ilangaratne to escape from prison, collect a number of underworld goons and commit the crime for which the necessary logistical support including vehicles were to be provided. Ilangaratne was to discuss the matter with not only prison inmate Thambirajah but also with inmate Prince, a mafia boss. Thambirajah meanwhile expressed eagerness to get involved in this contract together with his underworld boss Prince.

This underworld outfit had many of its members inside the prisons and out. Inside were Prince, Thambirajah, Jebba, Kelaniye Mangala an army deserter, Sekara from Maligawatte, and Dinuk Perera who was granted bail by the courts on the very day Ilangaratne's statement was being recorded.

The contract was to be carried out by prison escapees and ex inmates. That is Thambirajah, one Ahinsaka, one Jebba and Dinuk Perera.

Ilangaratne who is also an informant for the police had immediately communicated the plot to his police contact who promised to investigate this matter forthwith.

Spilt the beans

The police contact in turn alerted the prison authorities. In the meantime Ilangaratne was being transported from Mahara to Welikada prison on December 16, 2005 in order to face a disciplinary inquiry over the illegal possession of a mobile phone, conducted at the office of Rumi Marzook, the Commissioner General of Prisons, Prison Headquarters. It was here that Ilangaratne was to spill the beans regarding the plot.

To the credit of the prison authorities, no sooner than Marzook got wind of the plot he immediately informed the Superintendent of Prisons, Mahara and directed him to record the statement of inmate Ilangaratne. Accordingly on December 18, 2005, the superintendent of prisons, Mahara, recorded the oral statement of Ilangaratne. However, unbeknownst to the prison authorities and to Ilangaratne, a full electronic recording of his oral statement was also made. A copy of this recording is now in the possession of The Sunday Leader.

What gives rise to suspicion and throws a shroud of mystery over the matter is that the statement in fact recorded by the superintendent of the Mahara Prison is incomplete and omits several key statements made by Ilangaratne. Vital to the issue, he omits the name of Prime Minister Ratnasiri Wickremanayake even though the tape recording reveals Ilangaratne mentioning the involvement of the Prime Minister on several occasions at one stage even stating he is 200 percent sure the Prime Minister is involved. Ilangaratne also reiterates the connection between the Prime Minister and Niroshan, another matter which is carefully omitted in the written statement. (A transcript of the tape recording is published elsewhere on these pages).Ilangaratne claims Niroshan works for the Prime Minister, a charge Wickremanayake vehemently denies.

Major omissions

Neither does the statement written down by the Mahara superintendent mention the Rs. 12 million promised for the contract killing, the name of Major Lanka the other person Ilangaratne alleges was involved with Niroshan in the plot, the fact that inmate Thambirajah informed one mafia boss Charles about the plot nor for that matter Thambirajah's involvement in the whole issue. Nor does this statement contain the names of the gangsters who were earmarked to carry out the contract, namely Ahinsaka, Jebba, Dinuk Perera, Shekera of Maligawatte and Mangala. Neither does the statement make any reference to Ilangaratne informing his police contact about the plot even though the tape recording clearly reveals he said all of the above in his statement.

The Superintendent of the Mahara prison sent the written statement recorded by him to the Commissioner General-Prisons, Rumy Marzook with a covering letter. In his covering letter written in Sinhala he states inter alia as follows:

That according to the prisoner's statement he had acquainted himself with Niroshan Fernando while both were serving jail terms and that after Niroshan was released from prison he received a telephone call from him regarding a contract to kill the Sirasa- Maharaja owner. That Ilangaratne had said he will think about it later. Ilangaratne was to receive another phone call from Fernando subsequently, which conversation was overheard by prison inmate in the A 3 division, Thambirajah.

Request for money

It was also revealed that Niroshan is the younger brother of the chief jailor of the Polonnaruwa prison, Niranjan. The covering letter also states the prisoner had requested the Maharaja Organisation to pay him some money in exchange for the information he divulged. The superintendent thus states in his covering letter that the fact Ilangaratne did not immediately inform the prison authorities in Mahara of his telephone conversation regarding the alleged plot is another reason for him to suspect that Ilangaratne may have merely been looking to fleece the Maharaja Organisation.

The letter observes that due to a possible threat to his life after these revelations Ilangaratne had requested a transfer to Anuradhapura Prison. However the superintendent advises that since the prisoner hails from that district it would be wiser to transfer him to Bogambara or Badulla.

Deputy Minister informed

The very next day, December 19, 2005 Marzook was to dispatch the statement made by Ilangaratne as taken down by superintendent of prisons Mahara, and the superintendent's covering letter to the Deputy Minister of Justice, Dilan Perera for necessary action.

However no action has yet been taken at least to have Niroshan Fernando's statement recorded almost two weeks later, despite the fact that both the Deputy Minister of Justice and the police chief are well aware of the matter.

The truth or otherwise of these allegations can only be determined if a full and fair inquiry is held.

President Rajapakse must now call for a full investigation into this matter given that the President promised the dawn of a new culture and pledged to root out the operation of underworld gangs and mafia bosses.

Surely the safety of not only the media but society at large cannot be compromised by mafia gangs enjoying the patronage of politicians who use them for various nefarious activities and finally canno exctricate themselves from their clutches.

Ilangaratne's statement caught on hidden tape

Here we publish excerpts of a transcript of the taped recording of Ilangaratne's statement which is in sharp variance to the 'official' statement recorded by the superintendent of prisons, Mahara. Both were recorded at the same time.

"Firstly I must have protection for my home. My family and children must be protected. I need money to spend for my cases. If I receive the money in a couple of months I could be out of prison. I will have to leave the town I stay in and the country. As soon as I get out they will know I gave the information. They can kill my wife and children. I have to be in prison another six years. They have a lot of underworld connections in this prison. They also have the same political affiliations. So I could be harassed."

Question by the Prisons Commissioner. "Tell us whom you were directed to kill?"

"A contract for 70 million to kill Sirasa Maharaja owner. This contract was given to me by two army Majors. Niroshan Fernando and Lanka. Niroshan first spoke about this with me. This contract was given to Niroshan Fernando by a powerful politician. Please protect me by transferring me to the Anuradhapura prison. There are no underworld gangsters in that prison. I also need some money to look after my wife and children. This contract was handed down by Prime Minister Ratnasiri Wickremaenayake. I am 200 percent sure of this.

"Niroshan Fernando gave me this contract a few months ago. He said for about six-seven underworld characters to escape from prison and to kill the Sirasa Maharaja owner. That he will give 120 million and the vehicles to carry out the deed. The phone I use inside the prison belongs to another inmate Thambirajah. I later told him about this contract. He then spoke many times to Niroshan Fernando. He also informed Charles, a mafia boss. Niroshan too spoke on this matter many times with Thambirajah. He said that he will give me the necessary money to keep this a secret.

I know Niroshan Fernando because he was with me in the Anuradhapura prisons. He was imprisoned during the UNP regime. Even after he was released he came many times to meet me. I am certain Niroshan Fernando said that this contract was given by a powerful politician at that time - Ratnasiri Wickremanayake. Niroshan was born in Kurunegala, Baudhaloka Mawatha, Malkaduwawa. He also has a house in Kotte. I don't know the exact location. I was told to quickly get out of prison with about four-five underworld gangsters and we will be given everything we require. We were told to quickly finish this off.

"Consequently Thambirajah said he will undertake the contract together with his mafia boss, Prince. They have people inside and outside. The mafia members inside are Prince, Thambirajah, Jebba, Kelaniye Mangala an army deserter, and Paathaale Sekera from Maligawatte. Again today a person is being released on bail he is Dinuk Perera. Behind all this is the mafia boss Prince.

"Besides Prince there is Niroshan Perera. They are having discussions all the time with Thambirajah. Only Niroshan Perera and Thambirajah know that I am aware of this plot. Even now Thambirajah is in contact with me. He is in A3 division. He has mobile phones. I informed about this to Jayasinghe of the special branch at Mirihana police station. He said he will do something immediately to stop this crime.

"This contract was to be carried out by prison escapees and those already released from prison. After the deed was carried out we were to be handed over to the Justice Minister and after that we would get some relief we were told. That is Thambirajah, Ahinsaka, Jebba and Dinuk Perera.

"Niroshan Fernando also told me that when the government returns to power he will ask for a pardon for me and get me released. Niroshan at one time used to dig for treasure. While in the army camp he used to be involved in crimes on behalf of the People's Alliance government. In 2002 when Ranil Wickremesinghe became prime minister he was sent to jail for two years on a charge in Polonnaruwa. Then he appealed but later was removed from the army. The person called Lanka is still in service. He is in a camp somewhere in the Jaffna area.

"I have been very close to Niroshan Fernando. Now he lives in Kurunegala. In Kotte, with the minister, with Prime Minister Ratnasiri Wickremanayake.

"I had Niroshan Fernando's number but during a case in Mahara prison a week ago all my books were thrown away and all my numbers were in them. But he can be found easily at his Kotte residence. Again he has a younger brother who is the chief jailor at Polonnaruwa prison. He is Niranjan and he stays at the Polonnaruwa prison. Niroshan did not mention any other ministers involved in this. That one is the person who is connected. I do not know about any other connections. I do not know if Neranjan Fernando is aware of this contract or not.

"I am only saying that before too long this crime will be committed. But I do not know where it will take place, but I know that somehow it will happen.

"Finally the person who has undertaken this contract fully is Niroshan Fernando. The crime is to be committed by underworld leader Prince and his henchmen. Of his henchmen Thambirajah is his chief henchman. He is even now in Welikada prison. He is the one who undertakes all the contracts going around. He takes it and gives it to that one. The other gangster is Ahinsaka and there is another one called Wijeratne. He is in Kalutara prison. They are the ones who take the outside contracts and hand them over.

"Also outside, is a person called Kelaniye Mangala. He was bailed out recently by Prince and them. Sekara was also taken by Prince. These are the people connected to this crime. There was also a person called Danushka. He is the man who killed one Vishram in the Hulftsdorp court house. He is also now in prison. Prince is now in Kalutara prison. It is from inside that he controls all this through mobile phones. He is the one who has undertaken all the contracts outside.

"But it is Niroshan who gave this to me. I have not been told any secrets before this. He gave me this one. That is because I have been inside prison but I have made jail breaks three times. Therefore I am treated as a special prisoner and receive punishment accordingly. He knows that for something like this I can get people from inside the prison.

"It is Ratnasiri Wickremanayake who is connected to this. Because he is always talking about this I think this is very sure. He is also asking why Ilangaratne is not doing this job, whether he has not found the people, is he not doing it etc. etc.. It is only after that Thambirajah came into the picture. I introduced Niroshan to Thambirajah.

"I won't be able to keep my daughters in the house. Either the Majors will attack or either from the army or the underworld they will attack. In any event there are many major crimes in Colombo perpetrated by the underworld. If Ratnasiri Wickremanayake tells the police I am finished. I am only telling you because this is a major crime..."

Ilangaratne's statement as recorded by Supdt. of Mahara Prisons

Prisoner number - X 3903 - E.M.D.B. Ilangaratne on 2005.12.18 makes the following statement at the main office of the Mahara Prison:

I am a Buddhist, and I am 38 years old. I have studied up to grade three at Delgama College, Anuradhapura. I don't know to read Sinhala letters. I know to speak Sinhala. I cannot read Sinhala books or newspapers. I was first sentenced at the Narammala Magistrate Courts on January 10, 1994 to pay a fine of Rs 1500 or a prison term of six months for two cases.

Thereafter there are 19 cases against me at Kuliyapitiya, Hettipola, Warakapola, Galgamuwa, Kekirawa courts. I pleaded guilty for the cases. I received sentences ranging from six months to one year for the cases. While in jail I escaped in 1994 while being transported to Anuradhpura from Bogambara Prison. Again in 1996 I escaped from prison officers at Galgamuwa Magistrate Court. On April 27, 1997, I escaped from the Anuradhapura Prison along with LTTE prisoners by breaking the walls. For the jailbreaks I received sentences ranging from one year, two years and three and half years from the Prison Courts. I am due to be pardoned in 2013.

Due to breaking out of jail I am kept in the maximum security section and due to disciplinary reasons I have moved from various prisons under prisoner exchange discussions. In 2003 I was moved from Anuradhapura Prison to Mahara Prison. In April 2004, I was moved to Welikada from Mahara. In Welikada I was kept in B 3 section. There, after a confrontation with Nawala Nihal I was moved to Colombo Magazine Prison.

After four months I was moved back to Welikada to the V O section. There I helped the chief jailor to take into custody cellular phones and heroin from the section. Thereafter I was moved to the special A 3 section. Here members of organiszed crime gangs are kept. They have cellular phones with them and they have handed them over to me to hide sometimes. I have informed the chief jailor of the illegal activities going on in the section.

In 2004 while on the way to Anuradhapura prison I met an army major named Niroshan. He is a resident of Kurunegala. Thereafter he was staying with me in the special section of the Bogambara Prison. He was serving a two-year term and we were friends. During the latter part of 2004, while I was in Special Section 3 of Welikada Prison I kept the mobile phones of underworld members with me.

One day Niroshan phoned me, and said there was a contract to murder Maharaja of Sirasa and whether we should take it. I said I have to think about it. He said that there was nothing to worry about as this was coming from a top politician, the phone went dead thereafter. I cannot say for sure whether the person who spoke as Niroshan was really Niroshan himself.

Niroshan is the younger brother of jailor Niranjan who is from Malkaduwawatte, Kurunegala, he iscurrently at the Polonnaruwa Prison. I noticed that Thambirajah who was in the A 3 section was talking various things secretly. I don't know what he was talking about. In January 2005 Niroshan spoke to me. Then asked me if Thambirajah gave a message. He said that I was talking about murdering the owner of Sirasa.

He did not talk to me after that. In June 2005, the mobile was detected. I had to appear before the Prison Judicial Committee for keeping a mobile. I am yet to receive a sentence for that. Thereafter I was moved to Mahara Prison. At Mahara Prison I wanted to inform the chief jailor about the plot to murder the owner of Sirasa.

Then when I was taken to the Welikada Prison to appear before the Prison Judicial Committee, I was taken to meet the Commissioner of Prisons. There I requested that I be provided security and for security reasons to be moved to Anuradhapura Prison. I also asked him to get me money from Sirasa owners for providing the information and also for some money for my wife and children. I have only this to say.
---
We are aware of a threat - Director

Group Director, Human Resources, Maharaja Organisation, Priantha Serasinhe when contacted by The Sunday Leader said the organisation was informed of the alleged plot. "We have been informed of a possible threat and we are currently awaiting the outcome of an investigation," he said.