N.Ram: Mr. Prabakaran, how do you characterise the situation on the ground in the Tamil areas of Sri Lanka, in terms of military activity and in terms of the problems people face? What is the nature of the crisis?
V.Prabakaran: Our land is a militarily occupied, besieged territory. When you look at our territory, big military camps have been set up even in
small areas. (To his aides: let's use the map now, that's important). There are certain specific areas where there is a big military concentration. Even today the army shot dead five defenceless Tamil civilians in Batticaloa district. It's a situation where civilians cannot be up and about in safety. The people there live in fear of being gunned down by the troops at any time as they move about on the streets.
Q: Reports based on visits by foreign correspondents and other observers to the Tamil areas make the point that the LTTE is extremely powerful in the North, particularly in the Jaffna peninsula... and that you virtually run the administration there. Would that be an exaggeration?
A: There is a certain amount of truth in this. We can describe the Jaffna peninsula as being under our comprehensive control. In addition, Mannar and Killinochchi districts can be said, to a certain extent, to be turning into our secure areas. We are also increasing our activity and strengthening ourselves in the East in Trincomalee, Mutur, Batticaloa, Amparai...
Q: Now, broadly speaking, how would you describe the position and influence of the other militant organisations? How do they stand in relation to your activity in the Tamil areas? And, on the other hand, in relation to the army?
A: As for the army, there are no signs or trappings of civil administration there. This is the condition that has evolved. There is not even a semblance of civil society. People can't live peace- fully in their homes. At any moment, their houses could come under attack, at any moment the army could surround their village and shoot them down. No genuine enquiry is ordered into such incidents. So long as there is no enquiry into atrocities, we can't describe the administration as normal, can we?
As far as the (militant) organisations are concerned, even as we are waging an armed struggle in this larger territory, the other organisations are waging a fight in particular small areas. In general, what is the situation of the (militant) organisations? They function as a military wing to protect the people, as people's self-defence armed contingents. The state's army functions there as a racist, destructive military force; we carry on as a national people's army for the liberation of the Tamil people.
One important point here. This situation prevails in the Eastern province of the army directly going on a rampage against the people and the (militant) organisations fighting to protect the people. As for the North, and especially in the Jaffna peninsula, we can claim to have fully stopped their military activities of this type. They are unable to break out. They are confined to their camps and, using small artillery and also aircraft to bomb from the air, they hit at innocent civilians. But they are unable to come out and carry on their atrocities against the people in a direct fashion. In the Northern province, the army has been bottled up and kept under our control.
Q: How would you characterise the morale of the Sri Lankan armed forces and their approach to the whole question? If they are an army of occupation and if in the North they are bottled up, how would you characterise their mental state?
A: If you look at the reality, they are in an agitated, disturbed state of mind. In certain places, the army commanders have sent us messages through the citizens' committees. In places such as Thondamanaru, they have requested us not to obstruct their water supply. Likewise, in Jaffna our organisers and they have communicated over the wireless. Our organisers asked them: What is it that you want?' The army officials said; 'We want two lorry loads of firewood plus some mangoes", They have been affected to that extent, on account of the choking of supplies. Our people allowed them one lorry load of firewood...
Q: And mangoes?
A: (Laughs) In reality, the army is in a difficult situation there. Since the supply of essential commodities has been controlled, they are attempting to reach some kind of understanding with us on this matter.
Q: In May, there was a major military offensive in the course of which the armed forces came out in the North and the Sri Lankan state resorted to the extreme step of bombing its own people in Jaffna. What, in your opinion, came of it? Did it succeed in intimidating the people? Did it convey any message to you? Or do you consider it, in military terms, a disastrous adventure?
A: It appeared to be an operation designed to weaken us. It took place before an intended new round of talks-and then to approach us for talks.
Q: It was soon after the Chidambaram mission to Colombo...
A: Yes, What was important was the strategy: the troops were simultaneously to issue out of the Elephant Pass and the military camps that we had placed under siege. The calculation was that we would be trapped as the army advanced en mass from several directions. The Government reasoned that as the army advanced from all sides, we could not cope with this and would not be able to fight it in several places; and we would be forced to withdraw from some areas.
In other words, they would force an advance. They would move forward in some areas. In other words, they would force a change in a situation where they could not advance. They would move forward some way, establish a few camps in those areas, establish supply lines between these camps and the existing ones, and thus keep moving up. There was another element in the plan. Even as they launched this offensive by land, they would attack from the sea and, using landing craft, would land troops in our territory. (We have video footage of this episode). Simultaneously, there would be aerial bombardment They conducted it as a combined operation involving the three components of the armed forces.
However, to an extent, we came to know of this plan beforehand. We knew of the fresh deployment of weapons, the additional preparations and military movements, including in the sea. We understood that they were going to launch a major offensive. We mobilised accordingly. We armed and prepared ourselves more or less for a civil war. We prepared the people for this crisis. We taught them how to dig trenches for protecting themselves against aerial bombing and also other measures of civil defence. We were determined to demonstrate our resistance, our fight in an all-out, foolhardy way. Whatever be the number of fighters we lost, we would not give in-that was our decision. That is why our comrades engaged fiercely with the troops on all sides. Nobody retreated anywhere in the face of this offensive. The result was that we lost nine fighters during this campaign.
Significantly, as we attacked concertedly even as they tried to break out of their fortified camps, they scattered. When the soldiers came out of the Kilinochchi camp, we attacked them at a place called Pallai. They tried to bring in reinforcements from Elephant Pass, but we cut them off. What was notable was the enthusiastic attitude and state of mind of our people. Seeing our determined resistance and counterattacks, the people increased their support to us during this period.
Q: It appears that this brought about virtually a qualitative change so far as the LTTE was concerned, in that you capability was demonstrated and your image certainly received a boost...
A: Yes, the experience left a deep impact on the people. The LTTE TELO clashes had just ended. As we had fought TELO and wiped it out, the Sri Lankan government thought we had been exhausted and weakened. It stepped up its effort against us. In that kind of situation, since were able to repulse the army and emerge victorious, the people's confidence in us as the organisation involved most determinedly in the fight for their liberation, deepened. After that experience, we have received more support than before from our people.
Q: Can you foresee in broad terms what the Sri Lankan Government's strategy might be? What will be its attitude and behaviour over the next four to six weeks, considering that substantive talks have been conducted in Colombo and there is a feeling that things are moving politically? A new offensive?
A: Even as the talks began (between the TULF and the Sri Lankan Government in July), we received information suggesting that the armed forces were preparing for a renewal of the earlier offensive. We learnt that arms from Pakistan had arrived secretly for the Sri Lankan soldiers trained in Pakistan. Besides, we gathered that some foreign military advisers had been brought in. Gunboats from China had also arrived. What we assume or deduce is that in order to hide their defeat in the last offensive, they may with the help of foreign military advisors launch a massive offensive against us in the near future. The evidence is not yet definitive, but this is our assumption.
Q: If we could now turn to the Colombo talks and the talking process... What is your assessment of the negotiations between the TULF and the Sri Lankan Government? What do you think will be its likely outcome?
A: Our view is that the talks have not acquired a proper shape. From the available information, we learn that even among those who went for the talks, no clear, definite position has emerged. It does not appear that a concrete framework has taken shape. our assessment is that their effort is still to search for a framework.
Q: According to a newspaper report, a reference was made by one of the TULF leaders to the difficulty of trying to find a black cat in a dark room...
A: They should be asked that question. That don't have an outline. When you refer to "homeland", what is our homeland? what must one talk about? About provinces and provincial councils? Or do we contemplate powers for ourselves above that level? They don't seem to have any plan on these matters.
Q: Earlier, you had discussions with the TULF relating to the negotiating process. You were reported to have assured the Government of India that you would not do anything to scuttle the process. What has happened to change this situation.
A: It was the good intention of not wanting to be an obstacle to the talks promoted by India that made us avoid expressing any opinion on the TULF going into the talks. At the same time, the TULF leaders came and briefed us on what had gone on in the talks (in the first round), then went to Delhi for consultations but upon their return went to Colombo without any deliberation with us. While talking to us, they had made it clear that they could not come to any concrete conclusion. As a result of these consultations between the TULF and the LTTE, confusion arose in the minds of our people. The doubt was whether we were privy to these talks conducted by the TULF. In a situation where they were talking (to the Sri Lankan Government) in an unplanned way, we were obliged to remove the confusion in the minds of our people by making public the relationship between the TULF and the LTTE and by exposing the TULF in the popular arena. We were put in a situation of having to expose before our people the role the TULF was playing in these talks.
Q: Generally, at a political level in India and perhaps abroad also, there is the expectation that the militant organisations will be involved in the negotiating process as a follow-up to the Colombo talks. We believe that the Indian External Affairs Minister, Mr.Shiv Shanker, has asked you to give the "process" a chance. But the "content" or outcome will be put to you and you are free to accept or reject it. What is likely to be the follow-up and, specifically, your response.
A: In the main, the LTTE is of the view that we must, in conjunction with other (militant) organisations, forge a common view or consensus on what further action could be taken in this matter. But there is a problem. From what one gathers from newspaper reports, those who went to talk are in a confused state. They have not really discussed anything of consequence. They have not reached any kind of conclusion on issues like land or any of the other important maters. Does it not appear meaningless then? Those who went to talk could not come to any specific conclusion and remain quite confused...
Q: We learn that earlier, and perhaps even now, you let the Government of India understand that you were not afraid to talk, that in principle you were not opposed to talking on these issues, provided the Government of India was involved in a substantive way. Would that be correct?
A: At the time of Thimpu, we said that, yes. But we wish to emphasise another point also. The important thing is not that the Indian Government emphasises to us the need for talks in anticipation of what Mr.Jayewardene will offer us! There must be a reasonable situation. Mr.Jayewardene must be brought round to talking on the basis of what the Tamil people need essentially. Let me be concrete. As far as I am aware, the issue of the North and East is a fundamental question. If he (Mr.Jayewardene) rules that issue out of the agenda and invites the TULF to talk, then can you describe such talks Mr.Jayewardene "has in mind" for us and "is willing" to offer us. The Indian Government must attempt to find a basis acceptable to both sides. Our view is that only that would be purposeful.
You see, I have discussed this with you before. On certain matters, it would be helpful if the Government of India came out openly... came to a clear determination. For example, they (the TULF leaders) have not come to a conclusion even on land. Even on law and order, there is controversy or discord ... Or you may put it this way. Mr.Jayewardene is trying to take us to a corner and, holding a paltry package in his hand, pull a fast one over all of us. Mr.Jayewardene does not appear to be engaged in serious talks on the Tamil question.
Q: If we look at the whole process of talks after the anti-Tamil pogrom of July-August 1983, various things have happened. On the one hand, all the Tamil organisations remain at least formally committed to Eelam.
On the, other hand, the Indian Government has pursued certain directions, For example, Annexure C-substantial devolution of power, autonomy to provincial councils (which would be called "regional councils") and so on. There has also been talk generally, but not in this forum, about a federal solution. The TULF actually put forward a federal alternative in December '85.
On the other side, the Sri Lankan government insisted on offering much less in the All Party Conference of 1984 and even subsequently despite the rejection of this offer. There has been a lot of swinging back and forth on these issues. Do you take the commitment to Eelam as a serious political proposition for the Tamil side-not just speaking for youself or the LTTE? Or is it a bargaining position, meaning you won't give this up until an alternative-a lesser political proposition-would come on the agenda? Do you seriously believe that the struggle for Tamil Eelam can be waged on a political front under the present circumstances and seeing the position taken by India?
A: Certainly. If you look at our historical back ground, our experience of struggle over 30 years or so has brought us inescapably to this determination. Therefore we consider that only Tamil Eelam can be a secure outcome for us and there can be no alternative to this. The demands have evolved in stages. In 1961, our people in their struggle for a federal set-up conducted a satyagraha that brought the administration to a standstill.
In 1961 itself, the demand for a federal solution was sharp and intense. What is taking place today seems (laughs ironically)....a backward-looking process. It is below the level of the content reached in the Banda-Chelva Pact of 1957! It is below the level of a federal solution. We are talking today of the province, the provincial council.
If you look at it critically, so far as Mr.Jayewardene is concerned he has approached it in a backward-looking mode... he has begun the talks placing such aspects on offer. In 1961 there was much enthusiasm among the Tamil people for a federal solution to their problem. After that there was a prolonged experience for us of losses and hardships and crises, of our leaders placing faith time and again in racist Sinhala politicians and being cheated in the bargain.
Look at the recent experience involving the positions of Mr.Jayewardene and Mrs.Sirimavo Bandaranaike. Even as the talks are confined to the framework of the provincial council, she is demonstrating her opposition to the proposal. Those who have supported the Tamils to an extent, those like Mr.Vijay Kumarantunga, have bombs hurled at them on the podium. So long as a racist, chauvinistic context prevails there, we are left with no alternative but to seek to establish our own state in our traditional homeland. If an alternative to this can be pointed out either by Mr.Jayewardene or by the Government of India, then we will put it before our people; and only if our people approve it can we consider changing our stand even to an extent. But thus far, nothing has happened to make us think along those lines.
What have we witnessed recently? Only racist and chauvinistic opposition. Racism and chauvinism have forged ahead of politics there! And the pattern is this: when it looks as if a political solution might emerge, racist upheavals occur. This has been our experience from 1958.
N. Ram: May I ask you for your opinion of Sinhala politicians - the government party and the opposition parties. Are there any significant non-chauvinistic or anti-chauvinistic, progressive forces in Sri Lankan politics? How do you view the political spectrum on the other side?
V.Prabakaran: Let's consider the longer term experience. Among the Sinhala parties, the UNP and the SLFP have been around for the whole period. Neither has been interested in solving our problem in any way. One could even say this struggle started during the Prime Ministership of Sirimavo Bandaranaike. 1972 saw the sharpening of the militant struggle. In that year, our basic rights were snatched away and a new constitution was instituted. The Republican Constitution took away the status of Tamil as an official minority language. In other words, what existed in the old constitution as a limited right for us was robbed through constitutional change. Those responsible for that included Mr.Colvin R.De Silva of the Lanka Sama Samaj Party, a "Leftist". At that time, Mrs.Bandaranaike's United Front included, apart from him, Mr.Peter Keuneman of the Communist Party, it was a united front government.
With even leftists with progressive ideas taking away our basic rights through constitutional change, our struggle intensifiedand acquired a sharp edge. It is important to reiterate this: Our struggle sharpened in opposition to the new Republican Constitution of 1972. Please remember that the person who wrote much of the new Constitution was Mr.Colvin R.De.Silva. Existing rights were done away with. The Tamil representatives who walked out of Parliament in opposition, refused to sign-it. Those few Tamils who signed it were recognised by our people as traitors.
But let's take a very recent example. Mr.Viyay Kumaranatunga, the leader of a leftist party, the SLMP, is not able to speak freely on his own party platform. Bombs are hurled at him. This shows that no Sinhala party expressing support to the Tamils in any way can flourish there. This is why we say circumstances do not permit us the luxury of trusting Sinhala politicians! If there is a rational voice, it is a small tendency. Those who voice support for us are in a miniscule minority and they are being smothered.
Q: Do you regard the posture of Jayewardene Government, and the various elements in it, as a response necessitated by a difficult situation - the blows they have taken, the adverse economic impact, the resistance by the LTTE and others and the international criticism of the government's handling of the I am question? Has all this brought them to a stage where they seem keen on a political solu
I
ti
tion? Or do you see it as part of some other plan?
A: One should see it as a posture tailored mainly to the external world. Which is to say, at a time of preparing internally for war, he (Mr.Jayewardene) has been pushed into a situation of having to demonstrate to the outside world that he is a lover of peace. Or, alternatively, that he is one who strives for peace but, finding that not possible, has to resort to war. He is trying to varnish the path of racist-chauvinistic destruction he is going to pursue. his recent pronouncements give a clue to this: "I will mobilise all healthy (Sinhala) people to wage war(on the Tamils). I will lead those ranks". These statements do not reveal him as a peace-lover!.
Another aspect is to tell the aid-giving countries: "I tried my best to solve the crisis but it was not possible. That is why I have to declare war", and to receive further assistance. He shows himself to this forum as being extremely enthusiastic about a political solution despite repeated setbacks and rebuffs. As one who is not put off by failures. Internally, of course, he does not offer anything substantive; he is still revolving his offer around the idea of provincial councils.
Jayewardene's strategy
Thirdly, and this is crucial, his strategy has to deal with the Government of India. If he can make the Indian government repose faith in him, if he can make it believe in these party concessions and win its approval, if he can create misunderstanding between the Indian Government and the militants, then he can disarm us and destroy us. This is his line of thinking. In fact, he has asked India publicly to help him push through these proposals and also to help him implement them.
Q: One last area. I would like to ask you a few questions on your ideological outlook and politics. Various things have been said and written about you and the LTTE, and obviously everyone goes through some kind of political evolution. I would like to get an insight into how you see yourselfyour political evolution and ideology, over time. To start with, how would you characterise the ideology of the LTTE?
A: Socialism and Tamil Eelam form our political ideology, our cause.
0: When journalists or external observers try to interpret the Tamil militant phenomenon, they characterise some of the organisation as "national-
Subhas Chandra Bose
ist" in orientation or perspective and some others as "socialist" or Left. For example, they would say the LTTE (and earlier TELO) came to the struggle from a "nationalist" angle whereas EROS and EPRLF brought a somewhat different outlook with an emphasis on socialism or left oriented politics. Would you like to comment on this differentiation?
A: To me the activities of all the (militant) organisations look the same. What is the difference in the practice of those who are supposed to be committed to "nationalism" and those who profess the other thing(laughter)? You know that brands of socialism vary according to who professes and interprets it. Everyone claims to be asocialist. Does not Mr.Jayewardene claim this label for himself? You can judge the product only when those who profess socialism put it into practice. We advocate a socialism that fully reflects our people's interests and aspirations, a socialism that harnesses the creative abilities of the masses. Some time ago, I made reference to the'Yugoslav pattern' (in a positive light). We consider it socialist experimentation-where democracy has to be enhanced in the political process. Through workers' self-management, democratic participation is allowed in a socialist set-up.
Our objective is to allow, to a great extent, people's democracy in a socialist system. We do not consider the 'Yugoslav pattern' to be our model. We will workout our own pattern in the future. Let's look, for a moment, at another thing Yugoslavia has sought to do. It tried to create a 'third force' during Nehru's time, in cooperation with him; that was the origin of the nonaligned movement. They have an active role in (progressive) struggles; at the same time, they take an independent stand without aligning themselves with anyone. Aspects such as these appeal to us; we consider these aspects seriously and think along these lines. We are thinking of pattern of socialism that is suited to our people, our culture, our historical heritage. We have a special social structure and in fact, in our land there are no big capitalists. There is, however, a numerous middle class.
Q: One idea that has been put forward (in an interview you gave recently and perhaps in other statements as well) is that your organisation believes in a one-party state after the achievement of liberation. That has raised apprehensions. ..
A: It depends on what the people want and go for. They can choose freely the party they want. Take, for example, India. Has not the Congress party dominated political life here over a long period? Does not it rule even today? You mention the doubts and suspicions our position has given rise to. My impression is that they
24 Hot Spring, June 1998
are created mainly by those who want to become leaders without fighting! What we said has made a special impact on the minds of those who have stood aloof from the struggle, but nurse high leadership ambitions.
Look at the entire range of socialist countries. What prevails there? Is it not one party which, having worked for the revolution and having been approved by the people, wields power? Look at Cuba, the Soviet Union, every socialist country... By the way, I consider this in the nature of a necessary examination. Journalists can be regarded as the examiners of politicians. You represent the public and mediate between us and the people. What we are able to convey to you with effort and precision, as in an examination, reaches the people. But, in truth, you are the danger for us (laughter)!
"Ruthlessness"Q
: Let me ask you a frank question. There are several external perceptions of what you stand for. Many people see you as a disciplined, capable leader who is able to summon the spirit of sacrifice from his ranks. On the other hand they call attention to your "ruthlessness". For example, a recent despatch ffom Colombo published in the New York Times: "To the world's roster of guerrilla leaders whose strategic brilliance is matched by their ruthlessness, people here say they have added a new name Velupilai Prabakaran." The implication is that your actions lack a humanistic or broad democratic content. How would you respond to this criticism?
A: To be frank, military discipline is ruthless intrinsically. In any country, military discipline has special auttributes. Whether it is a 'communist' or 'democratic' country, the regulations and rules for an army are of a nature apart. Look at any military activity: the objective of victory is valued more than the consequences. Victory matters most in military affairs! On the other hand, we are authentic fighters for the people. Our critics point only to our ruthlessness towards the enemy. But can we afford to be peaceable in our ways in the face of a ruthless enemy? We certainly cannot, that's the truth. But you know we maintain high standards of discipline and morality in our practice.
Bhagat Singh
When you have a school with a good standard of discipline and a principal who believes in this, the students acquire a good education and do well in life. You see this everywhere there are certain schools which are rated as "good" because the teachers and, most important, the principal stand for discipline. You will find that batches and batches of students who studied under such a principal do well later on. The same principle applies to our activity. That is why we lay such stress on stem discipline. Ruthlessness in our organisation is manifested in the battlefield.
Q: Could you give us some examples of this discipline?
A: What is this discipline? Consider this in relation to anti-people, anti-social activities. When we keep a person in our organisation, he is by definition one who fights for the people. If he indulges in action inimical to the interests of the people or in antisocial activities and we support it or put up with it, then be sure that this struggle will lose its way and will be pushed in a quite different direction. Instead of standing out as a fighter for the people, he turns into the people's enemy. Consider also this aspect - the status of those under arms in society. Those who bear arms acquire and wield an extreme measure of power. We believe that if this power is abused, it will inevitably lead to dictatorship. That is why we keep our military organisation in such a strict state of discipline. But please note that we exercise our ruthlessness against the ruthless guys. otherwise we cannot win.
Q: But there have been instances of innocent Sinhala civilians killed by your organisation. The Anuradhapura massacre...
A: We have denied responsibility for that and we have condemned that.
Q: It has been reported that all your fighters carry cyanide capsules strung round their necks. Is this an exaggeration?
A: Yes, we have adopted this measure from the vary start. As a consequence, many comrades have sacrificed themselves. You won't find people from our movement in jail - at any rate, not more that you can count on your fingers...perhaps two or three persons, but even then not those involved in the inner circle of our activity. That is to say our fighters, through laying down their lives, protect our sympathisers and contacts and the people who give us support and assistance.
Otherwise, the great mass of the people who support us and their families would be herded into jail. But that is not the only reason for this practice.
It is this cyanide which has helped us develop our movement very rapidly. Carrying cyanide on one's person is a symbolic expression of our commitment, our determination, our courage. For example, Kittu, our Jaffna area commander, has stated in an interview: "as long as we have this cyanide round our neck, we have no need to fear any force on earth!" In reality, this gives our fighters an extra measure of belief in the cause, a special edge; it has instilled in us a determination to sacrifice our lives and our everything for the cause. while attacking, our fighters don't count their lives. They will advance nonchalantly through an artillery attack or a hail of bullets.
Q: One final question. Could you give us an idea of your personal heroes in revolutionary struggles or liberation movements or in any sphere of life... people and experiences that have inspired you? and perhaps thereby give us some insight into your own political evolution from the time you were a schoolboy?
A: From my boyhood, the struggle that attracted me most was the Indian freedom struggle. The role of Netaji attracted me very much. I was brought up in an environment of strict discipline from childhood. I was not permitted to mingle freely with outsiders. I used to feel shy of girls. Great store was laid by personal rectitude and discipline.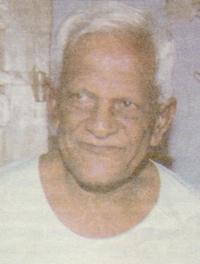 Velupillai,
father of Pirabakaran
My father set an example through his own personal conduct: He would not even chew betel leaves. I modelled my conduct on his... he was a government officer, a district land officer. A very straightforward man. People say in our area: "When he walks, he does not hurt even the grass under his feet, but his son is so... "Even while criticising me, they marvel at the fact that such as son was born to such a father! He was strict, yes, but also soft and persuasive. In my own case, he reasoned rather than regimented and his attitude was that of a friend ... he would give me certain pieces of advice and discuss things with me. As I said, I grew up as a shy boy... especially in the matter of mingling with girls.
The life of Subhas Chandra Bose attracted me specially. Even as a boy, I would delve into Gandhiji's books on experiments with truth, on celibacy and so on. Subhas attracted me particularly since even as a boy he went in search of spiritualism and, finding the life of a recluse dissatisfying, returned (laughs). Yet repeatedly he retreated into spiritualism...during moments of great difficulty and crisis. I followed this history and these stories with fascination. He became my special hero and same of his orations gripped me. For example: "I shall fight for the freedom of my land until I shed my last drop of blood. "These words used to thrill me whenever they came to me. Then the story of Bhagat Singh fascinated me.
In other words, the biographies and histories of those who hit back at the perpetrators of injustice, those who counterattacked (the unjust foe) were my special favourite. Because in our land, the Sinhalese behaved so cruelly towards us... we would hear stories about this and read about these cruel acts in books and newspapers...Later I read about this particular episode that took place during the 1958 attacks on Tamils... they broke into a temple, Panadura, found a Brahmin priest sleeping, tied him to his cot, poured petrol over him and burnt him alive. Ours was a god fearing society and the people were religious minded. The widespread feeling was: when a priest like him was burnt alive, why did we not have the capability to hit back? That was one atrocity that made people think deeply. In another episode, they threw a child into a drum of boiling tar. This left a very deep imprint on my mind and in the minds of those around me. If such innocent lives could be destroyed, why could we not strike back?
In such moments, these heroic examples and models from the Indian freedom struggle came to me. Magazines retold these stories on special occasions such as India's Independence Day celebrations...this practice continues. Consider another example Tiruppur Kumaran - in his ahimsa there was a steely determination. If I was attracted by the experience of armed struggle against injustice, I was drawn by the moral force of ahimsa as well. I was inspired by examples of grit and determination. I began to think along these lines early in Iife...why can't we follow there examples? Why can't we start an armed struggle?
I used to read books on the rise of Napoleon and his exploits.. .this kind of history held special appeal...in the Mahabharata, the roles of Bhima and Karna were specially attractive to me... the spirit of sacrifice appeared crucial. People respond to characters in the Mahabharata in various ways. I value the character and role of Karna the most on account or his readiness to make the ultimate sacrifice... I read some of Vivekanada's sayings and the urge grew in me to work towards a strong youth force. I plunged into this line of thinking...At what age? These feelings and ideas began to take shape when I was 16 approximately. I used to listen to the religious discourses of Kripannanda Variar.. I used to go to all these events... those connected with religion...I would go and observe political meetings... attend dramatic performances...in my place, they used to enact plays on Socrates and so on.
So quite early on, we absorbed all these influences and the feeling grew in us that we must do something! Looking at our historical background, we had to take up arms to fight for our rights. The lesson was that they could do all this because we were defenceless and disarmed. Why should we remain so? We should take up violence to counter and overthrow their violence... Only after that did I engage in this movement.
Q: The impression among outsiders who have observed the development of the LTTE is that you-as its leader -have only recently begun to take a deeper or more detailed interest in politics . . . . whereas earlier you used to live in mainly in the realm of military ideas. (You were considered shy and did not meet people easily, which would make it difficult in politics.) Now they find you speaking out on a number of political issues.
A: In reality, it has always been clear to me than an armed struggle, takes shape only against a political background. If I had been a man without political clarity... I went underground around 1973 and you know that leading an underground life is a very difficult proposition. I have led an underground life for a long time...between 1973 and 1983, it was a very difficult period for us, with the army on the rampage... to escape their net was very difficult. If we were able to go through this experience and are able to stand firm today, then surely you will concede that we could not have been political innocents or carried on without a political background!
But one thing is true, despite this political background. My natural inclination makes me lay less emphasis on words. In serious politics, it won't do to concentrate on talking; you must grow through action and then talk! You would have observed that only as we grew in our activities, in our activities in the field, did we come up to a position of meeting various people and explaining our ideas - only then did our words carry some value. Words must be matched and indeed preceded by content. This is crucial for our relations with our people. If people respect our fighters more, it is because of this extra discipline. Certain exemplary personal attributes, a certain personal rectitude that is why our people are attracted to LTTE fighters. When you speak of a political outlook, people will respect you only if your prove yourself in action. Action gives your programme a political content. When we say during this period, "they will use the army to attack us, we will resist and counterattack and we will protect you" well...only when we actually do it do we establish our political credibility and role.
That is why we have given due attention to military affairs in our organisation. You know the character of our struggle. In a situation where the Sri Lankan state feeds its army on racism and chauvinism and through that army and through forced colonisation, tries to displace and subjugate us. Only a political organisation with military strength is capable of effective resistance. Look all around the world... any real struggle has had a military background. Even if the Indian freedom struggle was conducted on the basis of ahimsa, Netaji's Indian National Army had a special place... there is definitely a place today in Indian history for Subhas! His was an action-oriented political approach.
And take the Indian state today. If India is able to stand up in the community of nations, it is in no small measure due to the strength of the Indian armed forces else, the Chinese would bring their frontiers up to Delhi.