Ponniyan Selvan of Kalki Krishnamurthy
English Translation by Indra Neelameggham
[see also Original in Tamil]

Table of Contents

List of Principal Characters

Glossary
[see also கல்கி - பொன்னியின் செல்வன் in Tamil]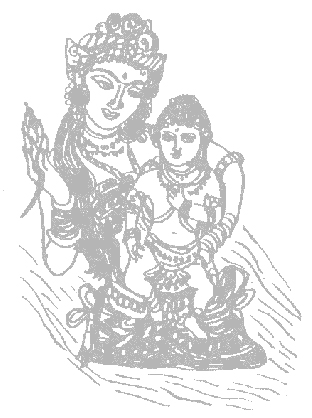 ".."Only when I wrote Partiban Kanavu and Civakamiyin Capatam did I realise how much Tamil people today desire to know about the prestige of the ancient Tamil regions," writer-nationalist "Kalki" Ra. Krsnamurti reveals in the 1948 preface to his 1944 historical romance Civakamiyin Capatam (Civakami's Vow). His three Tamil language novels depicting the medieval south Indian kingly dynasties of the Pallavas (500-800 CE) and Colas (800-1279 CE) – Partiban Kanavu (1941), Civakamiyin Capatam (1944) and Ponniyin Celvan (1950) have made him (and the historical and fictional characters he assembled) a household name among Tamil audiences." Dwelling in Futures Past: Place, Region and Tamil Nation in Ra. Krsnamurti's Civakamiyin Capatam - Akhila Ramnarayan
[Translator's Note: Ponniyin Selvan means "Beloved of the Ponni". Ponni is the ancient Tamil name for River Cauvery. Prince Arulmozli Varma was popularly known as "Ponniyin Selvan" or "Beloved of the Cauvery".]
Copyrights :
Translated 1990 by Indra Neelameggham Salt Lake City, Utah. With much thanks to R.Neelameggham and Elizabeth Ramadorai for editing help.
Thanks to B. Ganesan [biga] for maintaining the Thodarkathai website 1997 - 2000 Translation Copyright Indra Neelameggham. Permission is granted only for Non-Commercial uses of this etext release by Project Madurai. Others are required to contact the author at R. Neelameggham at gmail.com.
Acknowledgements:
Our sincere thanks to Mrs. Dr. Indra Neelameggham for providing with the e-version of this work and also for her permission to include this work as part of Project Madurai etext collections. PDF and Web versions Dr. K. Kalyanasundaram, Lausanne, Switzerland

© Project Madurai 2007. Project Madurai is an open, voluntary, worldwide initiative devoted to preparation of electronic texts of tamil literary works and to distribute them free on the Internet. Details of Project Madurai are available at the website http://www.projectmadurai.org/ You are welcome to freely distribute this file, provided this headerpage is kept intact.
---

Table of Contents of English Translation
Part 1A: New Floods (chapters 1 to 30) also in PDF
[see also in Tamil: முதலாவது பாகம் - புது வெள்ளம் ]
1
Aadi Festival
2
Azlvar-adiyan Nambi
3
Vinnagara Temple
4
Kadamboor Fort
5
The Gypsy Dance
6
Midnight Meeting
7
Laughter And Hatred
8
Who Is In The Palanquin?
9
Wayside Chitchat
10
The Astrologer of Kudanthai
11
Sudden Entry
12
Nandini
13
The Waxing Moon
14
A Crocodile On The River Bank
15
Vanathi's Tricks
16
Arulmozli Varma
17
The Horse Galloped
18
Idumban Kari
19
Battlefield And Forest
20
The First Enemy
21
The Curtains Parted
22
Velaikara Battalion Of Velirs
23
Velaikara Battalion Of Velirs
24
A Cuckoo And A Crow
25
Inside The Fort
26
Danger! Danger!
27
Court Poets
28
Iron Grip
29
"Our Guest"
30
Art Gallery
Part 1B: New Floods (chapters 31 to 57) also in PDF
31
"Thieves! Thieves!"
32
Examination
33
A Beauty Among The Branches
34
Garden Gazebo
35
A Sorcerer
36
"Do You Remember?"
37
Lions Clashed
38
Nandini's Sulks
39
The World Swirled
40
Dark Mansion
41
The Vault
42
"Is This Friendship?"
43
Pazlayarai
44
"All Her Doing!"
45
A Spy Who Committed A Crime
46
The People Murmur
47
Mr. Esanya Bhattar Of Pazlayarai
48
Swirling Pools And Flashing Eyes
49
Surprise Of Surprises
50
Paranthaka Infirmary
51
Mamallai
52
An Old Man's Wedding
53
Malayaman's Anger
54
Venomous Fiend
55
Nandini's Lover
56
A Palace Incident
57
Enchantress
Part 2A: Whirlwind - (chapters 1 to 26) also in PDF
Chapter
Heading
1
Poonkuzlali
2
Mudhole
3
At Midnight
4
The Open Sea
5
Insanity
6
Hidden Lair
7
Ocean Princess
8
Ghost Island
9
"This is Lanka!"
10
Honorable Anirudda Brahma-raya
11
Well-known Kaikola Battalion
12
Teacher and Disciple
13
Ponni's Beloved
14
Two Full Moons
15
An Anguished Call At Night
16
Sundara Chozla's Hallucination
17
Can The Dead Return?
18
Which is the Worst Betrayal?
19
"The Spy Is Caught!"
20
Tigress against Tigress
21
Dungeons
22
Sendan Amudan In Prison
23
Nandini's Letter
24
Wax in Embers
25
The City Of Mattotam
26
A Sword That Wanted Blood
Part 2B: Whirlwind - (chapters 27 to 53) also in PDF
[see also in Tamil: இரண்டாம் பாகம் - சுழற்காற்று]
27
Forest Path
28
Royal Way
29
The Elephant Driver
30
Fist Fight .
31
Eleyla Singan Play
32
Killi Valava's Elephant
33
Message Of The Monolith
34
Anuradapura
35
Lanka's Throne
36
Is Merit Honored?
37
Goddess Cauvery
38
Eloquent Pictures
39
Here Is War
40
Deliberation
41
"Look Over There!"
42
Poonkuzlali's Dagger
43
"I Am A Culprit"
44
The Elephant Turned Rogue
45
Prison Ship
46
Turbulent Soul
47
Ghoulish Laughter
48
The Commodore's Death
49
Ship Hunt
50
Aabathudavis
51
Whirlwind
52
Smashed Boat
53
Song of Sustenance
---
Principal Characters in Ponniyin Selvan
Aditya Karikala -Crown Prince of the Chozla Empire, Sundara Chozla's eldest son.

Amudan's Mother -A deaf-mute, garden keeper on the outskirts of Tanjore.

Anirudda Brahma-raya -The Prime Minister and confidant of Sundara Chozla.

Arinjaya Chozla-Sundara Chozla's father, King Gandara Aditya's younger brother, died after ruling for merely one year.

Arulmozli Varma -Sundara Chozla's younger son.

Astrologer of Kudanthai- An astrologer patronized by Kundavai, a spy of sorts.

Azlvar-adiyan Nambi, Thirumalai Appan - A follower of the Vaishnava faith, step brother of Esanya Bhattar, a spy.

Esanya Bhattar -A priest of Pazlayarai, elder brother of Azhvar-adiyan Nambi.

Gandara Aditya -Sundara Chozla's elder uncle, a devout follower of the Saiva faith, ruled before Arinjaya Chozla.

Idumban Kari -A footman from Kadamboor, a conspirator against Chozla royalty, member of a gang sympathetic to Pandiyas.

Kalyani of Vaithumba- Widow of King Arinjaya Chozla, a famous beauty, Sundara Chozla's mother.

Kandamaran- A young man, son of Sengannan Sambuvaraya of Kadamboor.

Kundavai, Younger Pirati - Sundara Chozla's daughter.

Lord Velir of Kodumbalur, the Elder, Bhoothi Vikrama Kesari - An important chieftain of the Chozla Empire, Commander of Chozla Armies in Lanka. Elder-uncle to Vanathi

Lord Velir of Kodumbalur, the Younger, Paranthaka Vikrama - Younger Lord of Kodumbalur, Vanathi's father who lost his life in a battle in Lanka.

Lord Pazluvoor, the Elder, - Ambalavan An important and powerful chieftain, - Officer of Taxation, Food Supply and Finance for the Chozla Empire, elder brother of Kalanthaka, Nandini's husband, about 65 years old.

Lord Pazluvoor, the Younger, Kalanthaka - Commander of Tanjore Fort, Captain of the Guard Corps.

Madurandaka Deva -A Chozla Prince, son of Gandara Aditya and Sembiyan Madevi, a few years older than Aditya Karikala.

Malayaman Milad-udayar of Thiru-kovalur -A nobleman and petty chieftain of the Chozla Empire, Empress Vanamadevi's father and thereby grandfather to Karikala, Arulmozli and Kundavai.

Manimekala - Kandamaran's younger sister and daughter of Kadamboor Sambuvaraya.

Mazlava-raya - A nobleman, Sembiyan Madevi's brother.

Munai Raya - A nobleman, not very confident in Lord Pazluvoor's schemes.

Nallavan Sattanar - Court poet at Tanjore.

Nandini, Young-Queen - An extraordinarily beautiful Pazluvoor woman with a mysterious past, Azhvar-adiyan's adopted sister, raised by a priest's family near Madurai.

Parthiban Pallava - A nobleman of the Pallava clan, Crown Prince Aditya Karikala's confidant.

Poonkuzlali - Daughter of the Lighthouse Keeper of Kodi Karai, Sendan Amudan's cousin.

Ravidasa, the Sorcerer - Leader of the Pandiya conspirators, a former retainer of Veera-pandiya, had a mysterious hold over Nandini.

Sambuvaraya of Kadamboor - A nobleman and crony of Lord Pazluvoor.

Sembiyan Madevi, Elder Pirati - Widow of King Gandara Aditya, Madurandaka Deva's mother, fond of Sundara Chozla and his children, devout.

Sendan Amudan -A flower vendor of Tanjore, lived with his deaf-mute mother in the outskirts of the city.

Soman Samban - A conspirator against Chozla royalty, member of Ravidasa's gang, sympathetic to Pandiyas.

Sundara Chozla Paranthaka - Emperor of the Chozla Kingdom.

Vanamadevi of Thiru-kovalur - The Queen Consort, wife of Sundara Chozla, mother to Karikala, Kundavai & Arulmozli.

Vanathi Devi - A young noblewoman of the Kodumbalur clan, Kundavai's friend, in love with Prince Arulmozli.

Vandiya Devan Vallavarayan - A scion of the Vaanar clan of Vallam, Aditya Karikala's messenger.

Vasuki - Nandini's maid.

Veera-pandiya - Pandiya King vanquished and killed by Prince Aditya Karikala.
---
Aadi - A month of the Tamil calendar, about July-Aug

Aavani - A month of the Tamil calendar, about Aug-Sept

Advaita - A philosophy, belief in the non-dual nature of God

Akka - Elder sister, a respectful greeting for an older girl

Amma - Mother, a respectful greeting for women

Ankush - A goad used by elephant drivers

Anna - Elder brother, respectful address for older men

Araya, raya, arasa King, chieftain, Raja

Ayya - Father, mode of address for an older man

Bharata Natyam - Classical dance style

Chakra - Discus

Champaka - A fragrant flower

Chanakya - A medieval personality of political cunning, a Machiavelli

Devi, Deva Lady, Lord

Iruvatchi - A fragrant flower

Jaamam - A period of time 3 hrs long;

1 Jaamam = 7˝ Nazli; 1 Nazli = 24 minutes

Jaggery - Unrefined or brown sugar

Kaadal - Love

Kaadam - A league or about 10 miles

Kaavi Reddish, ocher dye

Kadal - Sea

Kadamba - A flower

Kama - Love, Passion

Karadi - 1. A musical instrument 2. Bear

Karagam - Folk dance with balancing decorated pots

Karaiyar - Coastal, fisherfolk

Karppu - Sanctity of a married woman. Chastity

Kavi - 1. Poet 2. Monkey

Konnai - A flowering tree

Kumkum - Red powder, used to decorate the forehead

Kummi - A folk dance of women circling while clapping hands

Kunrimani - A tiny red-black berry or bead

Kural - Ancient Tamil couplets

Kuravai - Koothu Gypsy dance or dance by maidens

Malai - Mountain

Mariamman - A village deity, a pagan Goddess

Marudai - A shade giving tree, a colloquial name for Madurai City

Mattalam - Drum

Maya - Illusion, Deception, unreal

Moringa - A leafy tree

Mu-ttholl-ayiram - A collection of romantic verse in Tamil

Muzlai - Cave

Naadu - Country

Naamam - A vertical, make-up like, caste mark worn by followers of Vishnu

Nanal - A sedge like grass

Nandavan - Garden

Netri-chutti - Forehead ornament

Padai Veedu - Army Housing

Padinettam Perukku - Eighteenth day flood

Palli Padai - Memorial temple

Panchayat - Council of Village Elders, often five persons

Parai - A kind of country drum, an announcement

Perumal - Lord, God

Pirati - Lady, Royal Princess

Pitam - Monastic seat

Punnai - A tree with yellow flowers

Rudraksha - A multifaceted bead, a sacred berry

Saelai - Loose pleated garment of women worn with one loose end thrown over a shoulder

Saiva - A sect of Hinduism, follower of Shiva

Salli - A musical instrument

Selvan - Beloved, Darling (masculine)

Selvi Beloved, Darling (feminine)

Silappadikaram - A Tamil Epic

Sindhu - Folk song

Puli -Tamarind A shade giving tree bearing a sour fruit

Thambi - Younger brother, mode of address for young men

Thaye - Mother, mode of respectful address for women

Thaazlai - A fragrant cactus

Thevar-aalan -Divine man, dancers

Thevar-aatti - Divine woman, dancers

Thevaram - Devotional Poems

Thiru-vai-mozli - Devotional Poems

Thinnai A raised platform or dias on the front porch of houses in South India. Often used like a living room; for family gatherings, seating visitors, and sleeping in the night.

Udukku - Small palm held drum

Uriyadi - A game to get the prize-pot tied to a pole similar to the Maypole

Vaetti - Loose lower garment of men

Vaishnava - A sect of Hinduism, follower of Vishnu

Vamsa - Dynasty

Veena - A musical stringed instrument

Velan Attam - A semi-religious dance, usually by a man

Villu-pattu - Folk songs accompanying a string instrument, story telling

Vinnagara - Vishnu temple