Tamils Protest: Flying Elephant in Trafalgar Square

Subramanian Suleiman Senanayake, West London, UK
19 June 2006
[see also Tamil protest mars UK tourism push "A major effort by Sri Lanka to promote tourism from Britain did not make much headway last week as British television and newspapers simultaneously gave considerable coverage to the spiraling violence in the island and highlighting fears of a slide back to war. Moreover, the grand finale of a ten-day festival promoting Sinhala culture held in Trafalgar Square Saturday drew a novel protest by Tamil youth organizations in London – traditional Tamil arts being performed for the public while volunteers distributed leaflets highlighting the bloodletting underway in the distant island. more]
---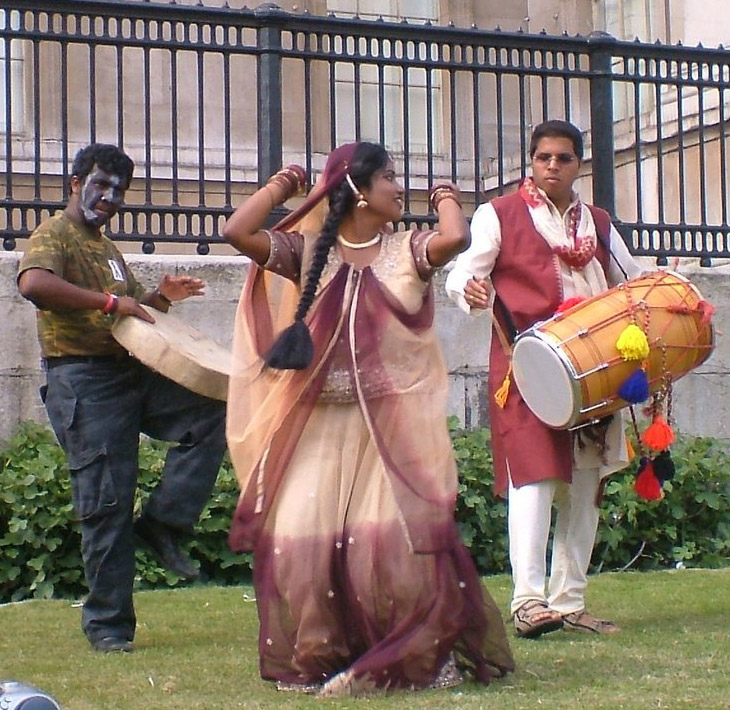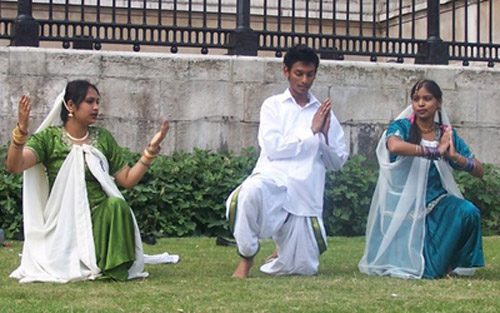 Tamil Traditional Dances at Trafalgar Square, London
At Trafalgar Square, Sri Lanka hosted a Tea Party1 to which SL Foreign Minister Mangala Samaraweera was in attendance along with a Sri Lankan Dumbo. Both wanted high security for some reason. While this was happening; the British public was treated to an alternate view on the Sri Lankan state of Affairs. The London Tamils were there on site to protest and highlight to the public, the plight of the fellow Tamils in their homeland. There were also some attractive creative elements to the protest. Bharatanatyam and Nattu Kutu.

Quite by mere coincidence great friends of mine for many years – a couple were passing by. Once they saw the Tamil protest they decided to stop, watch and "take it all in what was coming from both camps as it were…!"

Nigel, a Theologian and a social scientist with an analytical mind observed it perhaps from a stiff-upper lip academic school. He said "The Tamils made their points adequately. However, the flyers should give bullet points rather than trying to stuff lot of information. Too much information can only confuse people who are new to the Tamil-Singalese issue". As for the Singalese "The elephant was a great attraction alongside the fire-eaters". But he said, "Tamils counteracted it with their drumming and dance, however, the message of the dance was not clear to us – 'the foreigners'. Or was it just meant to make a 'cultural point of difference'. Was it meant to convey a particular message?"

His wife had a more Celtic take on it. She said "the dance was graceful and noted even the drumming was different". How do you mean? "The elephant camp had a very aggressive approach to the beat." Dancing to different beats? "Perhaps that defines the diversity of points of view" she added. Was their a counter point? "…well, the placards spoke of tea and blood. So I couldn't participate in the tea party…I couldn't drink tea – Ceylon Tea" Ha, the quiet message has worked? "Depends how sensitive one is. You begin to associate things don't you? Blood and tea - That's a powerful image."

Nigel wearing his Social scientist cap on urged: "The Tamils must use such an opportunity to do a quick survey. They should go round the crowd and ask them brief questions and fill out a questionnaire. It is matter of asking pertinent questions and filling out the form with replies. Feed-back will give you an idea as to public perception. One can of course get volunteers to do it. By doing so, the information you gather is useful to you, and the conversation you engage in educates the public. It's a two-way thing. You are not just there to perform but the exercise becomes educative on both sides"

Nigel made a point to speak to both sides at the Square: "I asked a Tamil chap whether he supported a separate Tamil state or a federal state under the Singhalese flag. The reply came 'I am not sure'." Was it a good enough reply? "At least he was being honest." Nigel pointed out. When the same question was put to a bystander who happened to be a Tamil who works in a Souvenir shop near the Square. The man explained "The history in a nut shell and blamed us [the Brits] for the folly of colonialism. He didn't answer my question though." Nigel who is an expert on the history of British slave trade understood this narrative as a "chain of events that has shaped the history of many countries that came under the folly of Rule Britannia and its exploits."

They both felt that "The Singhalese camp was polite, courteous, with a developed sense of 'burying the head in the sand' complex." "What's happening out side, your fellow county men are crying out in pain…?" Nigel asked a High Commission Official. "Sir they are all LTTE terrorists, they are part of a banned organisation in this country. More tea Sir?" The man was in a hurry to switch subjects.

"Such an attitude won't solve any problem" The couple quipped. "Are you being served?" a sales person from the Tourist Board asked Corine. A hilarious irony!

"I have stopped drinking tea" was the reply. "Thank you, no Thank you!"
---
Note
1. Tea Party included Visual and musical presentations; featuring Kandyan dancers and drummers; photographic and art exhibition; handicraft demonstration complete with Ayurvedic massage. And first time ever live elephant in the Square. I also noted two important occasions where the Tamils' <Operation Embarrassment> would be most effective.
1) SriLit Festival at Foyles Book Shop, 119 Charing Cross Road, London W1 until Friday 23rd. Info call: 020-7437 5660. Special guests include Christopher Ondaatje [Michael's brother]. It must be noted that the Ondaaatje brothers have more Tamil blood running in their veins than the Colonialist's Dutch blood! Ondaatje-madam is a toponym in East Eelam!

2) Sri Lanka Cinema Festival, Nehru Centre, 8 South Audley Street, London W1. First time ever film festival dedicated to the diversity of Sri Lanka and its people. From Thursday 22 to Saturday 24th. Further info: 020 7491 3567.

KEY PHRASE: FIRST TIME EVER!