INTERNATIONAL FRAME &
THE STRUGGLE for Tamil Eelam
International political advocacy
indispensable to maturing Tamil struggle
Pathmini Sithamparanathan, Tamil National Alliance (TNA),
& first woman Member of Parliament (MP) for Jaffna
[TamilNet, December 19, 2005]
---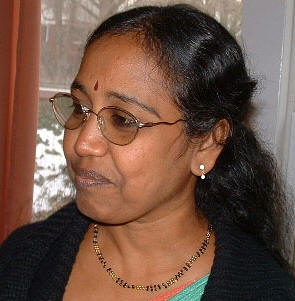 "Congressional meetings gave me hope that a conducive atmosphere is emerging in the supreme legislative body of the US with regards to the Tamil struggle. It is critical that we maintain sustained efforts to reinforce relationships with congresspersons interested in our struggle, and address human rights issues raised by UN agencies and watchdogs. With the maturing phase of our struggle, focussed political action in major world capitals has become an urgent priority," said Pathmini Sithamparanathan of Tamil National Alliance (TNA), and the first woman Member of Parliament (MP) for Jaffna, when she talked to TamilNet in Washington D.C concluding her two-week speaking tour in US Saturday.

Ms Sithamparanathan, accompanied by her humanities professor husband, addressed several functions organized by expatriate Tamil community in several US states during her visit. She also met with several Congresspersons and UN agencies to apprise them of the humanitarian, economic and human rights situation on the ground and to respond to their concerns on issues affecting Tamil people, visit organizers said.

The affable social activist turned politician talked in length with TamilNet on her vist to US, social work, the path leading her to politics and the Tamil struggle.

Full text of her interview follows:

TamilNet: Can you tell us the reason for your visit to the US and your views and impressions as you conclude your visit?
Sithamparanathan: I was invited by the Florida Tamil Sangam to address their annual gathering on 11th December. We arrived a few days earlier, as organizers had arranged for us to meet with Tamil expatriates in other states. Last few days we met with several Congresspersons and Senior Analysts at two well known Policy Institutes in Washington D.C.

Meetings with Congresspersons went well and I felt that many had a good grasp of the fundamentals of the conflict in Sri Lanka. Congressional staff shared ideas to further advance the position of Tamil people in the international scene, and we are discussing with our Tamil activist friends here on how to organize our political advocacy more efficiently in the light of these suggestions.

We, however, had hostile reactions from some members of Washington Policy institutes to the election boycott. Although from Tamil peoples' perspective the boycott was a logical choice, coming from a liberal democratic environment many analysts find the failure to exercise franchise a regressive step. We are also aware that the election loss for the West's preferred candidate due to the boycott may have drawn the ire of these institutes.

We learnt the immediate concerns of UN agencies on the human right's front. We will convey the specific issues that need to be addressed in the short term to the North East Subcommittee on Human Rights (NESOHR).
TamilNet: Can you expand on the background to the election boycott by the Tamils of NorthEast?
Sithamparanathan: More than six weeks prior to the Sri Lanka Presidential elections Tamil people started discussing widely on the political underpinnings of Sri Lanka presidential elections. Tamil National Alliance (TNA) members started explaining to the electorate the differences between parliamentary and presidential elections, and how they affect the Tamil people. "Presidential election, conducted in a majoritarian democracy, always elects a Sinhala president. Sovereignty of Tamil people is exploited to advance Sinhala interests in this exercise," we told our people. The discussions during the six weeks converged into a collective decision by the NorthEast Tamils to abstain from voting. Liberation Tigers' statement near the election date expressing disinterest in the elections helped to cement the decision by the Tamil people for a total boycott.
TamilNet: Can you explain to our readers your background for entry into Tamil politics?
Sithamparanathan: I have always been a social activist interested in women's rights and welfare. After getting a degree in humanities from University of Jaffna, I was a teacher from 1984 until the Jaffna displacement in 1995.

During this period I was involved, with my husband, in conducting workshops for women, to overcome any psychological impacts of war. We used theater and drama as the main instruments to help these women to recover. I returned to Jaffna and until 2004 continued working full-time with women groups. This work led to the request from TNA officials asking me to stand for the 2004 elections.
TamilNet: As the first woman MP in Jaffna district, can you tell us how the new position as an MP working out for you?
Sithamparanathan: I experienced first hand the difficulties women holding political positions face in Jaffna. The media and other publicity organs were not used to engaging women candidates and ignored my campaign during the early stages. I learnt quickly ways to address the situation. I called a press meeting with editors of local press and explained to them the need to provide equal access to all candidates. Since I have been working with a large number of women groups, these women became my volunteer campaign staff. I had to assert myself to be treated equally even among my peer candidates who were not used to having a woman candidate.

Parliament gave me a forum to expose grievances of women in the Northeast. Foreign embassies started to give more recognition to women candidates and this further helped women MPs to take advantage of the opportunities to advance the cause of our people, our electorate, and the rights of women in particular.
TamilNet: Can you comment on the recent unrest in Jaffna and islets?
Sithamparanathan: People in Jaffna have reached a breaking point. In addition to the thousands displaced from their homes and living is shelters, the burgeoning presence of thousands of armed troops is a lurking danger to our conservative society, especially young women. Unlike in the West, houses and compounds in Jaffna are open. During search operations, Sri Lankan Army has a habit of trespassing into compounds unannounced endangering the freedom of movement of the people. The Punguduthivu rape and murder of a 20 year woman allegedly by the Sri Lanka Navy soldiers is a clear sign of the deteriorating situation. Students are also becoming more vocal and active, irritated by the continued SLA presence in Jaffna.

These are ominous signs that situation will deteriorate unless there is discernible progress in peace talks.

Pongu Thamil allowed our people to express their feelings, and organizers are planning to have village level uprising as an attempt to further unify the Tamil people.
TamilNet: Do you have any advice to the expatriates in the US?
Sithamparanathan: On the contrary, we have benefitted enormously by this visit seeing the efforts of our friends here in creating a better environment for our people. We see a commitment and energy that I have not expected and this has made us feel strong. Also we have witnessed closely the enormous potential of technology. We return satisfied and enriched by our experience here.