Selected Writings by Sachi Sri Kantha
Protecting Sonia by Press Notice - an Indian Rope Trick
17 April 2009
---
Pardon me for using the baseball catcher Yogi Berra (b. 1925) cliché 'This is like Déjà vu all over again'. Those who read the Hindu daily (Chennai) of April 9, 2009, had to yawn at the recycled story concocted by Praveen Swami, with an alluring caption "Worries mount on LTTE threat to Sonia", an alarming notice from India's certified skunks. Excerpts below:
"Worries mount on LTTE threat to Sonia : 'No hard intelligence, but overall situation alarming.'

NEW DELHI: India's intelligence services have become increasingly concerned about the prospect of an election-time attack by the Liberation Tigers of Tamil Eelam on top political leaders, including Congress party chairperson Sonia Gandhi.

Sources in the intelligence services have told The Hindu that while there is no substantive intelligence to indicate that assassinations or attacks have been ordered by the LTTE, the inflammatory language being used by the terrorist group's supporter in India was a cause for concern.

In a speech delivered on Wednesday, Marumalarchi Dravida Munnetra Kazhagam leader V. Gopalswamy, also known as Vaiko, warned of large-scale secessionist violence if Sri Lankan forces killed LTTE chief V. Prabakaran…"
Whether the story is skunk-related can be deciphered by the stock cliché "Sources in the intelligence services". Why I mentioned that the caption was alluring? Because, "Worries mount". To whom? Probably, not to Sonia Gandhi, not to the Indian public per se, or not to the Tamils in Tamil Nadu or Eelam, but to the India's certified skunks! Protecting Sonia has been a burden for these skunks since 1984, when Sonia's mother-in-law was assassinated.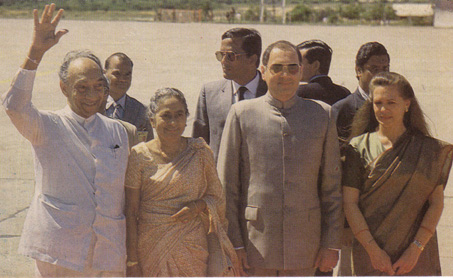 Have a look at the photo placed above, that was released in 1986 from Bangalore? It can be used as a simple trick photo to fool 3 year-old kids.
(1) Can you count the four (plus five skunks in dark suit and tie) heads?

(2) How many are smiling? The two politicians and their spouses facing the camera were smiling for sure, with one in the extreme left raising his right palm? One skunk immediately behind Jayewardene is partially hidden with only his left shoulder appearing. One behind him seems smiling too with closed lips.

(3) While the one (in dark glasses) behind Rajiv Gandhi is looking to his right, the one behind Sonia Gandhi is facing the camera directly. Was he smiling or not?

(4) Can you tell whether the guy whose back is facing the other eight is smiling or not?
This "LTTE threat to Sonia" first made its public round in May 1999. It was immediately after the Supreme Court verdict on the Rajiv Gandhi assassination case.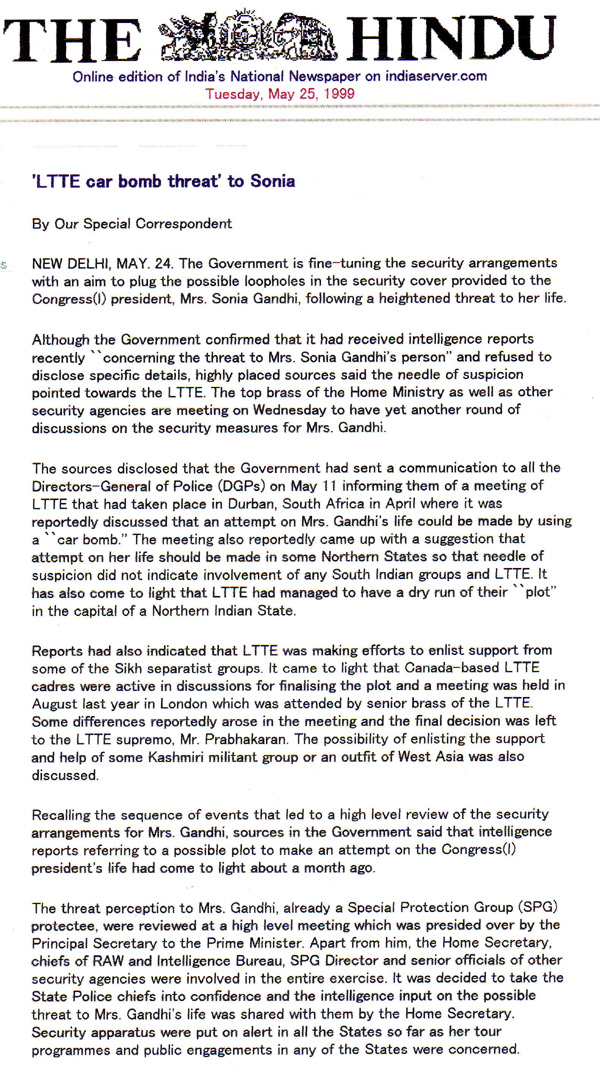 Check the scan I provide from the Hindu daily of May 25, 1999, datelined "New Delhi, May 24". Here are the first three paragraphs of this story.
"The Government is fine-tuning the security arrangements with an aim to plug the possible loopholes in the security cover provided to the Congress (I) president, Mrs. Sonia Gandhi, following a heightened threat to her life.
Although the Government confirmed that it had received intelligence reports recently, 'concerning the threat to Mrs. Sonia Gandhi's person' and refused to disclose specific details, highly placed sources said the needle of suspicion pointed towards the LTTE. The top brass of the Home Ministry as well as other security agencies are meeting on Wednesday to have yet another round of discussions on the security measures for Mrs. Gandhi
The sources disclosed that the Government had sent a communication to all the Directors-General of Police (DGPs) on May 11 informing them of a meeting of LTTE that had taken place in Durban, South Africa in April where it was reportedly discussed that an attempt on Mrs. Gandhi's life could be made by using a 'car bomb'. The meeting also reportedly came up with a suggestion that attempt on her life should be made in some Northern states so that needle of suspicion did not indicate involvement of any South Indian groups and LTTE. It has also come to light that LTTE had managed to have a dry run of their 'plot' in the capital of a Northern Indian state…"
This cockamamie yarn of concocting a LTTE meeting in Durban and its topping with a 'dry run of the plot' conducted in a North Indian state capital could be nothing but a Goebbelsian delusion of the pea-brained pundits representing the India's plumbing agency.
Subsequently, the "all-knowing, all-listening, all-watching" reporter D.B.S. Jeyaraj, gobbled this "LTTE threat to Sonia" story, and vomited in his commentary, "Sonia and the Tigers" (Frontline, July 3, 1999). In a 'neither here-no there' standing typical to his weather-vane style of reporting, Jeyaraj whined, "It may also be that the intelligence reports about the assassination attempt are totally incorrect and the entire matter constituted a false alarm. However, this is no cause for relief because the potential danger to Sonia Gandhi from the LTTE is always there. That threat is something that cannot be disregarded as improbable. Therefore, it would be prudent for the authorities to provide maximum security to Sonia Gandhi and also exercise a constant vigil in this respect."
Knowing her liabilities, Sonia Gandhi was prude enough to maintain a self-enforced 'untouchability' in Indian politics from 1991 to 2004. Later for more than one reason, she came out of her seclusion to lead the Congress (I) party to victory in 2004. And she had survived as a politician for the past five years, without any threats to her life. Why then this intelligent news on threat to her life is making its second round? The only valid reason is that like their professional counterparts in other countries, the Indian security contingent badly wishes to save their bottoms, in case if something unexpected befall to Rajiv Gandhi's family members.