Nowadays the Sri Lankan President, Mr Rajapakse is a proud man. Within a couple of years he has captured power for the Sinhalese, engineered the 4th Eelam War, bankrupted the main opposition, the United National Party, and most importantly convinced the international community of the importance of frog marching the Tamils to a half-baked solution at the point of a gun. On top of these he is almost succeeding in hiding his regime's human rights abuses from the world in the name of war on terror while presenting him as a peace loving Buddhist.
In a perfectly calculated spin Mr Rajapakse told Richard Boucher, the US Assistant Secretary for South and Central Asian Affairs, the Liberation Tigers of Tamil Eelam (LTTE) should lay down arms and come for peace talks. Otherwise, he was willing to hold peace talks while fighting terrorism; he was to have further said.
In the meantime Mr Rajapakse is openly subjugating the Tamil East in military, economic and political spheres. More than half of the entire Eastern Tamils live as refugees.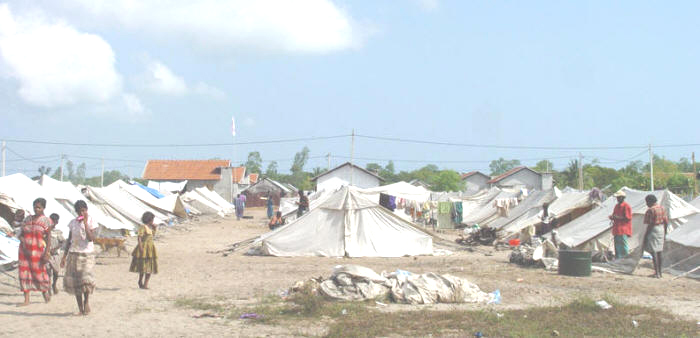 The Vaharai Tragedy - a Crime Against Humanity
[see also Sri Lanka's State Terror in Streaming Video - Vaharai Tamil Refugees ]
They are not active economically. Their children do not get a decent education. No independent Tamil newspaper is allowed there. Paramilitary allies of the Sri Lankan armed forces have threatened the democratically elected Tamil parliamentarians by death thus stopping them from visiting their constituencies. And so the Eastern Tamil population is systematically being isolated, both physically and politically by Mr Rajapakse. By doing so he is trying to break the Tamil's political will to resist him.
At the same time very silently state sponsored Sinhalese settlement programmes are at full swing in the newly captured Tamil lands of the East in the name of high security zones.
[See also (1) Sinhala Colonisation of Tamil Homeland - "All wars are fought for land...The plan for settlement of people in Yan Oya and Malwathu Oya basins was worked out before the communal riots of 1983. Indeed the keenest minds in the Mahaveli, some of whom are holding top international positions were the architects of this plan. My role was that of an executor... " Sinhala Mahaveli Ministry Official, Herman Gunaratne in the Sri Lanka Sunday Times, 26 August 1990 more
(2) Sinhala Colonisation in the Hereditary Tamil Regions of the Island of Sri Lanka - K.Satchithanandan, Research officer, Colombo Fisheries Corporation, Lecturer at the University of Jaffna
(3) Government Policies Threaten Economic Future and Ancestral Homeland of Tamils - Professor Chelvadurai Manogaran at the South Asia Conference on Development, Social Justice & Peace, July 1996
(4) Sinhalese - Tamil Relations & the Politics of Space - Professor Chelvadurai Manogaran at London Symposium, June 1997
(5) Buddha's Statues - Symbol of Sinhalese Hegemony, - A.Thangavelu, 31 May 2005]
One must realise that these high security zones and Sinhalese civilian settlements are not just an appendix to the Sri Lankan military occupation of Tamil lands: they are the Occupation itself. They rob the Tamils of every vital resource and freedom necessary for their life, both as individuals and as a nation. Many people – even those foreign and United Nations diplomats who get state sponsored helicopter rides to these areas in the name of rehabilitation work – fail to comprehend this.
A settlement is never just a fortified group of asbestos-roofed little houses in an occupied Tamil village. Only in the first instance do settlements mean confiscated land – sometimes free, sometimes agricultural, sometimes inhabited land whose Tamil population were driven to refugee camps. A settlement also means Sinhalese soldiers whojoin forces with murderous settlers in harassing the Tamils. It also means checkpoints, and a road – preferably several roads – connecting it with other settlements and with the Sinhala South itself.
High security zones
A road, again, is not just land: it is an ever growing "security belt" on both sides of it, belts of Tamil fields and buildings swept by Sri Lankan Army bulldozers "to prevent terrorist attacks" on the road. The function of those ever-expanding "by-pass roads" is not so much to serve the settlers but to cut off Tamil towns and villages from one another, to split the Tamils into minimal separate units that can be manipulated one by one, or even against one another – "divide and rule."
Beyond land and contiguity, settlements are meant to steal Tamil water: from the very beginning, the settlements were located in strategic sites near rivers and waterways. Atpresent, Sinhalese use about 80% of the water of the East, leaving just 20% to their Tamil inhabitants. Pictures of dusty Tamil villages and drained paddy fields next to well watered Sinhalese settlements and their paddy fields are numerous.
And then, last but not least, there is the political significance: by moving Sinhalese into the newly captured Tamil East, the Sri Lankan government is increasing the number of Sinhalese citizens who have a vested interest (real estate etc.) in keeping, expanding and strengthening these settlements.
Contrary to common belief, the United National Party (UNP) governments have consistently been more effective than the Sri Lanka Freedom Party (SLFP) ones in building these settlements: Mr Ranil Wickramasinghe and his UNP have always been much more ingenious and convincing than Mr Rajapakse's SLFP in selling the settlements to the world.
Any Southern leader – from UNP or SLFP, both Rajapakse and Wickremasinghe– simply do not want to stop the settlements. Not for a year and not for a day. They use international aid money to build housing units for Sinhalese settlers, because they want to occupy as much Tamil land as they can.
As far as Tamils are concerned there is no Southern partner for peace now.
Mr Rajapakse is certainly no partner for peace and Mr Wickremasinghe is just as bad.
When the international media claims that "the war will continue for many months, maybe even years, in its current form, although the number of casualties is expected to rise and the methods used by both sides are likely to intensify", it is not a strategic evaluation, but rather Mr Rajapakse's operative war plans.
In the meantime a half baked political solution has been put forward to the Tamils just to please the international community. And this has been already rejected by the Tamils as too little too late, as expected by Mr Rajapakse.
Thus once the "ceasefire" spin is exhausted, Sri Lanka (with US and others backing) will again sell the world the fiction about Tamil rejectionism – and escalate the bloodshed, and the settlement activity.
"The Occupying Power shall not deport or transfer parts of its own civilian population into the territory it occupies", says Article 49 of the Geneva Convention. Obviously, pundits would point out that legally the Tamil East is part of the Sri Lankan nation state. But as far as the Tamils are concerned the Sri Lankan State is an occupier and the Sinhalisation of Tamil Homeland is illegal and will never be accepted.