The Citadel of Saiva Siddhantha and Ceylonese Scholars
1 December 2007

French India has attracted steady stream of scholars, though the names of Aurobindo and Bharathiar are popular, there remain many who have yet to come to light.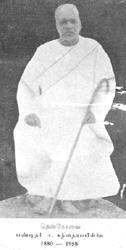 The Ceylonese connections to Pondicherry and the scholars of Saiva Siddhantha who landed here in pursuit of knowledge is one field that has to be researched further. Sri Lanka was then known as Ceylon and from Jaffna, Pandit Thenkovai S.Kandiah Pillai landed in Pondicherry and edited a weekly on Saiva Siddhantha.
"Vittagam" which means the mind of the seed. Vittagam was published for 3 years from 30.11.1933. It was priced at "one Ana" and carried the title in French along with Tamil.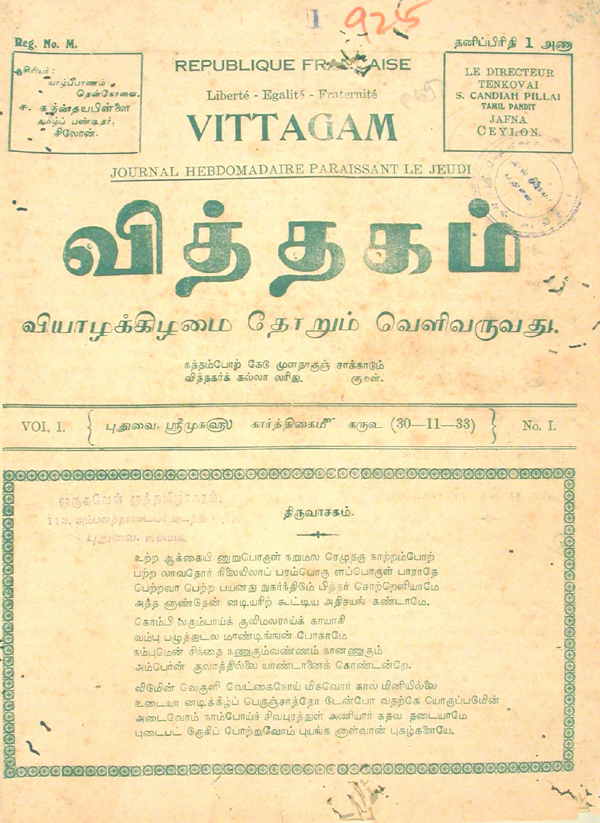 Apart from the philosophical editorials, which formed a major part of the 8 page weekly publication, there was much news about the socio political situation of those times.
The Assembly of French India known as Conseil General was inaugurated on 25.11.1933 around 4 PM in the Municipal buildings amidst huge attendance by people. The French Governor George Bourret in his inaugural speech lamented at the lack of adequate education to the children from 6 to 13 years and urged the members of the assembly to improve the infrastructure of school education. He expressed grave concern over the total neglect of Tamils in learning their mother tongue and in imparting education to their children in Tamil.
George Bourret stressed that Tamil medium of instruction must be made compulsorily and higher education in Tamil must be improved. He felt that degrees should be conferred on students of Tamil medium on par with those who learn French. He also stressed the need to encourage private educational institutions. " The foresight of the French Governor is laudable and his advice is applicable even for present days" opines Dr.Ira.Thirumurugan of Tamil Development Action Group, a private initiative of Tamil scholars in the Union Territory.
After the French governor's speech election to the new assembly members took place. Advocate Chellan Naicker was chosen President. Mr.Thiagaraja Pillai of Karaikal and Mr. Sadhu Charan Mukkerjee of Chandranagore were elected as Vice Presidents. Mr. Balasubramania Pillai, Advocate Perumal Naicker and Selvarasu Chettiar were chosen as Secretaries. Mr.Balasubramania Pillai, Mr. Thanaraja Pillai, Mr. Yubert de Rozario, Mr.Henry Gaeble, Mr. Gnanou Thiagou, Mr. Joseph Laporte, Mr. Ramachandra Naicker, Mr. Sambasivam Chettiar, Mr. Veera Pillai were chosen members of the Economic Committee. " Vittagam" apart from detailing this historical event also places on record that a Report of the Commission on Colonies (Rapport de la commission coloniale) was tabled in the assembly by Mr. Joseph Laporte.
This journal propagated the Thirumoolar School of Yoga. Thirumoolar it was believed lived for 3000 years and wrote one poem every year, which is called as "Thirumoolam"
These treatises were focus of scholarly debate of those days when people felt that yoga is a way to gain longer life on earth. English bard Mathew Arnold wrote the poem Scholar gypsy in which he said gypsies possessed the knowledge to live beyond 200 or 300 years.
Saint Vallalar believed that human body could transform into a body of light and vanish in the air and get lost in the vacuum. "Vittagam" and its writers were of the view that with the body they can attain divinity and stated that it was the True Attainment of Salvation.
" Unmai Mukhthi Nilai " written by Pandit Thenkovai S.Kandiah Pillai expounds this theory in detail. The journal Vittagam went to India (British), Burma and Ceylon. The annual subscription was rupees 3, while for Malaya, Singapore and Saigon the annual rate was Rupees 4.
A letter from a Teacher of Saint Johns College Jaffna dated 18.1.1934 the reader S.G.Arulanandha said " Your articles are very stimulating of thought and action. I am a fervent Christian and you are to me interpreting truly the life of my lord and Master Jesus." In every week from the letters to the editor published it becomes clear that this magazine left a deep imprint in Ceylon, Tamil Nadu, Malaya, Saigon and Burma.
The publisher of this philosophical weekly Mr.R.Nagaratnam was among the few nationalists who were with Aurobindo Ghosh in his initial years of the stay in Pondicherry.
During the year 1923 the Inmates of Ashram as published by M.P.Pandit in the book " Champaklal Treasures" are Rajangam, Tirupati, Khitish, Nolinda, Satyen, Kanai, Bejoy, Purani and Nagaratnam (a local devotee). Also in the picture are Punamchand, Champaben, Mrs.Kothandaraman , Mr.Kothandaraman, Champaklal, Moni, Amrita and Manmohan.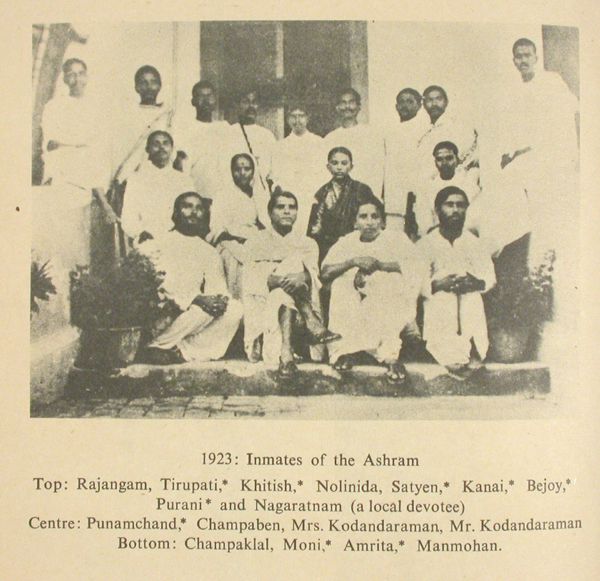 Late R.Nagaratnam Pillai was born in 9.05.1899 and passed away on 26.11.1992 in his 93rd year. The nationalist who went on secret missions to bring freedom fighters to Pondicherry and who offered asylum in his house was detained by the British Police at Tindivanam and was in prison for 15 days from 25.12.1925. He headed an agency R.Nagarathinam Pillai and Brother importing Austin and Ford Cars in French India. Also he was a Correspondent for Illustrated Weekly of India in French India and agent for Dinamani and Indian Express .
Vittagam Press brought out many books from its premises situated at 2 & 4 Ambalathadum Iyer Madam Street. Those houses had been a place frequented by Mahakavi Bharathiar, Lalalajpat Rai, Chitaranjan Das, V.V.S.Iyer, Neelakanta Brahmachari, Suthanandha Bharathiar, Maraimalai Adigal and many scholars of Saiva Siddantha School.
"The Saivite school and scholars of that ideology with various 'siddhar peedams' around Pondicherry are fresh areas for further research" opines Dr.N.Sengamala Thayar, the daughter of R.Nagaratnam currently in charge of Bharathiar Museum at Pondicherry.