Dr.K.Kalyanasundaram
receives Sundara Ramasamy Award
for Tamil Information Technology
---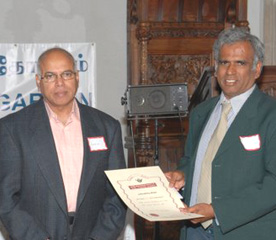 At a ceremony held on Sunday 18 May, 2008, Dr. Kalyanasundaram received the "Sundara Ramasamy Award for Tamil Information Technology" for 2008 from the Canadian Tamils initiative Tamil Literary Garden.
Well known Tamil writer and translator Lakshmi Holmström received the main "Lifetime Achievement Award for 2007", also known as Iyal Virudhu. Prof. George Hart III of University California, Berkeley one of the earlier recipients of the "iyal viruthu" awards.
Dr. Kalyanasundaram is one of the co founders of Project Madurai which was established more than ten years ago. On the first anniversary of Project Madurai in 1999, Dr. Kalyanasundaram wrote
"..Coming Pongal Day will mark the first Anniversary of Project Madurai! Project Madurai is a concrete outcome of many ideas that were floated in tamil.net over the years. It was designed to bring together like-minded souls who are keen to see our rich literary treasures preserved and distributed free worldwide in the form of electronic texts. The First anniversary is an important occasion in the life history of any child. It is appropriate time for us to sit back and reflect a bit, particularly on its goals, modus operandi and future plans..."
Since then the child has grown with the help of the sustained, patient and knowledgeable efforts of Dr. Kalyanasundaram and today Project Madurai has released more than three hundred Tamil texts for free distribution on the world wide web.
Dr.Kalyansunderam assumed duties as Chair, International Forum
for Information Technology in Tamil (INFITT) in 2007, having served on its Executive Committee from its inception.
Dr. Kalyanasundaram's Mylai Tamil font was one of the earliest Tamil fonts available on the internet and his website Tamil Electronic Library was one of the very earliest Tamil websites and has received a five star rating from Australian National University Asian Studies WWW Monitor.
The Sundara Ramasamy award citation mentioned Dr. Kalyanasundaram's contributions in the area of Tamil fonts, development of font encoding standards such as TSCII, Project Madurai and INFITT. It may be recalled that pioneer Dr. K. Srinivasan of Montreal was the first recipient of this award last year.
Dr. Kalyanasundaram mentioned in his brief remarks following the receipt of the award, that all above initiatives were mainly collective, collaborative efforts involving Tamil friends coming from all four corners of the world. He said - "It is a vindication of the notion that if Tamils do come together and work with a common objective we can contribute productively for the Tamil Diaspora".
Dr. Kalyanasundaram added "I take this opportunity to thank sincerely all my Tamil friends across the globe who have been so kind and supportive all these years. Without your support and understanding, most of the above initiatives would not have made any headways. I look forward to your continued support in the years to come."
Maraimalai ilakkuvanar from Tamil Nadu in an email communication to INFITT conveying his vaazhththukkal said " I know and the whole Tamil world knows the initiatives and projects taken by you and the sincere work you have done all these days. It is only a beginning and I am sure the Tamilnadu government as well as the people will surely confer many honors on you, even though you are not expecting such things."
Professor M.Anandakrishnan, Chairman, Madras Institute of Development Studies congratulated Dr. Kalyanasundaram on " this well deserved award in recognition of your long, deep and continuous involvement in Tamil computing and Tamil Internet activities. The Tamil community everywhere values your contributions. Wish you many more years of active involvement.
Indy Ram wrote "I am so happy to know that you have been awarded the SRA award for your many years of service to the cause of Tamil computing You have been involved in the creation of
1. Mylai font
2. TSCII standaradization
3. Mangaiyar malar using that generic font
4. Maintenance of a comprehensive "go to" website
5. Organizing and participating in various INFITT meetings
6. Being the executive director of INFITT
7. Most of all in keeping up the effort of Project Madurai in its various forms
You like the rest of us are still a full-time employee with family duties Obviously your enthusiasm and dedication for all the above mentioned efforts have made you to "find and create" time to do a good job of whatever you have undertaken There is no doubt some greater force is "calling" you to do all this. May you be blessed with good health and continued enthusiasm to do the great work in furthering the cause of Tamil computing Many of the things you do is totally a voluntary work. It is a thankless job indeed. But some people are created this way to do these kinds of special things. We all get inspiration from your dedication and enthusiasm May He/She be praised for using you to display His/Her greatness."
From Paris, Jean-Luc Chevillard said "Even though, with modesty, you have declared that 'all above initiatives are mainly collective, collaborative efforts involving Tamil friends coming from all four corners of the world', it is quite obvious that such collective effort could never give result on the long run without the persistent and constant attention provided by a special person like you. This is a view with which tamilnation.org entirely agrees.