tamil nadu
& Tamil Eelam strugglE for freedom

Vaiko, Jayalalitha form alliance
[TamilNet, March 04, 2006]

[see also Sonia Gandhi Urges Tamil Nadu to remove ADIAMK from Power and Human Rights of the Tamil People in Sri Lanka - Memorandum submitted by V.Gopalaswamy to UN Commissioner on Human Rights 1998 (VAIKO)]
---
Leader of MDMK, Vaiko, and Leader of AIADM and TamilNadu Chief Minister, Jayalalitha Jayaram, formed an alliance signing an agreement that allows Vaiko's MDMK to contest in 35 of the 234 Assembly seats in the forthcoming Assembly elections in TamilNadu, media reports from TamilNadu said.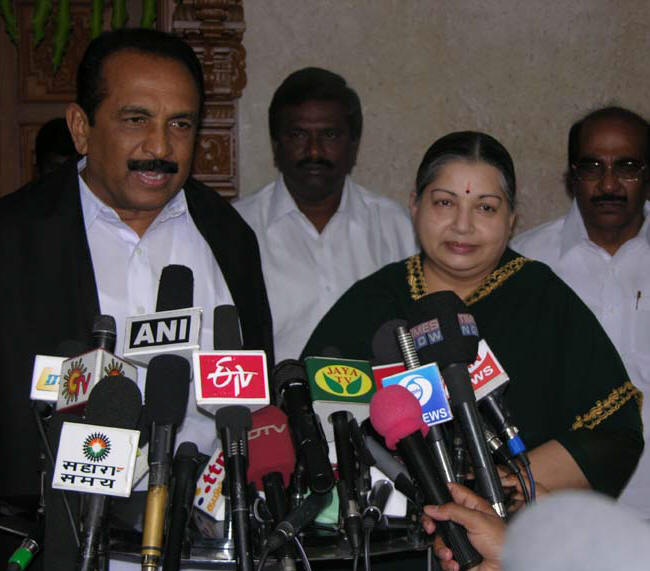 Vaiko, Jeyalalitha addressing press
after the agreement was signed
The "sudden realignment of forces that is seen as a setback to the DMK-led Democratic Progressive Alliance (DPA)," said The Hindu in its Saturday's edition.

Jayalalitha, who had earlier jailed Vaiko under the Prevention of Terrorism Act (PoTA) for 19 months, when asked to comment on sharing a platform with Vaiko, the Hindu quoted Jayalalitha as saying "It feels great to be friends. In politics, there are no permanent friends or enemies."

The Hindu report further said: "For the DMK-led alliance, Vaiko's decision comes as a major setback after the grouping's spectacular victory sweeping all the 39 Lok Sabha in the 2004 elections, while for a friendless AIADMK it could be considered a major boost. Only a few days ago, the ruling AIADMK got its first electoral partner in Dalit Panthers of India which was given nine seats.

MDMK, a constituent of the ruling UPA at the Centre, has four MPs providing outside support to the government. Welcoming Vaiko, Jayalalithaa said the cadres of both the parties would work for the victory of each other. "The AIADMK will have individual majority to form the government," Vaiko intervened to say."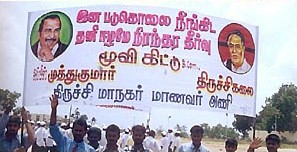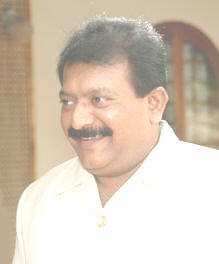 The alliance is also seen as a boost to the NorthEast Tamils in the island of Sri Lanka. Vaiko takes a keen interest in the Tamil National struggle and has a close relationship with LTTE leader Pirapaharan.

Recently, commenting on the effort by Colombo to draw the Indian Government into Sri Lanka politics, Vaiko said: "I can see war clouds over the island. The keen interest being shown by Colombo to tilt the Indian stand in favour of their policy is a very dangerous ploy," and added, "Colombo, with a documented history of embarking on state-aided colonisation programme in the Tamil homeland, should deal with the Tamils in a constructive manner to resolve the conflict. Instead Colombo has opted to advance a policy that contradicts what was expected by India and the International Community."
Related Links