Tamils - a Nation without a State
Diaspora tamoulle - une nation d'état de transport


France - பிரான்ஸ்
- an estimated 60,000 Tamils live in France -
"To fight for freedom and the equality is not terrorism"
Paris Tamils in walking vigil, urge release of Tamil activists
Tamoul de Paris dans le vigile de marche,
dégagement de recommander des activistes tamouls
[TamilNet, Thursday, 26 April 2007, 05:28 GMT]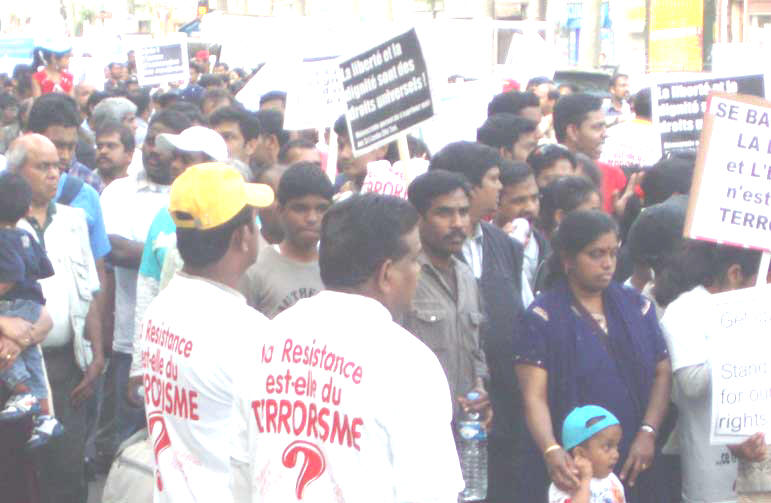 Around 2000 French Tamils marched in Paris Wednesday afternon in a silent walking vigil, organized by French Tamil Students Forum. Demonstrants carrying placards stating "we are not terrorists," gathered at place de la République at 3:00 p.m. and walked towards Place de Bastille where a meeting was held.
Anthony Russell, a councillor of the La Courneuve commune in the northeastern Paris, and a Tamil media activist, Siva Sinnappodi, addressed those who participated in the vigil which was concluded at 5:30 p.m.

French counterterrorism police on April 01 raided Tamil organisations in Paris and arrested 19 individuals on accusations of extorting funds to the Tamil Tigers, five days after the Tiger airstrike on Katunayake military base in Colombo.

Demonstrants carried placards urging the French authorities to release the arrested Tamil activists.
---