Home > Tamils - a Nation without a State > Canada > Canadian Tamil Youth Fast for Internally Displaced in Vanni
Tamils - a Nation without a State


Canada - கனடா
- an estimated 300,000 Tamils live in Canada -

---
Canadian Tamil Youth Fast for Internally Displaced in Vanni[
TamilNet, Monday, 29 September 2008]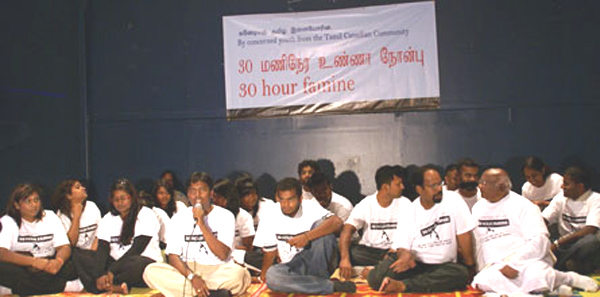 35 Canadian Tamil youths on Friday launched a fasting campaign named '30 Hour Famine' at the Richmond Hill Temple community hall in the province of Ontario in an effort to create awareness regarding the sufferings of the displaced civilians deprived of basic amenities in Vanni, whose plight has worsened after the Sri Lankan government ordered the International NGOs and UN agencies to withdraw aid workers from the region.

The organisers said that their campaign was launched at 4:01 p.m., paying tribute to Thileepan, a medical student who emerged as a political leader of the Liberation Tigers of Tamileelam in the Jaffan district in early 80's. Thileepan sacrificed himself in a fast-unto death campaign on September 26 in 1987.

"It is a symbolic expression of hope and reassurance that the diaspora youth would stand behind the suffering masses and the Eezham cause," they said.

10 adults also joined the fasting campaign with the youths as hundreds of Tamils visited them expressing their solidarity.

The '30 hour famine campaign' commenced with the lighting of the Lamp of Sacrifice by Ms. Sugunam Pararajasingham, the wife of the late Tamil National Alliance parliamentarian from Batticaloa, Joesph Pararajasingham.

The campaign was concluded at 10:00 p.m. on Saturday. Tamil radio stations operating in the province converged at the site of during the fast and gave live broadcast.