LTTE Delegation in Zurich
11/13 June 2006
LTTE delegation arrives in Switzerland

More than two hundred Swiss Tamils carrying Tamileelam National flag and flags of their adopted country Switzerland, welcomed the Liberation Tigers delegation at the Zurich Airport at 7:45 p.m. Sunday 11 June 2006. The LTTE delegation completed discussions with the Norwegian facilitators and with the Sri Lanka Monitoring Mission (SLMM) Friday and met with the LTTE's Constitutional Affairs Committee Saturday. The non-cabinet level Sri Lanka delegation left Oslo mid-day Thursday after refusing to meet with a similar level group from the LTTE delegation.
Members of the Swiss Tamil Youth Organization presented bouquet of flowers to the Senior LTTE leaders led by Head of LTTE Political Wing, S.P. Thamilchelvan. Head of Tamileelam Police, P Nadesan, Director of LTTE Peace Secretariat, Puleedevan and Translator George accompanied Mr Thamilchelvan. Legal Advisor, V Rudrakumar returned to the US Sunday. The Swiss Tamils at the airport told the LTTE members that they share in the suffering and misery of NorthEast Tamils, and asked the delegation to carry their messages of support and affection to the people in the NorthEast.
LTTE delegation leaves Zurich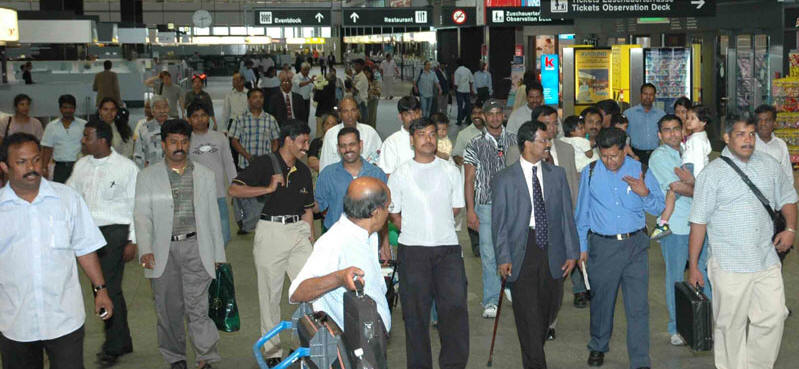 The LTTE delegation led by Head of Political Wing S.P.Thamilchelvan left for Kilinochchi from Zurich airport Tuesday, 13 June 2006 afternoon after meeting several Swiss government officials. Thamilchelvan speaking to the Swiss Tamil well wishers at the air port, praised the work of the expatriate Tamils for their effort in cultivating support among the Swiss people and Swiss political leaders for the Tamil national struggle. Head of Tamileelam Police, Mr P Nadesan, and Director of LTTE Peace Secretariat, Pulidevan told the Swiss Tamils that respect shown by the Swiss government officials to the delegation was due to the strength and committment demonstrated by the Tamil diaspora in Switzerland. "We regard this as recognition given to our struggle by the Swiss diplomatic community," Pulidevan said.