Tamilnation > Struggle for Tamil Eelam > Conflict Resolution - Tamil Eelam - Sri Lanka > Norwegian Peace Initiative > Oslo Peace Support Meeting > Negotiated Settlement only choice says Anton Balasingham
Norwegian Peace Initiative
Negotiated settlement only choice
Source: Sunday Observer -1 December 2002
---
'Daily News' Editor Arjuna Ranawana interviews Anton Balasingham -
Anton Balasingham describes himself as a medical miracle. "I have a cardiac problem, I am diabetic and now I am living on a borrowed kidney. My life is therefore short," he told me.
Balasingham also has had a varied life. He worked in his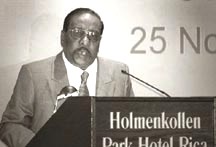 'Nowhere in the world will there be a perfect peace'.

early years in Colombo, once as a translator at the British High Commission, where among his colleagues was the late playwright Sugathapala de Silva. He was also a reporter for the Virakesari newspaper.

But for most of his life he has worked for the Liberation Tigers of Tamil Eelam, and fought for a separate state for the Tamils of Sri Lanka. Recognised as the theoretician of the movement, Balasingham has now turned peacemaker in the evening of his life.

In Oslo, the Norwegian capital, Balasingham now leads the Tigers' negotiating team for the peace talks with the Government of Sri Lanka.

I had met him in early 1990 when he was in Colombo leading a similar team of negotiators. At that time he was thinner and edgy.

Now he is fuller, and has aged visibly. But he also appears more relaxed and sure of himself.

At the Holmenkollen Park Hotel in Oslo where representatives from 38 countries met to pledge support for the Lankan peace process, Balasingham appealed to the assembled countries to give Sri Lanka money to rebuild its war shattered economy. It was a far cry from the intense lobbying he and his organisation had done earlier with the donor community to prevent aid from coming to Sri Lanka.

A day after the conference ended, Balasingham granted this interview in which he candidly replied to the many issues his organisation faces.

Q: What was your impression of the conference and what was the atmosphere at the meeting where all these foreign countries were present?

Bala: I would describe it as a very important historical event, where the sections of Sri Lanka has come to an international forum where several important countries including Western Powers were present and it was described as a support meeting, rather than a donor conference, as all the countries expressed their support to the peace process and insisted that there should be a negotiated settlement, that the parties concerned should renounce war and engage in positive dialogue to solve this problem.

And also almost all the countries have pledged monetary support. Even though we did not expect massive amounts of aid because most of the countries have closed their budgets at the end of the year.

There is going to be another donor conference in Japan where we expect substantial assistance.

The atmosphere was very congenial and we were very pleased with the entire process. From our side I can say that we are very much encouraged by the interest and concern shown by the international community, which will encourage both the parties including the LTTE to pursue peace with dedication and commitment.

Q: One of the unique things about this meeting was that the Government and the LTTE put up a joint appeal. At least for that purpose you are now working together. Now how are you going to disburse these funds, who is going to take the decisions?

Bala: Of course the sub-committee constituted by both the parties will decide upon the priorities and then decide on the projects and then allocate the funds to the implementing agencies. The Government institutions are there, the local and international NGOs are there, they will decide who could efficiently undertake the implementation.

Q: Apart from the funding aspect there was a political element in the conference where support was expressed. Did you detect any pressure on the two parties to the conflict that they would help only if they stayed on the path to peace?

Bala: Yes, that was part of the whole process. The International Community has expressed the desire that both the parties should definitely pursue the path to peace. And they also said that there should be no recourse to war and that their assistance would be increased as the peace process advances. So there is an element of pressure on both the parties that they should not abandon the process and definitely find a negotiated settlement. At the same time they realise that the peace dividend should go to the suffering masses both in the North and the South.

Q: For the past ten years the LTTE has been campaigning for aid to be stopped to Sri Lanka, saying that the money is being used to suppress the minorities. Now you are a signatory to this conference where you are asking for money ...

Bala: Both the parties have been doing that. Sri Lanka has been campaigning all over the world and they are responsible for getting our organisation proscribed to prevent funds reaching us from the Diaspora. Similarly we have been campaigning that any money or aid or loans going to Sri Lanka would help to promote the war cause. But now both the parties have realised that war is not the solution to the problem and they have to sit down and negotiate and find a political settlement. Both have realised that they cannot afford to continue the war and they have to stop and help the suffering masses. It is an important historical development that they have joined to appeal for help not for themselves but for the masses who have suffered as a result of the conflict.

Q: What guarantees can you give that there won't be a war again?

Bala: As I have said there won't be a need for recourse to violence if the aspirations of the Tamil people are met and the political conflict is resolved by negotiations. I also explained that conditions of oppression was the cause for the armed conflict. The Tamils resorted to armed violence because they were systematically discriminated against and oppressed. And now the ceasefire is in force and if the peace process advances there is no need for war.

Q: You said that the point of no return would be reached when the aspirations of the Tamil people are met.

How would you define that? Would you define it as a recognition of the Tamil people or a separate state? What is their aspiration?

Bala: I have already explained that we are not operating with the concept of a separate state or Eelam. We operate with the concept of self-determination. Self-determination as exemplified in the UN Charter and other instruments clearly says there are two elements. One is internal self-determination and the other one is external self-determination. Internal self-determination means that a nation of people have a right to regional autonomy or self-government in the areas where they live.

We say the Tamil people are a nation because they have certain characteristics. They have a distinct language, culture, a history and a contiguous territory where they have lived for centuries. They also have a specific economic existence and a consciousness of national sentiments, all of which gives them the right of internal self-determination, regional autonomy or self-government. But if regional autonomy is rejected, if any form of self-government, federalism or whatever it may be is rejected and if conditions of oppression are imposed, then the Tamil people have no choice but to invoke the right of external self-determination, which is the right to secede.

So secession comes only as a last resort. Only if the Sinhalese people do not give any rights to the Tamils and they are pushed to a corner, then only do they have the right to secede.

So there will be no need to secede if they are given some sort of internal self-determination. That is what we are going to negotiate. That is what myself and Professor G. L. Peiris are discussing as we are in the political committee. We are studying various forms of self-government. It will take time to negotiate a system within the context of Sri Lanka.

Q: It appears to me that your preference would be to have internal self-determination rather, which is self-rule within a united Sri Lanka than external self-determination ...

Bala: Yes.

Q: How long do you think it will take for the settlement to be reached?

Bala: It is impossible to give a time frame. It is a 50-year struggle. Earlier stages there were non-violent means such as Satyagraha. Then the armed struggle has been led by Mr. Prabhakaran for 25 years. Now we have finished 50 years, both the parties are sitting down to talks and this time it is different. One is there is an external party involved in mediating or facilitating which is an important point and then the entire international community is demanding that our problem be resolved. So this is a new historical development as far as this matter is concerned. Now we have no choice but to seriously and sincerely find a negotiated solution. Of course the Tamils will try to get a substantial amount of autonomy for themselves because it is a long struggle and the political solution must be substantial and fruitful.

Q: One of the successes of the LTTE is that it was able to mobilise resources, human and others very successfully. The Tamil youth who fought for you were given a dream to fight for, the dream of a safe place, a dream of a Tamil Eelam. They have as you said sacrificed for that dream. Now if you settle for internal self-determination, you will be settling for something less than Tamil Eelam. How can you tell this to your supporters both in and outside your country? Can you settle for less?

Bala: We have not mobilised the youth for a particular dream as such. The dream is liberation, liberation means our people must be liberated from the constraints of external domination and oppression. The Sinhalese must accept that the Tamil people have been subjected to discrimination and oppression and what they want is to live in peace in their homelands and manage their own affairs.

That is what we want. Our dream is to win our political rights rather than having a State as such. I don't think there will be a difficulty, as far as our cadres and people are concerned because we are a very rational people and they will see the advantages of having co-existence between the Sinhalese people and the Tamil people and all the communities living in Sri Lanka. If our people can rule themselves under a federal system or a confederal system managing our own affairs, they can be happy.

Q: The benefits that we have seen in the past 300 days or so is that there has been an economic reintegration of the country. Our country cannot function efficiently if this economic integration is not there. So in a federal or confederal system you aim for, will you recognise an economic unity?

Bala: You are talking about territorial unity, which you say is important for the economic development of the country. We are talking about the inalienable political rights of our people. These are two different levels. Let me tell you in almost all the advanced countries of the world, the United States, Canada, Switzerland or Germany, all these countries are operating on federal systems, which did not disturb the economic unity or the territorial integrity of those countries.

At the same time different ethnic communities are allowed to manage their own affairs, without confrontation, without war, without conflict. This has led to unity among different groups of people. In Switzerland for instance there are Germans, Italians and French all living together. If you take Britain, the Scottish people have their own parliament but for economic reasons they want to be integrated with the rest of the country. Sustainability and economic unity will be there.

Of course the Tamils will come and invest in the South and the Sinhalese will come and invest in Trincomalee and there will be freedom of mobility. The Sinhalese can come and settle down in Jaffna and we can settle down in Galle. If peace is there and if there is a mutually acceptable system of governance, then that will be a stronger foundation for the economic development of the whole country, the north as well as the south.

Q: If you look at the day-to-day criticisms of the peace process it is in the implementation of the peace process that questions are being asked. There are concerns raised about various matters including the establishment of an LTTE police station for instance. The question is are you trying to run a parallel system of law-enforcement and courts? Is it that you do not recognise the law-enforcement of the government?

Bala: This is a very important question because this is being raised not only by the President but by the newspapers and the other parties. I am pleased to answer. First of all you have to accept that as a consequence of the long-standing war there are areas that have fallen into the control of the LTTE. That is an undeniable fact. And ever since we have these controlled areas we have been establishing law and order systems, because otherwise there will be anarchy.

There will be criminal activity. There will be murder, rape and robberies. To prevent criminal offences we had to enforce a system of law and order. These police stations have been established ten years ago - this is not a new phenomenon at all. Because I was the man giving political lectures to these new policemen ten years ago, I have been helping our cadres to open up police stations.

When we had negotiations with President Chandrika Kumaratunga we had police stations all over Jaffna. How can you run an administration without a law and order system? Then of course under President Kumaratunga Jaffna was taken over. At the same time we had police stations in the Vanni and other places.

Now in Jaffna the State is running their own police stations, whereas in the Vanni and some places in the East we are running a few police stations. Only one police station was established recently at Palugam. This is not in Sri Lanka military controlled area, this is in LTTE controlled area.

A lot of people are pleased with that. A lot of people have gone there and they had complaints. Even the Muslim people are being helped by the Tamil police to go back to their lands and they are being given security. Some people are trying to say that we are putting up police stations and are trying to set up a separate State. In the negotiations this matter will be taken up. Definitely once the negotiations are ended there will be a regional police. If we set up a regional autonomy the Tamil people will have to run police stations. This is universally accepted.

We have stopped our military offensive operations. Our military formations are confined to barracks. Only a few cadres are operating police stations. But you must remember that all the State institutions are functioning in the LTTE controlled areas.

Some elements are exaggerating these stories to create difficulties for Ranil Wickremesinghe. He is well aware that these problems are there. But these matters will be taken up for discussion because they have to be addressed seriously. The Sinhalese people should not be worried about this matter; we have to allow both the parties to sit and work it out. But the police stations are not going to be a threat to peace or a threat to life to anybody.

Q: But on the ground there are matters of concern. There have been complaints made to the ICRC to the SLMM of abductions of children, of extortion, and LTTE troop movements that are in violation of the CFA. Is it that some of your people are not following the guidelines or orders given from Kilinochchi or is it that the LTTE is doing things in violation of the agreement while appearing to be following it? There is suspicion about your activities and a deep mistrust of your motives.

Bala: This is another very important question. I don't deny the fact that there have been a few instances of violations. The most important thing is that the ceasefire and the course of the ceasefire has held for the past nine months. There is no major confrontation between the LTTE forces and the Sri Lankan armed forces. These incidents of kidnapping and extortion were brought to the notice of the leadership. This came particularly from the East, from the Muslim community.

We have invited the Muslim leaders to the Vanni and there was a memorandum of understanding signed between Mr. Prabhakaran and Mr. Hakeem and ever since we have given strict instructions to our cadres not to be involved in abductions and extortion and we have said that those who are involved will be severely punished. Even after that there were complaints and we have given instructions to our senior leaders in the east to enforce discipline in the organisation. We have stopped completely taxation from the Sinhalese people and they are happy. We have requested Mr. Hakeem to inform us of any problems, because when Karuna came last time there was more agreements because the Muslim people wanted to come back to their lands and they wanted to do farming which is now allowed. It is very important for us that the Muslims are happy because the Tamils and Muslims must live together in peace in the Eastern province.

You must realise that compared to the massive violence that was taking place before, the bombs in Colombo the artillery and aerial bombardments in the North, these incidents are small. Nowhere in the world will there be a perfect peace. As soon as there is a violation, the SLMM will come out and issue a statement condemning whoever it may be. And we are compelled to take action. It is a humiliation for us when these things happen.

I think that in the course of time these violations will disappear and there will be a state of peace. Our leadership is fully determined to see that peace is practised and they will not tolerate any form of violations.

Q: How about the Sinhalese villagers who live in these so-called border villages?

Bala: The Sinhalese people have the right to come back to their villages. Even the Sinhalese who left Jaffna long ago can also come. Most importantly you must remember that nearly a million of our people are displaced and they have to come back to their lands. Then the Muslims are also displaced. The seventy thousand Muslims who were in Jaffna and are hanging around in Puttalam have to go back. The right of residence is a right of every citizen.

Q: The LTTE says it is the sole representative of the Tamil people. Frankly I find that difficult to accept, because there are plenty of Tamils who do not want to be represented by the LTTE. Take the TNA, the PLOTE and the EPDP. In a new dispensation, in a federal or a confederal system do you see a role for those people also?

Bala: When we claim that we are the sole representatives of the Tamil people we base that claim on the fact that we have been fighting a liberation struggle for the past 25 years sacrificing about 17,000 of our fighters. The very struggle, shedding blood and so much sacrifice gives us the right to be the representatives. Apart from that the Tamil parties that constitute the TNA contested the elections saying they will represent the LTTE. They were elected on that basis. I will not accept your argument that the EPDP are representative. We know how the elections were held on the islands, and how fraudulent it was. In a new framework we will allow all the political parties to contest and it is up to the people to elect their representatives. We will do that because it is going to be a democratic system. When that time comes I think the people will demonstrate the fact that the LTTE are their authentic representatives.

Q: You have now to make the transition from being mostly a military organisation into a political organisation. How are you going to do that?

Bala: The LTTE is not entirely a military organisation. It is a politico-military organisation. We are now expanding the political structure. We are recruiting to the political part. Most of our cadres are politically motivated. I think they will function with dedication and discipline. We will run a clean administration without corruption in the North unlike in other parts of the country because we give heavy punishment to corrupt people.

Q: When you said during your press conference in Kilinochchi with Prabhakaran that you do not recognise the Prime Minister, it created a stir in the south. Is your stance still the same?

Bala: What I said was Mr. Ranil Wickremesinghe is the prime minister of the people who elected him. He is the prime minister of the Sinhala nation. Then I said we have our own leader here and we have our own system here. I think my statement was misunderstood. Even here we have had a meeting with Mr. Wickremesinghe in the recognition that he is the Prime Minister of Sri Lanka.

Q: The Muslims have asked for a separate entity because they are not feeling safe. What is your view of that?

Bala: This is difficult. The Muslims are going to be everywhere. There are pockets in the East. Most of them live outside the East anyway.

Then there will be Muslims in Jaffna. So this question has to be dealt with separately.