TAMIL NATION LIBRARY: Eelam
War and Peace: Armed Struggle and Peace Efforts of Liberation Tigers - Anton Balasingham
published by Fairmax Publishing Ltd (P.O. Box 2454, Mitcham CR 4 1 WB, London, UK. e-mail:

[email protected]

), 2004
(£15 + £3 postage, USD 25 + USD5 postage and Euros 22 + EURO5 postage)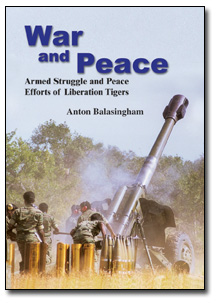 From the Publishers Note:
"The significance of this voluminous study, running into more than five hundred pages, lies in its exposition of a new realm of material, hitherto unknown and the new insights it provides into the dynamics of the Tamil liberation struggle. The book provides a penetrating study of the complex evolutionary history of the Tamil struggle for self-determination."

Mr Balasingham has been actively involved in the politics of the LTTE for twenty-six years and is widely regarded as the authoritative commentator on the politico-military struggle of the organisation.

The Tamil national struggle, which spans a period of fifty years, has taken different forms at different times conditioned by the intensity of state repression and by the mode of Tamil resistance. Surveying the entire spectrum of the struggle, Mr Balasingham points out that non-violent struggles of the early stages generated the spirit of Tamil nationalism and mobilised the Tamil people into a collective national force, poised against the repressive Sri Lankan state. With the collapse of non-violent struggles, the Tamil national movement underwent organisational transformation leading to the birth and growth of the armed resistance campaign spearheaded by the Liberation Tigers of Tamil Eelam (LTTE).

In this context, the author presents an illuminating study of the early military history of the organisation up to the racial holocaust of July 1983. Mr Balasingham also devotes a lengthy chapter analysing the ramifications of the Indian intervention in Sri Lanka and the crucial role played by the LTTE during that turbulent period from 1983-90. Based on his personal experience, Mr Balasingham offers a critical elucidation of all peace efforts the LTTE participated in, from Thimpu talks to the recent Norwegian facilitated negotiations."