International Relations
in the Age of Empire
China hails Sonia's 'milestone' visit, for better ties
Indo-Asian News
Beijing, October 26, 2007
---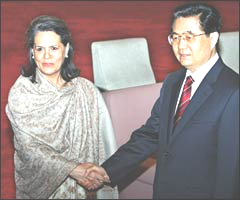 China on Friday hailed the visit of India's ruling coalition chief Sonia Gandhi as a "milestone" in the history of Sino-Indian relations, with President Hu Jintao saying his country attached great importance to developing friendly ties with New Delhi.

"You are the first foreign political leader to visit China after the conclusion of 17th National Congress (on October 22 of the ruling Communist Party of China), which is an indication of importance both of us have attached to our relations," Hu, who was re-elected General Secretary of the Communist Party of China, told Gandhi at the Great Hall of the People here.

Hu recalled his visit to India in November last year and said he was touched by the warm reception given by the Indian government and the people of India.

Gandhi also met Chinese Premier Wen Jiabao at the Zhongnanhai leadership compound. The meeting was marked by nostalgia and fond memories. Wen recalled late prime minister Rajiv Gandhi's ground-breaking visit to China in 1988, which led to the process of normalising relations between the two countries.

"Your work and contribution to the friendship between China and India is of great importance," Wen, also a member of the powerful Politburo Standing Committee of the ruling Communist Party of China, said.

"I still vividly remember when Rajiv Gandhi visited China, you were with him," he said, adding that Rajiv met top Chinese leaders, including late Deng Xiaoping.

Wen eloquently described the late Indian leader as an "outstanding statesman", and lauded his contribution not only to India but to the strengthening of Sino-Indian relations.

Gandhi was moved by Wen's warm words. "I remember the historic visit when my husband came here. From then on, the relationship between the two countries has been growing stronger," she said.

Gandhi, who began her five-day visit to China Thursday, was enthusiastic about her visit and impressed at the progress made by the neighbouring country.

Beijing, keen to underscore its desire to improve strategic and economic ties with New Delhi, was fulsome in praise of Gandhi.

"Your visit has captured the attention of the whole world," Minister of the International Department of the ruling Communist Party of China (CPC) Wang Jiarui said at a meeting with her.

Gandhi's visit was a "milestone" not only at the party-to-party level but also between the two countries, Wang told Gandhi.

Gandhi reciprocated the warm sentiments saying, "this (her trip) is a milestone in strengthening the relations between the two countries."

"I am amazed and astounded at the progress made by the people of China and its leadership," said Gandhi, while recalling that President Hu Jintao had invited her to visit China when he was in India last November.

Gandhi's visit follows close on the heels of External Affairs Minister Pranab Mukherjee, who was in the Chinese northeast city of Harbin this week to attend a trilateral meeting of foreign ministers of India, China and Russia.

Gandhi's visit sets the stage for Prime Minister Manmohan Singh's trip to China, likely in January next year.

The visit is attracting a lot of attention back home as Gandhi's son and Congress general secretary Rahul Gandhi is accompanying her on this important visit. Political observers in New Delhi say that Rahul Gandhi is being groomed for bigger responsibilities in the ruling Congress party in India.

Minister of State for External Affairs Anand Sharma, Minister of State in the Prime Minister's Office Prithviraj Chavan and senior Congress leader Karan Singh are also part of Gandhi's entourage.

Gandhi's visit is aimed at bridging the lingering trust deficit between the two rising Asian powers as they expand their economic and commercial ties and push harder for a solution of the decades-old border dispute that has hobbled their ties in the past.