One Hundred Tamils of the 20th Century
C.Suntharalingam
19 August 1895 - 11 February 1985
Man who fathered the Eelam Concept - S.Sivanayagam in Tamil Information, 15 March 1985
C. Suntharalingam - Reminiscences - Prof. Bertram Bastiampillai, Ceylon Daily News, 20 August 2005
Suntharalingam, Casteism & Mavidapuram - Kirthie Abeyesekera, Sri Lanka Island, 11 February 2001
On Prof Suntharalingam & Caste - V.Thangavelu, Canada, 22 August 2006
---

Man who fathered the Eelam Concept - S.Sivanayagam in Tamil Information, 15 March 1985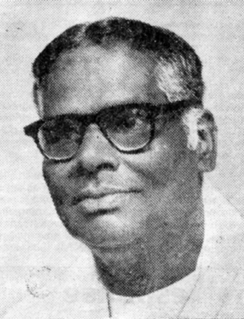 The man who fathered the Tamil Eelam concept and introduced the word EELAM into the Ceylonese political vocabulary - Professor C. Suntharalingam - died in his ninetieth year at Vavuniya on the 11th February 1985. But it is perhaps a tragic commentary on Tamilian life that the majority of the youths who are today engaged in a liberation struggle for the establishment of a Tamil Eelam have not even heard of him!
It was C. Suntharalingam who founded the Eela Thamil Ottrumai Munnani (Unity Front of Eelam Tamils) in 1959. It is again a tragic commentary of Tamilian life that 26 years after, when Tamils in Sri Lanka are facing both individually and totally annihilation and extinction at the hands of their own government while the rest of the world maintains the hypocritical pose that it is an internal problem. The victims themselves are unable to unite in one common defence of their lives!
In a printed leaflet, dated from Vavuniya, as far back as 16th December 1959, Mr. Suntharalingam called for a "Eela Thamil struggle for Independence" (interestingly, the leaflet carries the name of an Indian printer - The Trichinopoly United Printers, Tiruchi 2)
There were no "Tigers" then. No guns.. no militancy, and in fact many of "our, boys" of today were probably not born or were in their cradles. Even the "Thamil Eelam Resolution" of the TULF came 17 years later !
The concluding portion of the, leaflet said :
"In the history of Ceylon. in the shuttle-cock warfare waged over 2,000 years, the Eela Thamils never lost their kingdom entirely, except for two short periods of sixteen and six years, while for much longer periods Thamil kings have ruled over all Ceylon. History is repeating itself and must indeed repeat itself. adapted to modern conditions. When Dharma decays and Adharma prospers Providence intervenes to destroy the wicked and to protect the weak. That era has dawned once more in Ceylon. Will the Eela Thamils in this hour of danger and disaster to their Nation, show their worth and their valour ? Will they do their duty, UNITE AS BROTHERS IN BATTLE and join in the Eela Thamil struggle for independence ?"
Although hardly known to, the present generation, the late C. Suntharalingam was a many splendoured figure in Ceylon's public life for nearly 40 years. Back from a brilliant student career at Oxford University. he entered the Indian Civil Service, subsequently the Ceylon Civil Service. and having got tired of signing gun licenses as he then put it, resigned what was then a much sought after plum of office to accept the Vice-Principalship of Ananda College, Colombo. Soon, he was offered the first Chair of Mathematics at the Ceylon University College. Many eminent men in Ceylon's public life, both Sinhalese and Tamils, passed through his hands at the University.
His much-remembered academic career ended when he switched to politics and was elected to represent the Vavuniya seat in Parliament in 1947. He was the Minister of Commerce and Trade in the first Parliament of independent Ceylon and was dismissed from the Cabinet for not voting with the government on the Indian and Pakistani Residents Citizenship Bill.
Although a controversial politician, and sometimes a champion of unpopular causes, "Sun" was much admired for his bluntness, physical and moral courage and independence of outlook. Apart from his brilliance in scholarship and in his special field - Mathematics - C. Suntharalingam won his colours at Oxford representing his University against Cambridge at Chess.
Mr. Suntharalingam passed away on 11th February at his residence in Vavuniya on the Kandy Road, just adjoining the Air Force camp. On the 12th, several residents had gathered to pay their last respects to the man who once represented them in Parliament.
Suddenly air force personnel, fully armed, descended on the house of mourning, insisted on searching the house, harassed the family mourners, questioned several people present and left after causing panic among those present.
A daughter of the late Mr. Suntharalingam angrily telephoned President Jayawardene to Colombo and lodged a protest. Within a few hours, a high-ranking Army officer arrived at the house, and apologised to members of the family.
But that was not the end of the story. Next day, Lalith Athulathmudali. also a product of the same University Oxford, claimed in Colombo that Air Force personnel in Vavuniya had gone in numbers to "pay their last respects" to the departed Tamil leader. It probably proves that Oxford education is not everything !

---

C. Suntharalingam - Reminiscences - Prof. Bertram Bastiampillai, Ceylon Daily News, 20 August 2005

C. Suntharalingam's 110th birth anniversary fell on August 19. He hailed from a distinguished family. His brother C. Nagalingam, was an eminent Supreme Court judge who once acted as Governor of Sri Lanka, then Ceylon. Another brother, Panchalingam was a popular and successful doctor of medicine while Dr. C. Amirthalingam was yet another brother, an outstanding Director of Fisheries. Another brother, C. Thiagalingam, shone in the legal field as a leading lawyer, whose services were much sought after.

However, C. Suntharalingam became a remarkably brilliant scholar who adorned the academic arena as a much loved and noteworthy intellectual, Professor of Mathematics. Having entered the much coveted Indian Civil Service, and later the esteemed select Ceylon Civil Service he served for a while. He found no excitement in conforming to office routine.

It was often talked among those who knew Suntharalingam that the Professor was quite sympathetic to undergraduates whose foibles he tolerated in a broad minded manner. A renowned and respected scholar and reachable mentor, he was frank and never hesitated to espouse the cause of students against British trained stern disciplinarians who headed these institutions of higher learning.

Suntharalingam renounced the mundane routine of the civil service, however superior it was and instead chose the relatively more challenging duties and demanding responsibilities as a higher university don.

The story may sound apocryphal, but is often peddled around that Suntharalingam did not want to sign gun licences, issued to applicants as a desk bound civil servant. But it may really be true reckoning his sense of wit and independence restless nature, and as a man of many parts.

One can recall a rather amusing incident later when Suntharalingam visited the then University of Ceylon at Peradeniya to speak to the undergraduate students in the spacious Room or Hall on questionable governmental issues that left minorities, such as the Tamils, in disadvantaged and unequal position in comparison to dominant Sinhalese majority community.

Readily resourceful speaker, Suntharalingam, commenced his talk respectfully addressing the large eager audience as "undergraduates and undergraduattes" in referring to ladies. The audience who perhaps had never heard of the appellation "undergraduattes" broke into boisterous laughter and applauded the distinguished speaker for his decorous and considerate manner in which he kept on speaking bowing to the audience at intervals.

He kept on readdressing them as undergraduates and undergraduattes at intervals in his speech. At the end, many who came to boo or to sneer at his criticism of governmental measures that hurt the Tamils and minorities merrily vociferously applauded Suntharalingam.

In this trail he left behind him, the students regaled at the entertaining address interspersed with witty asides and continued to recall his mannerisms and unusual words later on. Those who came to sneer cheered instead.

Now we may recall the most vital role of C. Suntharalingam in the politics of Sri Lanka. He could not resist the pressing lure of participating actively in public and national affairs of the independent island. His clear and cardinal role as an independent public personality engaged in the quest for justice and fair play for all citizens comes into prominence in the involvement in the vexed Indian Residents' Citizenship issue.

The first Prime Minister of Sri Lanka's policies on the hill country Tamils demonstrated an anti-hill country Tamils attitude in 1948 itself, the year of Independence. Ceylon Tamil Members of Parliament were firmly and forcefully opposed to the government's anti-hill country Tamils stance.

Suntharalingam, a long-time friend, and adviser to D. S. Senanayake, the first Premier, walked out of the legislature, lower chamber, when the division was called on the second reading of the Indian Residents Citizenship Bill on 10 December, 1948. Prime Minister wanted Minister Suntharaligam's explanation who immediately resigned in protest.

Suntharalingam cleverly saw in the measure a plan to decitizenise and disenfranchise a majority of hill country residents who had made Sri Lanka their home from early 19th century, and contributed immensely to build the island's economy. This was on obvious flagrant injustice. Suntharalingam had the courage of his conviction to forego a ministerial portfolio.

At a seminar conducted by the Sri Lanka Association for the Advancement of Sciences, some years later G. G. Ponnambalam Jr. was embarrassed when it was alleged that his father, a member of the same Parliament, had instead voted for D. S. Senanayake's Bill unlike Suntharalingam.

G. G. Ponnambalam Jr. endeavoured to justify his father's conduct stating that his father nonetheless later voted for the Indian and Pakistani Residents (Citizenship) Act of 1949 which enabled a selected lot of privileged residents of Indian or Pakistani origin to be favoured with citizenship.

But Suntharalingam's son Dr. Gnanalingam, leading scientist, countered this contention referring to another Tamil Minister's bold response in forfeiting a portfolio than endorse an unjust act as Ponnambalam Sr had done.

Again, Prime Minister, John Kotelawela, in 1954 concluded a Nehru-Kotelawala Agreement about hill country Tamil residents. It evoked controversy with a Sinhalese-Tamil problem and the bill was abandoned following vehement Sinhalese antagonism. Contention was riveted on the number of Indian residents to be absorbed into Sri Lanka, approximately at least 300,000.

Still, more cardinal was that the Kotelawala government planned to repatriate Indians unqualified for Sri Lankan citizenship. However, the Indian government insisted that only those eligible for Indian citizenship will be registered as Indian citizens. Those who fail to qualify for such citizenship in either country will remain "stateless" in Sri Lanka.

To clear doubts a second agreement was signed in October 1954. Finally neither agreement settled the differences between Indian and Ceylon on the citizenship issue of Tamil residents. The problem remained unsolved for long till Sri Lanka settled it early this year.

The second section of the agreement wanted Indians obtaining Sri Lankan citizenship to acquire a knowledge of the language of the area, Sinhalese. Tamil leading personalities disagreed with this provision. Another disputed issue in the agreement was about four Indian Tamil citizens of Ceylon, to be elected as Members of Parliament by a separate island wide Indian and Pakistani electorate of registered citizens. C. Suntharaligam once more condemned forthright this demand of Sri Lanka as "inhuman, uncharitable and a disgrace".

He additionally pointed out that, "If the Buddha were to come to the country today, he himself would be deported". Suntharaligam uncompromisingly stood up for fair and civilized treatment of residents who had been brought in early 19th century to build the economy of Sri Lanka. He saw that they need not suffer now.

As 1956 progressed on June 24, Independent Tamil Member of Parliament for Vavuniya, and one time Cabinet Minister, C. Suntharalingam moved an amendment to the Throne Speech voicing serious discontent with governmental policy on the use of the single national language for governmental purposes and as medium for instruction in higher education.

It climaxed in a demand for "the formation of a separate independent autonomous state of "Tamil Ilankai" composed of Tamil speaking peoples in Ceylon, within the Commonwealth". He stressed that if the impending changes in language use did not satisfy Tamils they would demand a separate State.

His prophetic statement proved to be true. The demand for autonomy by Tamils grew and caused immense troubles in the future. Suntharalingam recognized that decitizenisation of hill country residents and disenfranchisement of them was a grave mistake which took so late to remedy.

Second, his realization of the use of the official language, Sinhalese alone, in the public services was a gross denial of justice and disadvantaged Tamils to be handicapped in a multiracial state. Finally, his blunt and bold refusal to countenance a separate electorate and thereby to qualify the grant of the franchise only to hill country Tamil residents.

This was a serious and calculated discrimination of citizens and denied equality to them in voting. Suntharalingam's profound understanding and salient vision was no error as time has proved it correct with continuous civil disturbances and intractable conflicts.

Suntharalingam never missed an accurate vision and fearlessly and boldly pronounced his disapproval of deprivation of and blatant discrimination of minorities, especially the Tamils. Time proved him right and a leader with foresight and sagacity.

C. Suntharalingam resorted to various protests and demonstrations such as publicly noticeable "satyagrahas" to convince governments of wrongs done by various State measures towards the minorities, especially Tamils, that needed to be remedied without delay.

He formed the 'Tamils who would not be subjugated Front', a singular Tamil movement, demanding equality with Sinhalese in treatment in a multiracial island in every respect. Failure to pay heed to his equitable demands resulted in so much pain to Lanka and its people.

It is unfortunate that there is no proper study devoted to a leader like Suntharalingam. The younger generations know little or nothing of a significant great public personality.

An enigma that baffles many is why did Suntharaligam object to all worshippers entering the temple at Maviddapuram. No one knows! Perhaps, Suntharalingam did not welcome the government ordering temples to be made accessible; he wanted to take the decision himself.

---

Suntharalingam, Casteism & Mavidapuram - Kirthie Abeyesekera, Sri Lanka Island, 11 February 2001


C. Suntheralingam came from the elite ruling class of Tamils in colonial Ceylon. He was one of four distinguished siblings made up of Justice C. Nagalingam, lawyer C. Thiagalingam and C. Amirthalingam, a Director of Fisheries.

Justice Nagalingam was once the presiding judge at a Supreme Court trial where his two brothers, Thiagalingam appeared for the prosecution and Suntheralingam, for the defence.

A jack-of-all trades, it is debatable however, if Suntheralingam was master of any of the many roles he played in public life as professor, mathematician, civil servant, lawyer, parliamentarian and cabinet minister. A rolling stone that really gathered no moss, the enigmatic Suntheralingam, renowned for his sarcastic wit and biting tongue, was a colourful, yet controversial Northern politician much in the mould of his Southern counterpart, the equally redoubtable W. Dahanayake.

It was therefore, with great expectations that I undertook 'Observer' editor Denzil Peiris' assignment, in the late 'sixties, to cover the Maviddipuram temple dispute where Suntheralingam, in the role of a defiant warrior, was fighting a fierce battle to keep 'Harijans' out of Hindu temples.

I had first seen Suntheralingam in the early 'forties during my school days at Badulla where he and his daughter, Linga, a vivacious young university undergraduate spent holidays with his brother-in-law, C. Coomaraswamy who was Government Agent, Uva.

'Sun' as his peers called him was then, a daunting presence in the prestigious Ceylon Civil Service. Known for his "resigning nature,' he was soon to quit the CCS with the famous quip, "I did not burn the midnight oil! to sit (at a kachcheri), signing gun licences."

Suntheralingam turned politician, and won the Vavuniya seat in Independent Ceylon's first parliamentary election in 1947, as an Independent candidate. He was Independent Ceylon's first Minister of Trade and Commerce in the D. S. Senanayake government, 1947-52. In 1948, when the Indian Residents Citizenship Bill was being debated, Suntheralingam, a lifelong friend of and adviser to Senanayake, walked out of the chamber at division time. When the prime minister asked for his explanation, he resigned.

He was too self-willed to hold allegiance to any political party or ideology, and remained 'independent' throughout his political and personal life. He retained the Vavuniya seat in 1952. Two years later, the Kotelawela government passed a Bill 'providing a separate island-wide Indian and Pakistani electorate of registered citizens.' Suntheralingam called the Bill 'inhuman, uncharitable and a disgrace,' adding that "if the Buddha was to come to this country today, he himself would be deported."

He repeated his Vavuniya victory in 1956. When the Bandaranaike government tabled some census statistics in the House, Suntheralingam, a maths wizard quoting a former British prime minister, called the figures, 'lies, damned lies and statistics.' In 1960, he was defeated by T. Sivasithamparam of the Tamil Congress.

With that exotic and erratic Suntheralingam-background in mind, Maviddipuram was going to be a challenge to me. My customary cameraman, Chandra Weerawardena was unable to make it. So, Raja Perera filled in for him. Though his playful tendencies sometimes got the better of him, Raja was as good a photographer as any in his field, and much fun to be with. Once on a boat trip with me to Katchativu, the little island in 'No-Man's land, he took his top off and jumped into the sea, but quickly regained his sobriety, clinging for dear life to the rope flung to rescue him.

On the Maviddipuram assignment, Raja and I set up base at the Kankesanturai Rest House reputed for its succulent prawns. For an entire week, between hectic working hours, we enjoyed the peace and solitude of the Keeramalai tank at dawn and downed arrack at dusk.

Mr. Suntheralingam, with his omnipresent walking stick in hand, led the 'no-entry' forces that kept day and night vigil at the Maviddipuram temple, keeping the equally vigilant depressed classes at bay. Both sides were armed, not with guns as they are today, but with sticks and stones.

Standing by in readiness for a breach of the peace was a strong, armed police posse under the personal direction of Aelian Fernando, Deputy Inspector-General of Police, assisted by the Jaffna Superintendent of Police, R. Sundaralingam, my good friend. In the meantime, a negotiating team, led by Vernon Abeysekera, Government Agent, Jaffna, was holding ongoing talks with the contending parties. In attendance was Stanley Senanayake, soon to be the Inspector-General, then, Supdt of Police, TAAFI - a Task Force preventing 'kallathonis' from sneaking in from South India.

Because of my close contact with the GA and the police officers, I was privy to the talks. Vernon and Stanley had both been pupils of Suntheralingam during his days as Professor of Mathematics at the Ceylon University, and treated him with much deference. They addressed him as 'Sir,' while gently, yet firmly, asserting their official authority.

The negotiating team heard harrowing tales of woe from the socially disabled sectors of society of how they were even denied water from 'Vellala' wells. Suntheralingam was an undisputed academician. One could understand him joining the ranks of those fighting for the rights of all the Tamil-speaking people. Yet, here he was, in a passionate bid to maintain the status-quo of the privileged class.

I recall the patience of the government negotiators, particularly, Government Agent, Abeysekera and the police officers, Sundaralingam and Senanayake in dealing with the obstinate, and often unreasonable and aggressive Suntheralingam, a man reputed for having his way - come what may.

For two or three days, there was a stalemate while Raja and I were kicking our heels for something that would give us headlines. In the meantime, I was phoning in my daily progress reports to the 'Observer' news desk in Colombo. Then one day, Supdt. Sundaralingam alerted me that things were reaching boiling point and could explode any moment.

At the crack of dawn the following day, Raja and I were on the scene. Suddenly, all hell broke loose. The temple doors were locked by the police. A huge crowd of people surged forward, enmasse, to storm the 'Bastille' Suntheralingam, backed by his followers, was wielding his walking stick at random, striking at anyone within reach. Stones were flying all round. One hit the head of Aelian Fernando.

I rushed to his aid, in a change of scenario - a civilian trying to help a high-ranking police officer in distress. He was bleeding, but said, "I'm all right," and continued to hold the fort. Raja, fearlessly stepped into the fray, clicking his camera, capturing some prize-winning shots of the raging battle. I asked him to rush to Colombo with his precious pictures of a story that I'd need a thousand words to tell - as the cliche goes. Later that morning, I filed my report. Raja had risen to the occasion and was back, hopefully to record more of the action. By that time, police had restored a semblance of calm.

R. Sundaralingam, in a telephone conversation with me from France where he now is Interpol's Chief Drug Expert, refreshes my memory of Maviddipuram. C. Suntheralingam, he tells me, was charged under the Social Disabilities Act and fined Rs. 50. His appeals to the Supreme Court and the Privy Council, were both dismissed. He, in turn, filed a private plaint against Sundaralingam and 16 other police officers, for obstruction and intimidation. Attorney-General Tennakoon stepped in, and the case was thrown out.

A temporary truce prevailed. But the burning question of entry, 'de-facto' by anyone to a place of religious worship, hung in the air, although the right to do so, 'de-jure' remained.

Today, thirty-three years later, Tamil youth have rejected caste-distinctions and have revolted against their own hierarchy. Armed with weapons far deadlier than the sticks and stones of yore, they have taken the fight far beyond temple territory.

In hindsight, one must wonder whether the seeds of discontent that have grown into a cancer, were partly sown in Maviddipuram in that distant decade gone by.