One Hundred Tamils of the 20th Century
Somasundaram Rajasundaram
23 March 1943 - 27 July 1983
"My soul that knows no weariness will go on
Till my country gains its own promised land;
And though they crack my skull and even kill me,
On my skull, engraved in raw blood, they will read
'This is a Tamil who would never surrender
To the brutish enemies of freedom' ". Vanninesan, May 1983

Dr. Somasundaram Rajasundaram was murdered in the Welikade Prison in Black July 1983 whilst in the custody of the Sri Lanka Government.

"...One day Dr. Rajasunderam was ordered to walk on all fours hands and legs and bark like a dog. We were very often ordered to carry food on our heads and double up. Another time a youth was ordered to crawl through mud and water around the courtyard. Ingenious ways were devised to destroy self respect and spirit of the detenus... On the 27th of July 1983 at 2.30 pm there were shouts around the Youth Ward and armed prisoners were scaling over boundary walls and starting to break open gates in the Youth Ward. Nearly 40 prisoners armed with axes, swords, crowbars, iron pipes and wooden logs appeared before our cell and started to break the lock. Dr. Rajasundaram walked up to the door and pleaded with them to spare us as we were not involved in any robberies or murders and as Hindus we did not believe in violence and as Buddhists they should not kill. The door suddenly opened and Dr.Rajasundaram was dragged out and hit with a iron rod on the head. He fell dead among the crowd..." "Detention, Torture and Murder" by S.A.David, B.A. (Architecture) Melbourne, Diploma in Town Planning (Leeds, UK), the then President of the Gandhiyam Society, and published in November 1983. S.A.David was one of the lucky ones who escaped death in the infamous Welikade Prison Massacre in July 1983. He later escaped from the Batticaloa jail.
---
Arul Emmanuel in the Tamil Times, August 1983..
It is given to few to work selflessly for a cause in which they wholeheartedly believe and in that process make the supreme sacrifice of their own lives. The poignancy of such an invaluable "offering" is thrown into high relief when it is extracted by a cowardly and dastardly attack executed with all the brutality which human nature could descend to achieve.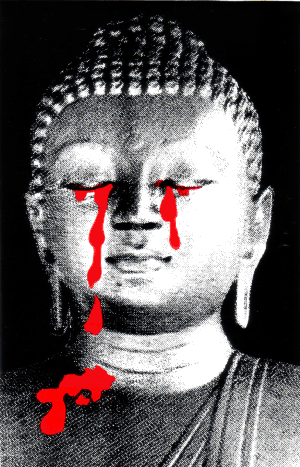 Such is the sacrifice which Rajasundaram was destined, it not privileged, to pay for self-effacing and compassionate service to his less advantaged countrymen. That this assassination should have been committed by those professing the Buddlha-dhamma should undoubtedly make great Teacher of Compassion turn in his grave disgusted at the crimes committed in his venerated name
This "Utthama Puththiran" was born on March 23rd, 1943 the third son of Mr. and Mrs Somasunderam, who were both teachers. The early parental grounding and upbringing prepared him for his future role, initially as a social worker among the poor and the underprivileged masses in the tea and rubber plantations, and later as General Secretary of Gandhi-yam, Sri Lanka.
Even as a student at Kokuvil Hindu College, he worked as Secretary of the Young Farmers Club. Later he attended Jaffna Hindu College where he was Troop leader of the Scouts. He wasn't one who paid lip service to religion, but combined his deep religious convictions with whole-hearted dedication, and worked tirelessly for the cause of the stateless plantation workers. He lived a simple and austere life and was a vegetarian. He took a lively interest in Tamil cultural affairs.
Rajasundaram entered Colombo Medical College in 1963 and on completing his studies started his medical career in the small estate hospitals in Lunagala and later at Pussellawa. In these places he had the special task of looking after the physical welfare of the plantation workers. He was a Council member of the Indian Workers Congress during this period. He became acquainted with the struggles, dreams and unrealised hopes of the estate workers and this motivated him to dedicate his energies towards alleviating their sordid plight and the parlous conditions under which they laboured. Since then, the welfare of the estate worker became the dominating concern in his life. His later position as General Secretary of Gandhiyam afforded him the opportunity to translate his missionary zeal into reality by labouring for those displaced by mass hatred and brutality - the victims of the 1977 racial riots.
In 1970 he married Dr. Shanthi Karalasingham, and worked for a short period in the Kandy Lakeside Medical Centre. But his urge to work with the underprivileged drove him to establish the Vavuniya Clinic in December 1973. With Dr. R. Sri Pathmanathan, he helped Granada T.V. produce a half-hour programme entitled "The Price of a Cup of Tea", showing the privations, the poor living and working conditions the exploitation and the starvation wages received by the estate workers in Sri Lanka.
Gandhiyam, the brainchild of Mr. S.A. David and Dr Rajasundaram, was formed solely for the threefold purpose of eradicating poverty, ignorance and disease among the underpriviledged Tamils in Sri Lanka. The early success it enjoyed is a tribute to the tireless efforts of Rajasundaram, who worked all hours of the day. He was available round the clock, when anyone needed his services. Mr. David referred to him as "the moving, spirit of Gandhiyam".
Gandhiyam was the only group that was functioning successfully when the 1977 racial massacre uprooted and displaced thousands of Tamils. It offered relief and helped to resettle and rehabilitate over 40,000 people- a task so monumental, that in ordinary circumstances it could have been undertaken as a State venture, Rajasundaram and his wife kept "open house" for those who came maimed, destitute and bereft of all they possessed, both in 1977 and later in 1979 and 1981. They were the crucial unifying link between the Tamils in Jaffna, the Wanni and the plantation areas.
On April 6, 1983, Rajasundaram was arrested and taken to the Gurunagar Army Camp in Jaffna, after the Sri Lankan Police raided the Gandhiyam office in Vavuniya. Not even his family knew of his whereabouts until the following day. He was confined to a small cell
tortured so as to break his iron will. His lawyers and his wife were allowed to see him just once. On April 23 his Attorneyat-Law Mr. Kumaralingam sent a telegram to the Sri Lankan President reporting Rajasundaram's weak state of health as a result of the torture, hut nothing was done. He was then transferred to Pana - goda Army Camp r here he underwent further torture.
Confessions were then extracted from him under threat of "more serious treatment". Later he was brought to Colombo Welikade Jail.
Rajasundaram and eight others were moved out of their cells immediately after the July 25 killings in Welikade Jail and kept in a padlocked hall upstairs in the same block. In spite of their repeated representations to the prison hierarchy for better security they were given nothing but bland assurances. On July 27 at 2.30 p.m. these nine heard shouts outside their hall and later saw crowds coming towards them with axes, crowbars and sticks. Rajasundaram was unfortunate enough to open the door and was hit on his neck with an iron bar. This cowardly act of attacking a man who was unarmed and weakened by months of brutal torture ended the life of one of the noblest of Tamil sons.
He leaves behind his wife - Shanthi - and three children, Raji (12), Ramanan (9) and Arthavan (8). Dr. Shanthi now runs the Vavuniya Clinic and carries on the work Rajasundaram devoted his life to. They may have mutilated his body, strangled his neck, denied him sleep for many a day and finally killed him as an enemy, but his spirit lives on and will lead future generations of Tamils to mould their lives on his example, till they reach their goal - Eelam.
The quotation in the article of ''Vanninesan" in the Tamil Times of May 1983 aptly describes the spirit of our revered friend, Dr. Rajasundaram.
"My soul that knows no weariness will go on
Till my country gains its own promised land;
And though they crack my skull and even kill me,
On my skull, engraved in raw blood, they will read
'This is a Tamil who would never surrender
To the brutish enemies of freedom' ".