Ancient rock art dating back to 1500 B.C. in Tamil Nadu
T.S. Subramanian, Hindu, 27 May 2007
---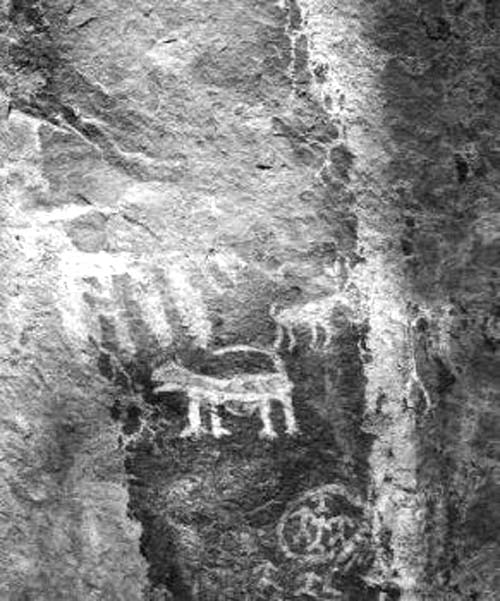 HISTORY ON SHOW: A dolmen found in the backdrop of Anamalai Hills, about a kilometre away from the ancient rock art site discovered near Mavadaippu village in Coimbatore district.
CHENNAI: A natural cavern with a profusion of ancient rock art, contemporary tribal paintings and even modern-day graffiti has been discovered near Mavadaippu tribal village, about 7 km from the Kadamparai hydel power station in Tamil Nadu's Coimbatore district.
K.T. Gandhirajan, art historian and explorer, P. Manivannan, K. Natarajan and a group of students from the Government College of Fine Arts, Chennai, made the discovery on May 17.
They also found about a kilometre away from the site a number of dolmens, called "muni aria" in Tamil, in four different locations in the backdrop of the Anamalai hills. The dolmens are in square, rectangular and even round shapes. Some have compartments inside.
According to Mr. Gandhirajan, who is a post-graduate in Art History, "a spectacular feature of the site is that the rock surface is an admixture of ancient rock art and contemporary tribal paintings, showing continuity of tradition as it were."
The paintings have been done on a rock surface that is 40 feet long and 20 feet tall. He and other experts put the date of the ancient rock paintings around 1500 B.C. These paintings include a tiger with its mouth wide open, a deer with straight horns, a porcupine, a wild boar, a peacock and elephants.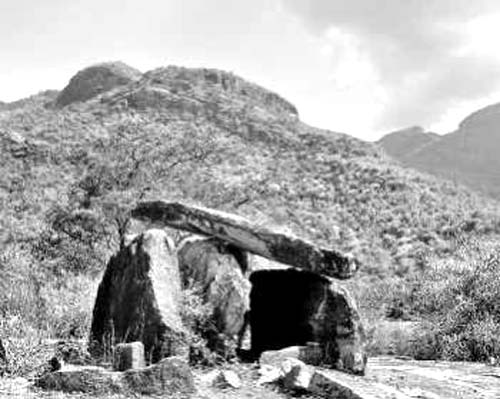 An ancient rock art found near Mavadaippu.
There are paintings of marching men in anthropomorphic form within a circle. Below are also men in marching form but not within a circle. There are scenes of an unidentified animal chasing another, an elephant seizing a man with its trunk with another man running after the elephant, etc.
Human figures are aplenty, showing men fighting and dancing. A rare painting has a man in profile, with a peculiar headgear. There is a glut of "mystic" designs and ancient graffiti. A leit motif is the figure of a ladder made out of bamboo poles. Such ladders are used even now to extract honey from beehives situated at heights near the tribal villages. Mr. Gandhirajan said: "Constructing these bamboo-ladders is an architecture itself. Building them is a secret. It is done only at night. Non-community people will not be allowed to be present when tribals build them. These ladders can be sometimes 200 feet tall." The contemporary tribal paintings show a man wearing a tight coat that has rectangular designs on it. He is seen with a raised right hand and his left hand on the waist.
A drawing of a bus indicates how the arrival of a bus there could be an exciting event. The ancient rock art had been drawn using lime, white kaolin and even ash.
Recently, tribals had used enamel to embellish some of these ancient paintings.
It was both on cue and by accident that the group headed by Mr. Gandhirajan discovered this site. The group had gone to Puliyankandi village near the Aliyar reservoir to conduct a workshop for children belonging to local tribes on art and heritage and rock art sites found nearby. When the children were asked whether they knew of cave paintings, a girl told them that she had seen paintings of elephants on a massive boulder near her village but she could not give the exact location. Inquiries led the group to Valpaarai and then Mavadaippu, 45 km away. While some of the dolmens that the group came across have fallen down, others are in good shape. There are spacious dolmens with compartments inside. Tribals believe that the dolmens with compartments were meant for chieftains of yore. The centrepiece is a big dolmen that has a short "compound wall" running around — the wall is made of stones with packing.