TAMIL DIGITAL RENAISSANCE
"..The print revolution brought Tamil from the ola leaves to paper, from the select few literati to the many. The digital revolution is bringing Tamil from paper to the computer and the internet. Swaminathatha Iyer and Thamotherampillai heralded the Tamil renaissance in the 19th century. Today, a Tamil digital renaissance is taking place - and is helping to bring Tamil people together not simply culturally but also in political and economic terms..." Nadesan Satyendra in Tamil Digital Renaissance

பனை ஓலையில் இருந்து, கணிப்பொறித் திரை வரை...
நான்காவது தமிழ் உதயமாகிறது
8th International Tamil Internet Conference
8 வது தமிழ் இணைய மாநாடு -2009
"கணிவழி காண்போம் தமிழ்"


23 - 25 October 2009, Koeln, Germany
[see also Official Conference Website and
On Line Registration ]
---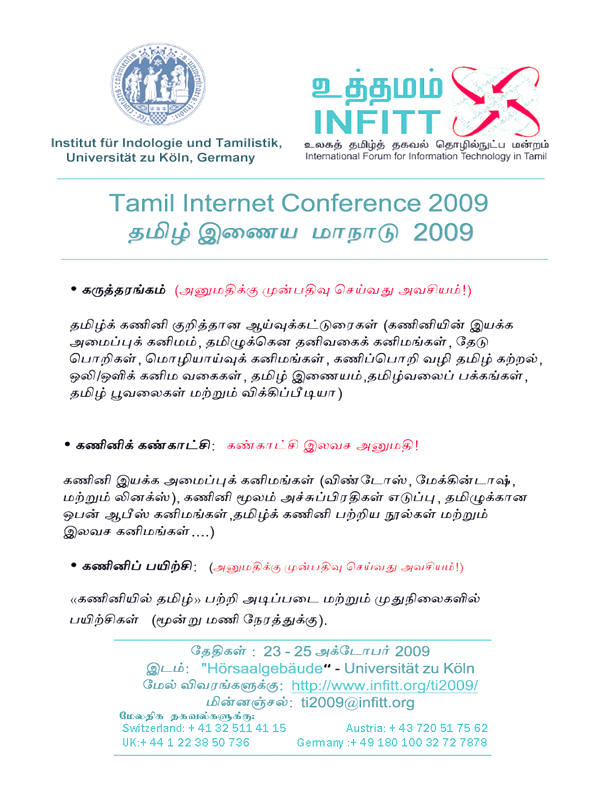 The Executive Committee of INFITT is pleased to announce that the next Tamil Internet Conference TIC 2009 will be held in Europe, in the city of Koeln, Germany during October 23-25, 2009.
TIC 2009 will have the same format as the last TIC 2004 held in Singapore. It will be a technical conference devoted to discussing recent advances and challenges in Tamil Computing and Tamil Internet in general. To permit max. interaction, participation will be limited to 100 persons.
We invite Tamil IT professionals worldwide to participate in this conference - only one of its kind devoted exclusively for Tamil. Tamil Internet Conferences of INFITT has been held earlier in Chennai (1999, 2003) Singapore (2000, 2004), Kuala Lumpur, Malaysia (2001), San Francisco, California (2002) and in Singapore (2004). TIC 2009 will be the first INFITT conference to be held in Europe.
The TIC 2009 is being organized in close collaboration with the Institute of Indology and Tamil Studies (IITS) of the University of Koeln who will serve as the local host.
IITS, headed by Prof. Ulrike Niklas is one of the major Tamil Studies and Research Center of Europe. A Tamil teacher, researcher of IITS well known to Tamil community is Dr. Thomas Malten, who led a pioneering effort two decades back to bring Tamil literature in electronic form. IITS of UKoeln also has the unique distinction as the only Tamil Studies Center outside Tamilnadu to have more than 50,000 Tamil books. So we are delighted to have the next TIC at this key Institution devoted to Tamil Research in Europe.
Pleast take note of the date and venue for the conference. A formal call for papers with more details will be published soon.
anbudan,
Dr. K. Kalyanasundaram,
Chair, INFITT

---

Conference Hub : Call for Papers
A Conference Programme Committe (CPC) for TI2009 is being formed, with Dr. Vasu Renganathan of the University of Pennsylvania, Philadelphia, USA as the Chair. This committee (CPC) will deal with paper submission and scheduling of the conference content (invited lectures and submitted papers). Further details on the conference content, exact dates and venue will be announced in due course.

We take this opportunity to invite 'technical' papers for presentation at TI-2009 on all topics relating Tamil with Computers and/or Internet, on or before 15 August 2009.

The following is a collection of topics to be addressed and the list is non-exclusive.
1) Open source software (OpenOffice, ...) and Tami Localization of softwares and OS;

2) Tamil enabling in mobile and other hand-held platforms/technologies PDA, iPhone, ....;

3) NLP Applications in Tamil: Machine Translation,OCR, voice recognition, speech synthesis, search engines, data mining of Tamil digital resources, ....;

4) Tools for Tamil Computing: word-processing (text editor, spell check, grammar check,dictionaries,..), plugins for browsers, online file convertors,.... ;

5) Tamil Internet : blogging, wikipedia, podcasting, educational portals, e-commerce,.. .....;

6) computer-aided teaching of Tamil -online, offline, multimedia tools;

7) Tamil Databases for digital libraries and e-commerce;

8) Digital archiving of Tamil heritage materials and

9) Standards for Tamil Computing : encoding, glossary,mobile, DNS,...

Those who would like to make an oral presentation should submit a brief abstract at the conf. gateway on or before 15 August 2009. Papers may be presented in English, Tamil or bilingual (Tamil-English) format. As with the earlier Conferencs, all submissions must be in electronic form. For papers with content in Tamil or bilingual, please use Unicode encoding .

Conf. Program Committee will review all submissions and select several papers for presentation at various tech. sessions. As in the past, extended abstracts (max 4 pages) of all accepted papers for the conf. will be published in the Conference Book and also in e-form in a CD/DVD. Authors whose papers have been selected for presentation at the conference will be informed by 31 August 2009.

Conference Proceedings
Electronic versions of the accepted papers should reach the CPC on or before 30 September 2009 for them to appear in the official conference book. INFITT reserve rights for publication of all papers presented at the conference. As in the past, papers presented in the conference will be archived (in the form of pdf files) for global distribution through the INFITT website.

The organisers of the conference assume that submission of a paper for possible presentation at TI2009 implies attendance at the conference and presentation in person by at least one author of the paper.
---

Tamil Software Exhibition at Tamil Internet 2009 Conference
Tamil Computing-IT has been in constant development for well over a decade. We have already a wide variety of Tamil softwares for various applications and numerous multi-media based tools for computer-aided teaching of Tamil.

Preparations are underway to have Tamil Software developers worldwide (India, Singapore, Malaysia, Sri Lanka, North America, ....) display their software products (live demonstrations with volunteers to explain the usage of the softwares) during Saturday, Sunday of the Tamil Internet Conference 2009. Tamil Software Exhibition will be open (free admission) to all persons interested to know more about usage of Tamil on computers -basic ones to advanced applications.