VanniTech Graduates Showcase Their Prowess in VanniVision'08
VanniTech, Kilinochchi - 24 January 2008
---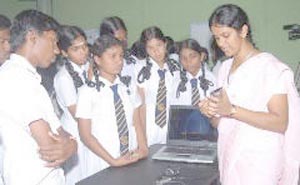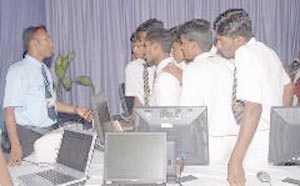 VanniVision - the annual high-tech exhibition, was held at the VanniTech campus on January 24th 2008. The recent graduates - Class of 2007, who have successfully completed their 1-year programs in IT related fields, showcased their newly acquired skills through various computer hardware and software products.
The event started off with the lighting of the traditional oil lamp by the President of VanniTech Mr. Thayapararajh, and was inaugurated by the chief guest Mr. T. Gurukularajah, government Zonal Director of Education-Kilinochchi, who is also a member of the Board of Directors of VanniTech. The lamp of the event was lit by Mrs. Antony Qbert Gowry, Secretary of the Board of Directors of VanniTech.
The event, which was eagerly anticipated by local school children and computer enthusiasts alike, drew several hundred visitors including the students and teachers from local schools, officials from government departments, NGOs, and the general public.
The graduates' high-tech products were exhibited in 18 booths. Visitors were thrilled by a walking robot that greeted them. Built with discarded computer and peripheral components, the robot was able to walk and communicate with visitors via a built-in web camera and controlled by a laptop computer via wireless network.
Other products that generated much excitement included an ATM-Automatic Teller Machine, a Computerized Office Automation System, a Data Encryption System for secure communication, and a wireless PDA (Personal Digital Assistant) application.
"The exhibits of the VanniVision'08 reflect the world class standards in industrial innovations by our talented graduates," said Mr. K. Thayapararajh, president of VanniTech. "We could make our graduates topnotch entrepreneurs if some sort of financial assistance can be given to encourage them into starting up their own business ventures."
Some of the other products that were on display included Telemedicine software, Artificial Intelligence based Decision Making Software, and RFID based Employee Monitoring System.
Also in the display were the products from Field Deployable Projects, which were part of students' curriculum and a requirement for graduation. Payroll System, Human Resource Management System, Documentation Management System, Inventory Management System, Landsite Management System, Customer Ordering Management System, Loan Monitoring System were among them.
The Automated Billing System developed by TechShack, a successful commercial product was on display.
A computer game that evaluated overall general knowledge, provided much entertainment for local school children.