tamil nadu
& Tamil Eelam freedom struggle
DMK supporter Sivaprakasam immolates himself
during Chennai human-chain protest against Sri Lanka
TamilNet, Monday, 23 February 2009
[see also தீயினில் எரியாத தீபங்கள் -
Muthukumar, Ravichandran, Thamil Venthan, Muruguthasan ]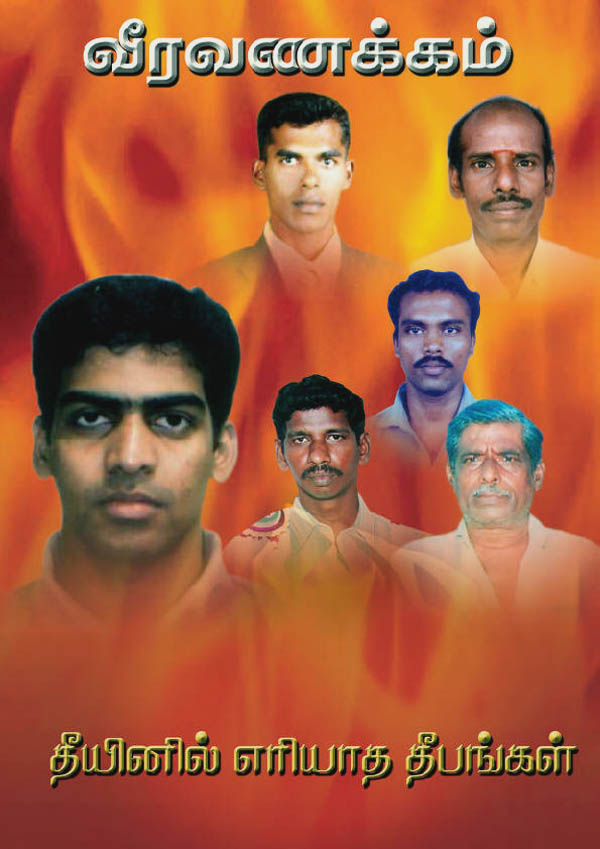 ---
A 60-year old Dravida Munetra Kazhalagam (DMK) member who worked as a driver with the metropolitan transport corporation self-immolated demanding immediate stop to the killings of Tamils in the NorthEast by the Sri Lanka Government. S Sivaprakasam was a participant at the human-chain protest organized by the DMK Youth Wing when he set himself ablaze. He suffered fourth-degree burns, and later died at Kilpauk Government Medical College.

DMK party sources said that Sivaprakasam delivered a hand written letter to the Party officials, but declined to reveal the contents.

"With flames raging from his body, he shouted slogans against "genocide of Tamils", said Mandaveli Natarasan, a DMK functionary, who tried to douse the fire. He shouted Save Tamils' and Stop Genocide' even as the crowd retreated from the burning man. A traffic constable, Sathish Babu, and Natarasan, who sustained minor burns in his hands, managed to douse the fire. After first aid at a private hospital he was moved to the Kilpauk hospital," Indian daily Times of India reported.

Sivapragasam was previously a DMK Party organizer, and lived in Chemmeangari tsunami settlement near Cholanga Nalloor in Chennai. He is married with four daughters and a son.

"Ravi of Pallapatty, Ravichandran, a Congress worker in Sirkali in Nagapattinam disrict, DMK supporter Amaresan in Chennai, and VCK cadre Tamilvendhan in Cuddalore were among those who have committed suicide for the Tamil cause. The trend has spread to faraway places like Geneva, where a Sri Lankan Tamil burnt himself in front of the UN office there, and Malyasia, where two youths perished in the same way," said the Indian daily describing the recent immolations.