Beginnings of the Tamil Rebellion in Tamilnadu
[see also Remembering the 1965 Anti Hindi Struggle - N.Nandivarman]
26 January 2008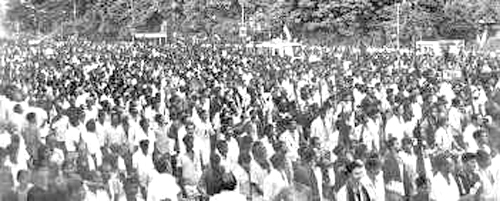 ---
Since January 26 (Indian Independence Day) was a holiday, University of Madras students went on a one-day strike on January 25 1965. (University of Madras has now been split into a number of universities to reflect the growth in colleges and student population. In 1965 there were only two universities in Tamil Nadu, namely, University of Madras and Annamalai University.)

Both university and school students mobilized in protest against Hindi imposition all over Tamil Nadu. Virtually all stores closed in support. This was the largest mass protest ever in the history of Tamil Nadu (with the possible exception of the protests held two days later on January 27). There was nothing like that before and there has been nothing like that since then with the possible exception of January 27.
Protests held against the British rule pale in comparison to the protest marches against Hindi imposition held on January 25, 1965. If you put all the people who participated in demonstrations against British rule in Tamil Nadu during all those years of British rule, they would be less than those who demonstrated against Hindi imposition on that one day.

Over 50,000 people participated in the Anti-Hindi March in Chennai (Madras) alone. There were similar marches in every town and city in Tamil Nadu. The marches were peaceful. There were colorful placards and banners against Hindi imposition. There were slogans against Hindi imposition. In some cities students beat drums and blew bugles as they marched through the main streets.
At least in one city (Coimbatore) "pall bearers" carried the "dead body" of Hindi demon, accompanied by "wailing" students, to signify the "death" of Hindi imposition in Tamil Nadu. The marches were colorful. The marches were noisy. The marches were huge. It was all peaceful. The students wanted it that way. The students did it that way.

The peaceful demonstrations turned bloody at the end in Madurai. Some members of a ruling party affiliated trade union attacked the students with small swords (arival). Tamil blood was spilled again in the protest against Hindi imposition. Many towns and cities in Tamil Nadu would be painted red with the blood of Tamil martyrs in the next two weeks.