CONTENTS
OF THIS SECTION
10/06/09

Singing Soothing Notes, 30 June 2003 "Music hath charms to soothe a savage breast. To soften rocks or bend a knotted oak" - Congreve. Nithyashree Mahadevan, an exponent of Carnatic music, concurs with him. "Music knows no religion. No language. It has no barriers and reaches all masses," she says. "Classical music, once the forte of a particular community, has earned acclaim far and wide. It is now being enjoyed in countries like the US, the UK, Australia and in the Middle East. There is tremendous following among the French and the Germans," avers Nithyashree, granddaughter of the doyen of carnatic music D K Pattammal"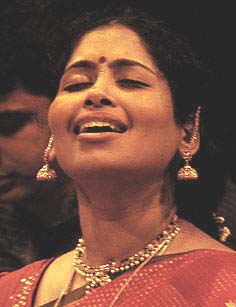 Nithyashree in UK , July 2005
Deluge of ragas and songs , 7 December 2007
Nithyashree awarded 'Isai Peroli' , 2 December 2001
'Padma Sadhana' conferred on Nithyasree , 4 January 2004
Tamil Music - தமிழ் இசை
Nithyasree Mahadevan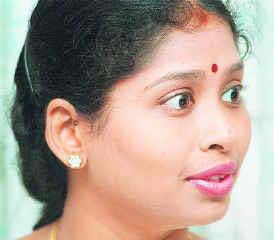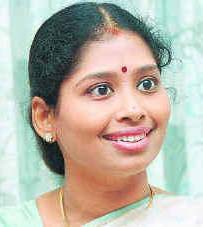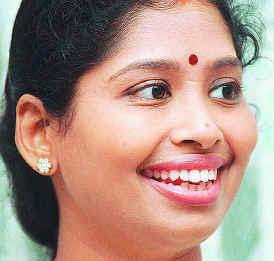 Nithyasree Mahadevan Granddaughter of the legendary D K Pattammal (paternal) and mridangam maestro Palghat Mani Iyer (maternal), Nithyasree Mahadevan trained under D K Pattammal and Lalitha Sivakumar. She has received many awards notably Yuva Kala Bharathi, Sangeetha Sikhamani, Ugadi Puraskar, Nadabhushanam, and Kalaimamani.

---

Nithya Sree Mahadevan in Concert...
Papanasam Sivan's "Muladhara" in 2006, Ragam: Hamsadvani, Talam: Adi, Violin: M. A. Krishnaswamy; Mridangam: I. Sivakumar; Moorsing: Dheenadhayalan; Tambura: Pallavi Prasanna





Theeratha Vilayatu Pillai


Thondru Nigzhanda - Mahakavi Bharathiyar


Kannanum Kandanum

Thaamarai Paadangal Darisanam

Muruganai Kaana Ayiram Kann Vendum