SINHALA BUDDHIST ETHNO nationalism
Masquerading as Sri Lankan multi ethnic 'Civic Nationalism'
"...If (Sri Lanka President) Jayewardene was a true Buddhist, I would not be carrying a gun..." Velupillai Pirabakaran, Leader of Tamil Eelam, Interview with Anita Pratap, Sunday Magazine, India 11-17 March 1984
The Mask Slips...
Sri Lanka Parliament's Buddhist War Monk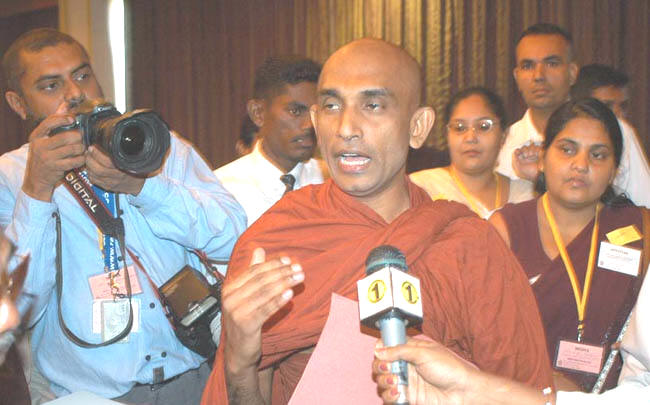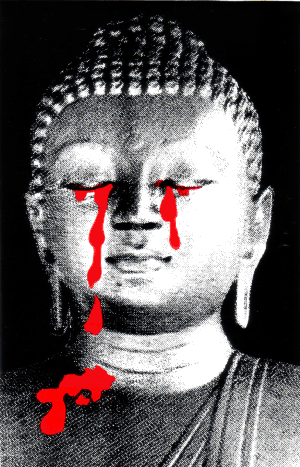 Rev. Athuraliye Rathana,M.P., Leader of Jathika Hela Urumaya "we can sort this out on our own... Am I an extremist? Sometimes I am. Sometimes I am not"...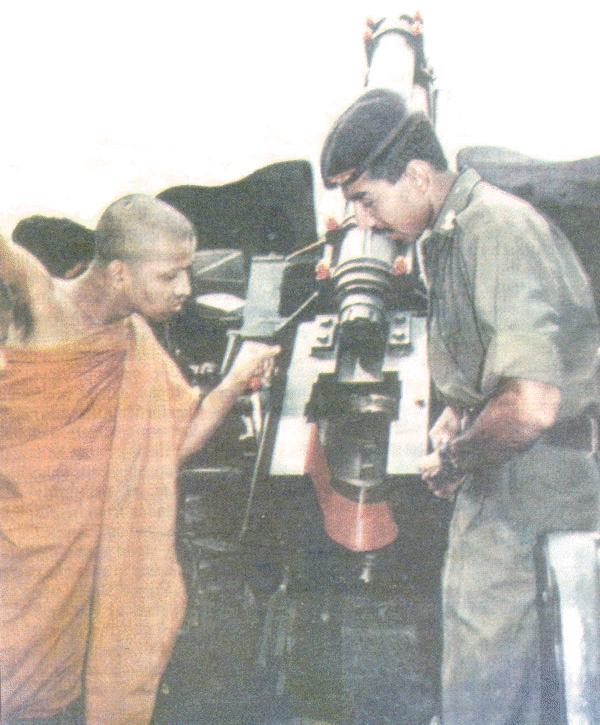 Sinhala Buddhist Monk at the war front in 1998
- see also Pictures that speak a Thousand Words...
---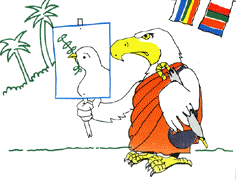 [TamilNet, Wednesday, 26 March 2008] Athurliye Rathana, a celebrated monk and a Sri Lanka parliamentarian, "sounded more like an army general than a legislator or monk" when he said, "[w]e can sort this out on our own. We tried to discuss things, but the LTTE always wanted to fight. We must do our duty on the battle field," Washington Post said in an article that appeared in the Wednesday edition.

Jathika Hela Urumaya parliament group leader Rev. Athuraliye Rathana speaking to journalists at the Sri Lank Development Forum. "Rathana is a celebrated figure in this predominantly Buddhist nation, where monks are cherished for their spiritual guidance. But he is known for more than just his religious leadership. Dubbed the Parliament Monk and the War Monk by the Sri Lankan press, he is a legislator who has pushed for the use of military force to end this island nation's 25-year civil war, which has left 70,000 dead and displaced nearly a half-million people at its height," the paper said.

"Am I an extremist? Sometimes I am. Sometimes I am not," Rathana said over green tea, when asked about reports from foreign human rights groups that accuse his party of hindering peace talks. "The point is that we need to end this war. And we are forced into a military solution," the paper said quoting the Buddhist monk.

Noting that Rathana fits into the tradition of monks who have embraced political causes, the paper said , "Rathana's party, the Jathika Hela Urumaya, is led by monks and is the staunchest supporter of the government's military offensive." The paper quoted Rathana as saying, "[a]s a Buddhist monk, I think every bad thing should be finished. Here in Sri Lanka, we have terrorists who brutally murdered people. As monks, we must defend ourselves and fight back. That is reality."
The Reality....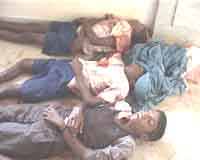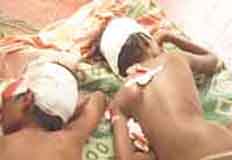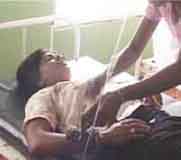 Sri Lanka Army DPU Claymore Mine attack on Civilians, 29 January 2008
As many as 30,000 mostly Sinhalese young men have signed up for the army in the past few months, spurred in part by activism by Rathana and others.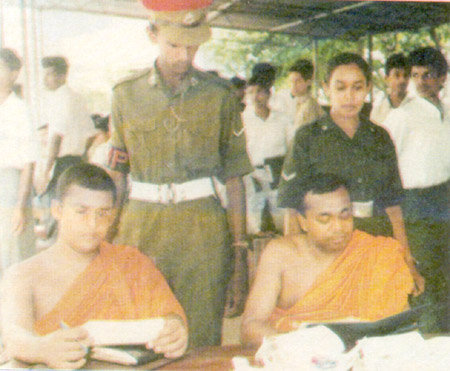 Buddhist Monks signing up to join Sri Lanka Army, 2000
The Tigers still control the northern tip of the country and have vowed to continue their struggle for a separate Tamil homeland, the paper said.