Liberation Tigers bomb fuel refinery
and gasoline storage facility in Kolonnawa near Colombo
28 April 2007
Two oil storages that supply fuel to Sri Lanka Air Force (SLAF) bombers attacked by Tamileelam Air Force - TamilNet Report

Tamil Tiger rebels bomb fuel refinery and gasoline storage facility -Krishnan Francis, Associated Press Report

Tamil Tiger aircraft bomb key installations in Sri Lanka's capital in retaliation for a military air strike on their territory - AFP Report

சிறிலங்கவின் இரு பிரதான பெற்றோலிய எரிபொருள் களஞ்சியங்கள் மீது வான்புலிகள் தாக்குதல் - ஈழம் தாயக செய்தியாளர், Puthinam

வான்புலிகள் அச்சம்: மீண்டும் இருளில் மூழ்கியது கொழும்பு - ஈழம் க.திருக்குமார், Puthinam

LTTE air raid over Colombo - Tiger aircraft bomb Kolonnawa oil installation and Muthurajawela gas facility in midnight attack - Sinhala owned Sri Lanka Sunday Times

On the View from Colombo - Wakely Paul from USA, 1 May 2007

Sri Lanka aviation hub aspirations hit by air raids - Lanka Business on Line, 1 May 2007

Gas shortage looming after LTTE air raid, 6 May 2007

[see also B.Raman, South Asia Analysis Group (SAAG) On LTTE's Air Capability]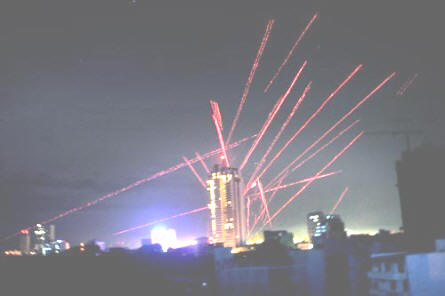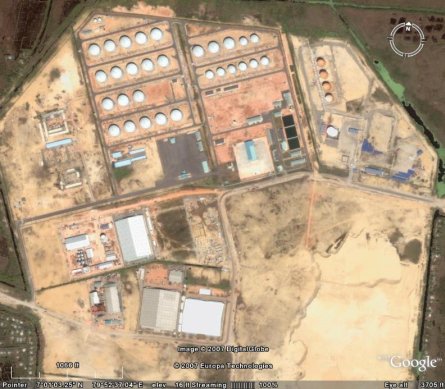 தமிழீழ வான்படையினரின் வானூர்திகளை நோக்கி
சிறிலங்காப் படையினர் நடத்திய தாக்குதல்களின் காட்சி
---

Two oil storages that supply fuel to Sri Lanka Air Force (SLAF) bombers were attacked by the Tamileelam Air Force - TamilNet, Saturday, 28 April 2007, 22:33 GMT
Two oil storages that supply fuel to Sri Lanka Air Force (SLAF) bombers were attacked by the Tamileelam Air Force, Tiger Military Spokesman Irasiah Ilanthirayan told TamilNet. Oil and fuel storages in Kolonnawa and Muththuraajawala were attacked by the TAF at 1:50 a.m. Sunday and at 2:05 a.m. after Sri Lanka Air Force bombers attacked a suburb of Kilinochchi town in Liberation Tigers of Tamil Eelam administered territory, Mr. Ilanthirayan said adding that the Tiger bombers had safely returned to their airbase in Vanni. Meanwhile, sources in Colombo said that 3 oil tanks were burning in Muthurajawala.

The air strike by the Tigers was carried out after Sri Lankan Air Force bombers bombed Vanni Sunday morning around 1:00 a.m., the LTTE military spokesman said.
---

Tamil Tiger rebels bomb fuel refinery and gasoline storage facility - Krishnan Francis, Associated Press Report, 29 April 2007

COLOMBO, Sri Lanka (AP) Tamil Tiger rebels bombed a fuel refinery and gasoline storage facility near the Sri Lankan capital early Sunday, and authorities cut power to the city, officials said. Hours later, the military pounded rebel positions in the north.
The rebel attack was the third assault by Tamil Tiger planes since they carried out their first-ever air strike last month when they bombed an air force base near Colombo, killing at least three airmen.

On Sunday, Tiger aircraft dropped four bombs near Colombo, said an official at the defense ministry's media center, speaking on condition of anonymity due to policy.

A soldier who witnessed the rebel attack said he saw a low-flying plane drop two bombs on a gas storage facility in Kerawalapitiya, about 7 miles north of Colombo. The bombs started a fire, said the official, who spoke on condition of anonymity because he is not authorized to talk to the media. The extent of damage was not immediately known.

As a security measure, officials knocked out power to the entire capital Sunday, as well as the country's only international airport and an adjoining air force base, as the rebel aircraft approached.

The rebels have launched all three air strikes at night, and fly without lights to avoid detection. Many people were awake watching Sri Lanka's cricket team play Australia in the World Cup final on television when the power was shut off.

All passengers aboard planes were called back into the terminals and air traffic was suspended for about an hour, an employee of the international airport said, speaking on condition on anonymity because he was not authorized to speak to the media.

Rasiah Ilanthirayan, a rebel spokesman, said Tamil Tiger aircraft bombed two facilities that supply fuel to the Sri Lankan air force.

"The two squadrons returned safely after the mission and the pilots have confirmed that they have hit the targets," he said by phone from the Tamil Tiger stronghold of Kilinochchi in northern Sri Lanka.
---

Tamil Tiger aircraft bomb key installations in Sri Lanka's capital in retaliation for a military air strike on their territory - AFP Report
Tamil Tiger aircraft bombed key installations in Sri Lanka's capital in retaliation for a military air strike on their territory early Sunday, a rebel spokesman told AFP.

Tiger planes targeted two oil storage facilities because they provided fuel to Sri Lankan forces, spokesman Rasiah Ilanthiriyan said.

"We sent two squadrons to target facilities that provide fuel to military aircraft after two Sri Lankan airforce jets bombed a suburb of Kilinochchi (inside rebel-held territory) just past midnight," said the spokesman for the Liberation Tigers of Tamil Eelam.

He said the military had bombed the outskirts of Kilinochchi, 330 kilometres (206 miles) north of the capital, but gave no details of casualties. However, he said that within an hour of the military air strike, the Tigers scrambled "two squadrons" to attack targets in the capital Colombo and returned to their secret location two hours later.

Authorities in Colombo activated air defences when suspected Tiger planes entered the city's airspace early Sunday. Troops fired anti-aircraft guns and power was switched off as residents watched the country's national team lose to Australia in the cricket World Cup in Barbados. But the guns failed to bring down the guerrilla planes, officials said.

Earlier Saturday, police and security forces sealed off Sri Lanka's capital, searching every vehicle entering and leaving the city amid fears of a Tamil Tiger attack.

There were huge traffic jams at every entry point to Colombo with motorists spending several hours before they could be allowed in. Doctors and other essential services were also stuck at roadblocks.

"This is part of the operations to prevent Tigers getting into the city," a police official said.

Sixteen people were detained for questioning after the authorities searched nearly 10,000 vehicles and checked identity papers of 16,500 people, police said.

Sri Lankan forces have been on high alert since the Tigers, whose drawn-out campaign for an independent state for the island's ethnic Tamil minority has left more than 60,000 people dead, carried out their first aerial strike last month. Security in the capital was stepped up after defence ministry reports that Tamil Tiger guerrillas had entered the air space of the island's only international airport overnight on Thursday. The sky over the Katunayake international airport near Colombo -- where government war planes share a runway with civilian jets -- was lit up with anti-aircraft gunfire in response to the incursion by a "suspicious aircraft."
---