Tamils - a Nation without a State


United Kingdom - ஐக்கிய இராச்சியம்
- an estimated 100,000 Tamils live in Great Britain -
---
200,000 British Tamils March in London:
The Charge is Genocide - the Struggle is for Freedom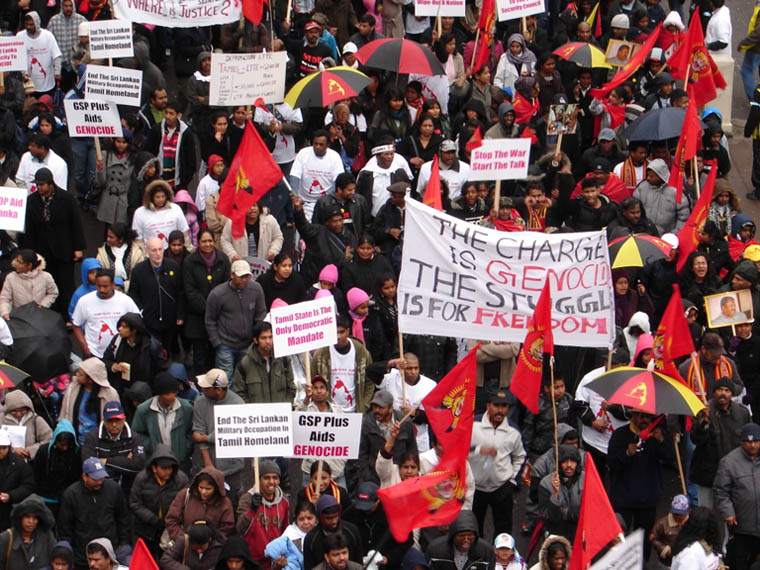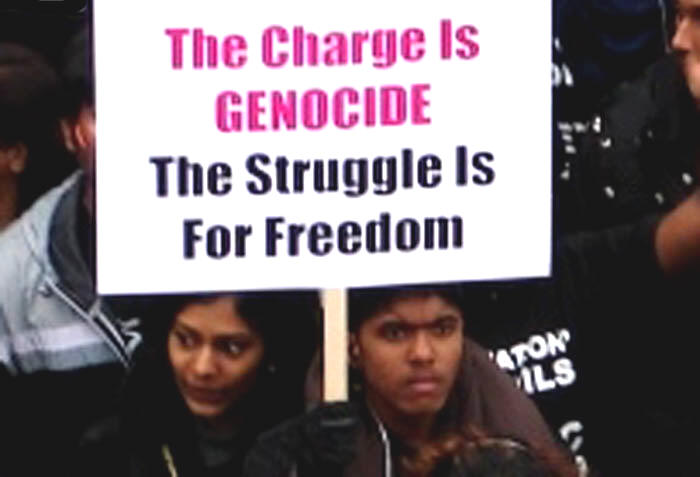 [ see also The Charge is Genocide - the Struggle is for Freedom - International Federation of Tamils Publication, 2007 " The Charge is Genocide - the Struggle is for Freedom traces the facts relating to the genocidal onslaught on the people of Tamil Eelam by successive Sinhala Sri Lanka governments during the past fifty years, and raises the question: Why did these genocidal attacks happen and why do they continue to happen? The author argues that ethnic cleansing is about assimilating a people and that the preferred route of a conqueror is to achieve his objective without resort to violence - peacefully and stealthily. But when that is resisted, albeit peacefully, the would be conqueror turns to murderous violence and genocide to progress his assimilative agenda. He concludes that in the island of Sri Lanka, the record shows that during the past fifty years and more, the intent and goal of all Sinhala governments (without exception) has been to secure the island as a Sinhala Buddhist Deepa. Sinhala Buddhist 'ethno nationalism' masquerading as a 'civic' Sri Lankan nation is the genocidal side of democracy." more]

பொங்கி எழுகின்ற கடல் அலையே... - sung by S.P.Balasubramaniam

Part 1

Part 2

Part 3
---
Tamilnet, 11 April 2009 - In a historic show of solidarity, more than 200,000 British Tamils, nearly two thirds of Tamils resident in Britain, marched through the streets of London Saturday demanding immediate ceasefire and recognition of Tamil Eelam. Sparked off by the initiative of second generation diaspora Tamil youth and students four days earlier, the Saturday's march became an unprecedented rallying point for the entire community, attracting the old students associations of the educational institutions of Eezham Tamils, functioning in London. The spirited participation of teens and mothers with babies in pushchairs significantly marked the level of community involvement in the agitation.
Various student organisations participating in the procession calling for ceasefire. Student groups and networks such as Students Against Genocide of Tamils (SAGT) have taken part in organising the agitation.
Several thousands of banners and placards carried by them read: "Stop the war", "Tamil Eelam must be free", "Stop genocide in Sri Lanka", "Tamil Tigers are freedom fighters", "Our Leader Pirapaharan" and "We want Tamil Eelam". Many participants had made their own posters, banners and cutouts.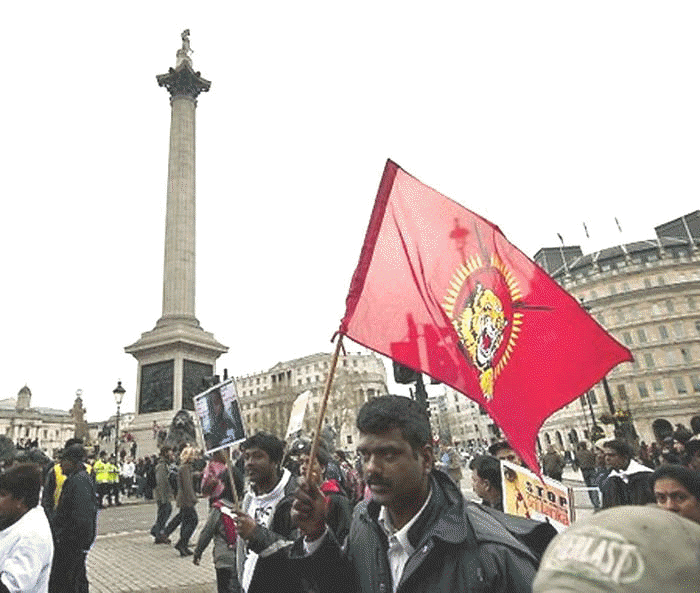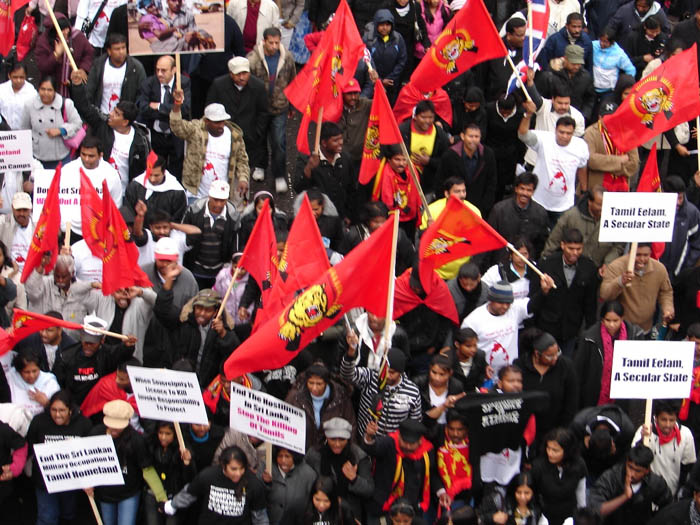 Marchers carried several thousands of the Tamil Eelam flag. Some of them were seen carrying British flags also. There were also balloons floated in the sky, displaying Tamil Eelam flags.
The marchers began gathering at Temple and marched from there to Hyde Park. They went along River Thames and turned onto the Piccadilly and from there onto Park Lane near Hyde Park. British Police blocked off all these routes to make room for the marchers. A large number of British Police personnel mingled with the crowd.
It took nearly 2 hours for the procession to pass a point.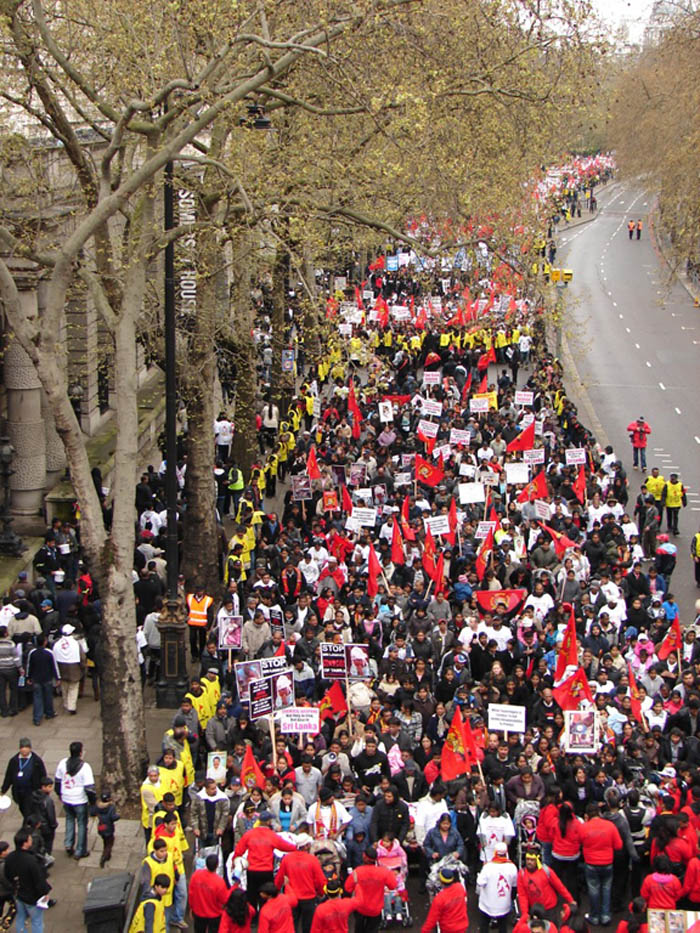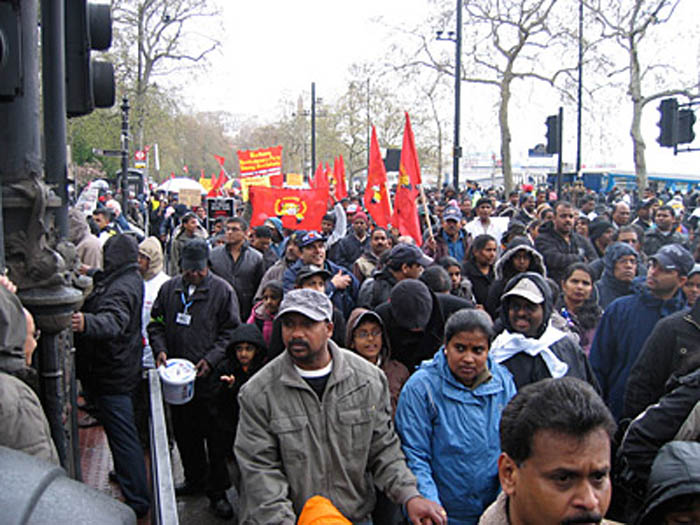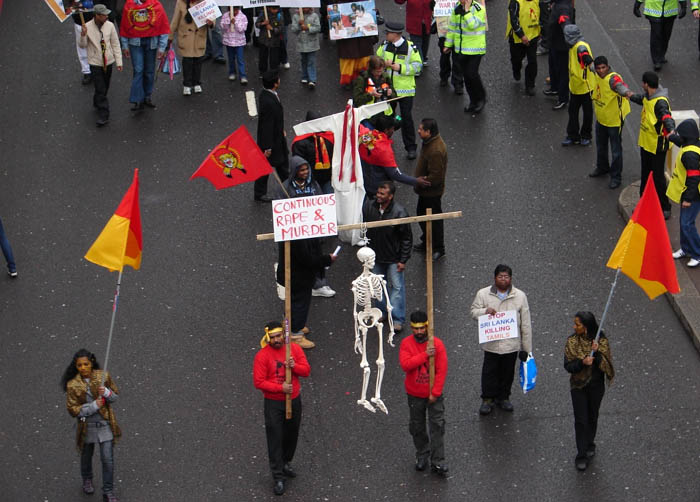 Tim Martin of Act Now, a UK based charity that sponsored the launching of the "Va'nangkaama'n" humanitarian mercy mission ship, the Chairman of All Party Parliamentary Group of Tamils Vireindra Sharma (Labour, Ealing and Southall) and a number of parliamentarians including Andrew Pelling (Independent, Croydon Central) and Simon Hughes (Liberal Party) were present and addressed the gathering.
A wide spectrum of Tamil activists who participated in the march, included 21-year-old Sivatharsan Sivakumaravel, who is on a hunger-strike demanding ceasefire, Kieran Arasaratnam, a young British-Tamil investment banker who recently announced an expedition to climb Mount Kilimanjaro, the tallest mountain in Africa to raise awareness and funds to the mercy mission and British Tamils Forum representatives Suren Surendiran and Sabapathy Pathmanathan.