tamil nadu
& Tamil Eelam freedom struggle
Tamil Nadu & Tamilselvan Assassination
[see also S P Thamilselvan - Head of LTTE Political Division, Tamil Eelam]
Tributes by Tamil Nadu Political Leaders at Remembrance Meeting for LTTE Political Wing leader Thamilchelvan, 6 November 2007

TamilNadu Police arrest Vaiko, Nedumaran at Chennai Demonstration Condemning Thamilchelvan Assassination, 12 November

"Vaiko charged the Manmohan Singh led UPA government at the Centre with "supplying arms to the Sri Lankan army, which are being used against innocent Tamils." Criticising the Tamil Nadu government for refusing to grant permission to take out a rally condoling Thamilselvan's death, he demanded to know why Tamil Nadu Chief Minister and DMK patriarch M Karunanidhi had penned an eulogy on the leader's death."

பழ. நெடுமாறன் கண்டன அறிக்கை 12 November 2007
---

Tributes by Tamil Nadu Political Leaders at Remembrance Meeting for LTTE Political Wing leader Thamilchelvan, 6 November 2007
---

TamilNadu Police arrest Vaiko, Nedumaran at Chennai Demonstration Condemning Thamilchelvan Assassination,12 November [TamilNet, 12 November 2007]

Homage to Tamilchelvan - Vaiko and Pazha Nedumaran
Tamil Nadu police arrested Pazha Nedumaaran, the leader of Tamil Nationalist Movement (TMM), Vaiko, the leader of Marumalardchi Dravida Munnetra Kazhakam (MDMK) and several other leaders of parties supporting the Eelam Tamils, including Indian National League, Monday in Chennai when they led a demonstration march condemning Sri Lanka Government (GoSL) for assassinating Brigadier S. P. Tamilchelvan, the Political Head of Liberation Tigers of Tamil Eelam (LTTE), in an aerial bombing on November 02. They were arrested for defying a ban imposed by the Tamil Nadu Government on the rally.
Tamil Nadu politicians Vaiko, Nedumaran, Basheer Ahmed, Aanaimuththu, Maniarasan and several others were among the hundreds of activists arrested by TamilNadu Police on Monday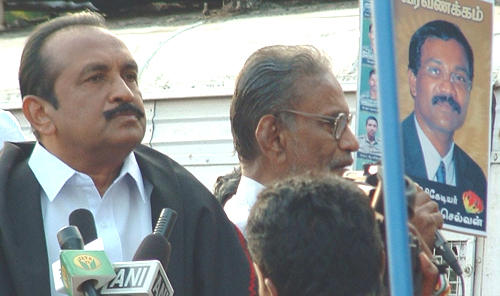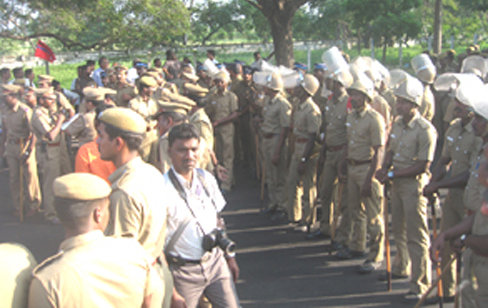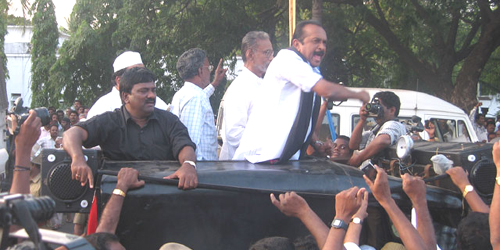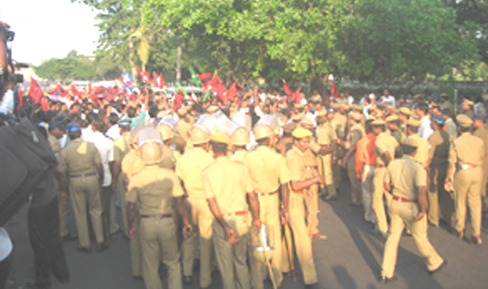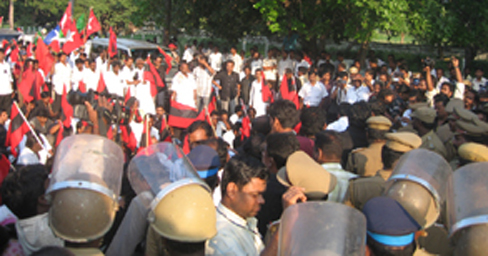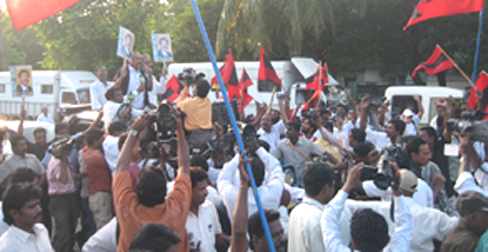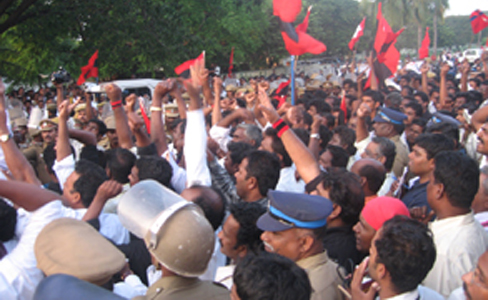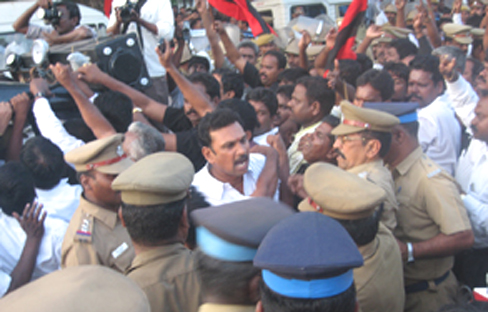 Hundreds of members and supporters of Tamil Coordinating Committee (TCC), TMM and MDMK began the protest demonstration march from Monroe statue in Chennai wearing badges of their respective organizations and bearing placards of Tamilchelvan's photo.

Vaiko and Pazha Nedumaran arrived in a vehicle holding Tamilchelvan's photo placards where the demonstrators were when the police obstructed their vehicle from proceeding further.

The two leaders began the meeting condemning GoSL for killing Tamilchelvan by delivering speeches from the vehicle itself.

'The Sri Lankan state is engaged in killing hundreds and thousands of Eelam Tamils and we are greatly concerned about the Indian assistance given to Sri Lanka in the form of radars and military equipments,' Mr. Vaiko said in his speech.

Pazha Nedumaran too condemned Sri Lanka in the same vein and both leaders appealed to the Indian Central Government to immediately stop all military assistance to Sri Lanka.

Tamil Nadu police, deployed in large numbers, arrested Vaiko and Pazha Nedumaran following their speeches.

The police baton charged the protesting demonstrators when the two arrested leaders were taken away.
Additional Reporting by TIS
- Vaiko, Nedumaran held for defying ban on taking out rally

MDMK General Secretary Vaiko and Tamil National Movement leader P Nedumaran were on Monday arrested for defying a ban on a rally to condole the death of slain LTTE political wing leader S P Thamilselvan in an air raid by the Sri Lankan Air Force on November 2.

About 300 protestors from parties like MDMK, Indian National League and Tamil National Movement courted arrest along with the two leaders near the Munroe statue here while trying to go ahead with the rally. Raising pro-LTTE and Tamil Eelam slogans, Vaiko charged the Manmohan Singh led UPA government at the Centre with "supplying arms to the Sri Lankan army, which are being used against innocent Tamils." Criticising the Tamil Nadu government for refusing to grant permission to take out a rally condoling Thamilselvan's death, he demanded to know why Tamil Nadu Chief Minister and DMK patriarch M Karunanidhi had penned an eulogy on the leader's death.

"We have gathered to express not only the feelings of Tamils in Tamil Nadu but all over the world," Vaiko said. Nedumaran condemned the 'fascist rule' in Tamil Nadu for denying permission to the rally. Protestors, including Vaiko and Nedumaran carried pictures of Thamilselvan and other LTTE cadre who were killed in the air raid.
---

தமிழ்ச்செல்வன் இரங்கல் ஊர்வலத்திற்கு தடை
தடையைத் தகர்த்து தமிழர் மானத்தை காக்க முன் வருக
பழ. நெடுமாறன் கண்டன அறிக்கை 12 November 2007

தமிழீழ விடுதலைப் புலிகள் இயக்கத்தின் அரசியல் பிரிவு பொறுப்பாளர் பிரிகேடியர் சுப. தமிழ்ச்செல்வன் அவர்கள் மறைவிற்கு இரங்கல் தெரிவிக்கும் ஊர்வலத்திற்குச் சென்னை மாநகர ஆணையாளர் தடை விதித்திருப்பதை நான் வன்மையாகக் கண்டிக்கிறேன். இது தமிழக அரசின் மனித நேயமற்றப் போக்கினையும் தமிழர் விரோதப் போக்கினையும் எடுத்துக் காட்டுகிறது.

தமிழ்ச்செல்வனுக்காக இரங்கல் ஊர்வலம் நடத்துவது சட்டப்படி ஏற்புடையதாக இல்லையென ஆணையாளர் குறிப்பிட்டிருக்கிறார். அப்படியானால் தமிழ்ச்செல்வனுக்கு இரங்கல் தெரிவித்து முதலமைச்சர் கருணாநிதி எழுதிய கவிதையும் சட்டப்படி ஏற்புடையது இல்லையென ஆணையாளர் கருதுகிறாரா?

தமிழர் ஒருவருக்கு இரங்கல் தெரிவிப்பதே சட்ட விரோதமென காங்கிரசுக்காரர்கள் தெரிவித்த எதிர்ப்பிற்குப் பணிந்து தமிழக அரசு மேற்கொண்டுள்ள இந்த நடவடிக்கை தமிழருக்குத் தலைக் குனிவை ஏற்படுத்தும் நடவடிக்கையாகும்.

திங்கட்கிழமை மாலை 4 மணிக்கு மன்றோ சிலையின் முன்னிருந்து திட்டமிட்டப்படி தமிழ்ச்செல்வன் இரங்கல் ஊர்வலம் புறப்படும். அனைத்துக் கட்சித் தோழர்களும் தமிழ் உணர்வாளர்களும் திரண்டு வந்து தடையைத் தகர்த்து தமிழர் மானத்தை காக்க முன் வருக என அழைக்கிறேன்.