Tamils - a Nation without a State


Norway - நோர்வே
- an estimated 8000 Tamils live in Norway -
'Meendum' from Norway Tamils
IndiaGlitz, 4 December 2007
---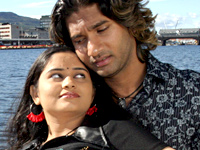 A new movie from the Tamils living in Norway is getting ready. Dhurupan, a Norway Tamilian, has produced 'Meendum', a film made in Norway, featuring Norway Tamilians.

'Meendum' is a dual-hero subject shot in the scenic locales of Norway. It features Jeevan, Sivaraj, and Dhana, all Norway Tamilians, damn new faces for Tamil cinema. The heroine is a known face. Swetha Bharathi, who has acted in Vijay's blockbuster 'Aadhi' as his sister, dons the role of heroine here.

The others in the prominent roles include Prof. Chezhiyan, Deepa and Padma. Except for Swetha all the others in the movie including the cast and crew are Sri Lankan Tamils. Dhrupan's close friend Stephen directs the film.

Dhurupan, working for the postal department in Norway, may be new for Tamil film world but he is not new to filmmaking. He has so far produced 9 short films. He has a passion for producing films. The Srilankan Tamil worked as an assistant with director Balu Mahendra for a brief period in Chennai before leaving to Norway. In 'Meendum', he has taken care of the camera and editing.

V.S. Udhaya, the associate director of this movie, has earlier scored music for Kanden Seethaiyai and Bhishmar. Kadhal Kaditham is his next project as music director.

The story line of 'Meendum' revolves around the life of a 'goon' who wants to lead a normal life. His struggle is interwoven with romance and other emotions.

The producer expresses his gratitude to the Govt. of Norway and all Norwegians who have lent their complete support and co-operation for the movie. The people of Norway are specially kind and helpful to those from other countries, says a jubilant Dhurupan.

'Meendum' is a small budget film with the expense of just 10 million Kroners (roughly 1.5 crore INR). It has been shot fully in Norway within 30 days. The film is all set for a world-wide release in a couple of months.